The death of the pretty girl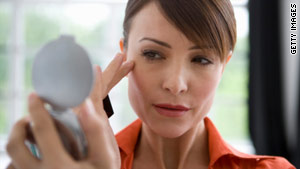 When pretty women begin to age, it can throw them for a loop.
STORY HIGHLIGHTS
Women who tie their identity to their looks have a hard time aging

Author's friend seems to be struggling with recapturing her status

It is enough to be smart, funny and confident, author says

Editor's note: Audrey Irvine is a senior assignment manager for CNN. Her experiences in the dating world inspire her "Relationship Rant" column. Check back every week for her take on dating and relationships
(CNN) -- Every person has this friend. She's the person who walks into a room and gets noticed, regardless of whom she's with or what she's wearing. She's the one who's likely to get the group seated first at a restaurant or get everyone into the club by talking to the guy at the door. She is the quintessential pretty girl and has always been. But what happens when the pretty girl becomes the older pretty girl who's showing her age?
What is it like to grow up always being told how beautiful you are and then realize that you've been living your entire life relying on your looks? This is what a friend of mine is going through. The sad part: None of her friends were aware she was this way until recently.
Every couple of weeks, my girlfriend and I take one day to reconnect. With busy work schedules and errand running on the weekends, we appreciate these days to catch up on each other and keep up with what has been going on with our mutual friends. Our mutual friend, who I'll call "Carol," came up in conversation. I had not seen Carol in years because she was closer to my girlfriend. My girlfriend said that in the last three years, Carol was exhibiting some rather out-of-character behavior.
I asked for specifics and my girlfriend didn't hold back. She said that in her late 30s there was a level of desperation in all of Carol's personal interactions, specifically with men.
This sounded incredibly out of character for the person I knew. The Carol I remembered was funny, confident and far from desperate.
It seemed as if Carol was experiencing former-pretty-girl syndrome. The compliments about how stunning she was in her 20s had waned, and in her 30s she seemed to have a hard time adjusting to not always being the prettiest girl in the room. We realized that all these years we assumed that she was confident, when in fact the focus on her looks had stifled her from working on anything else, namely her self-esteem.
Carol is now a woman who is obsessed with reconnecting with her pretty girl status. She's resorted to purchasing every anti-aging treatment available. Trust me folks, she's made a major investment in this. It takes an enormous amount of confidence for any woman to walk away from a makeup counter these days without feeling like you need every single cream and gel to minimize those wrinkle lines.
Carol seems to be in constant pursuit of that man who can make her feel beautiful again. First dates with men she meets on the Internet don't seem to be approached with any degree of caution because she seems desperate to find that guy who loves her for her beauty.
My girlfriend and I were very sad after talking about our friend. We realized that she doesn't think it is enough to be smart, funny and confident -- that these things are more important than looks because looks fade. We are still at a loss on how to help Carol, especially with her self-destructive behavior. My girlfriend said she spends a lot of time with her telling her about all her other wonderful attributes, but all she's concerned with is how pretty she looks.
So, the next time you are out with your girlfriends and you see that pretty girl who walks into the room leaving men breathless and other women rolling their eyes with envy, please hope that she knows there's more to her than meets the eye.