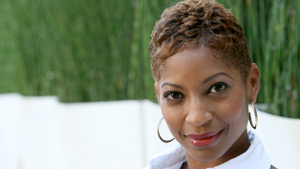 Women should ask certain questions on a first date and not just see what develops, Audrey Irvine says
STORY HIGHLIGHTS
One guy told Audrey Irvine that women over think too much on dates
But Irvine says experience has taught her to ask questions
One fellow didn't tell her he was married until she asked him
She calls questions a tool to weed out the crazies in dating pool
Editor's note: Audrey Irvine is a senior assignment manager for CNN. Her experiences in the dating world inspire her "Relationship Rant" column. Check back every week for her take on dating and relationships.
Atlanta, Georgia (CNN) -- Every day for eight to 10 hours a day I am expected to be a strategic and tactical decision maker. My mind is racing, the guard is on and I manage my time and decisions wisely.
Is it then possible after a long workweek to turn that engine off and consider the romance of dating, where things need to unfold naturally? Far too often, dating and relationships suffer the consequences of the challenges our work life presents.
Recently, I met a guy who at face value is the ideal guy, with impressive qualities.
He is good-looking, charming, intelligent, driven and incredibly romantic. We talked for hours about a number of things including dating. He said that women over-think their interactions with men and need to let things flow and unfold naturally.
My first instinct was to say "that's so sweet" and really embrace the romanticized notion that was presented to me. However, after a few minutes I realized that my mind caught up with those long gazes and pregnant pauses we were having. What started out as an intriguing exchange became a whizzing series of questions that I felt needed to be answered.
I explained to him that sadly, working in my profession -- in particular, the media -- had made me a bit of a skeptic. It wasn't that I couldn't appreciate romance and letting things unfold naturally, but there were certain questions I just needed answered before we could proceed.
I acknowledge that my inquisitive, curious and challenging nature are all what make me a worthwhile journalist and sometimes it's hard to turn that off. Am I the only one?
Now don't get me wrong, I'm not telling women to ask on the first date for his credit score or request a blood test with a dated and collated list of sexual partners from the last 10 years. But there are questions that I am willing to ask immediately that most women would wait to get the answers to until at least the third or fourth date. Understand this is far from an inquisition; I would hope that any man interested in me would have pointed questions for me as well.
I was introduced to a guy at a networking event. We connected immediately and spent the evening talking about so many things. Once the event concluded, a small group of us went to a nice jazz club where our connection seemed to continue.
After exchanging numbers, we decided to meet for lunch the next day. The conversation at lunch seemed effortless and things seemed to be flowing nicely. At the end of our lunch date, something seemed odd. Odd in that this guy seemed too good to be true. I didn't want to feel like a saboteur, but in the midst of our talking and questions there seemed to be one that I didn't ask.
My journalistic sixth sense kicked in and I asked what might seem like an odd question.
I asked him if he was married. He didn't wear a ring and during lunch we had talked about our similar childhoods, hopes and dreams for the future and how close or far away we had strayed from them. Why would I need to ask what seemed like an out of left-field question?
Needless to say, he followed up my question with a question.
To which I replied, "I don't know. We seem to be getting along well but it seems too good to be true. And, hey, you just never know these days." I laughed because I felt embarrassed that I'd asked such a bold question with no concrete reason behind it.
His answer was yes, but even more astonishing was his reason for not being upfront. He said that I seemed like a nice person and he simply wanted to get to know me as a friend. Let's just say that the connection that existed at lunch quickly disappeared in the parking lot with a rapid good-bye followed by a few expletives.
The longer women remain single and experience men who are not so sincere in their approach, the more women feel compelled to arm themselves with the necessary tools to weed out the crazies.
So, to the men who believe things should unfold naturally, I say let's consider a worthy compromise. Life is messy, and while I'm about letting things progress naturally, if you consider yourself a worthy candidate, you might not mind answering a few questions first.