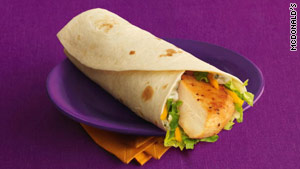 Getting in on the snack trend, McDonald's offers several varieties of its grilled chicken wrap.
STORY HIGHLIGHTS
Both upscale and fast-food restaurants are targeting people who snack
Study: "Snack," "snackable" or "snacker" items on menus up 170 percent since 2007
Research: Snackers are more likely to visit restaurants in early or late afternoon
Snacks help boost sales in nonpeak hours, analyst says
(CNN) -- Next time a snack attack strikes, restaurants have a battle plan.
Newly released research shows that eateries -- from the fast-food sector to fine dining -- are feeding into America's snack-happy culture.
Menu items with the vocabulary "snack," "snackable" or "snacker" have increased by 170 percent since 2007, according to Mintel Menu Insights, a consumer market research firm.
"By innovating menus with various snacking options, restaurants can boost sales throughout the day and drive guest traffic during nonpeak hours," said Eric Giandelone, director of food service research at Mintel.
Show us your super cute spring-themed treats
Several fast-food chains are trying to boost sales with smaller items on their menus.
Fast-food giant McDonald's has a Snack Wrap line.
The Mac Snack Wrap, a beef patty with smaller amounts of the standard Big Mac accoutrements, all wrapped in a tortilla, "helped lift the entire Snack Wrap line or category across the menu," said Jim Skinner, McDonald's vice chairman and CEO.
The chain reported better-than-expected 2010 first-quarter profits, with sales increasing both in the United States and internationally.
KFC, formerly known as Kentucky Fried Chicken, has its own "Snacker," and the smaller version of its sandwich line is available in four varieties: buffalo chicken, ultimate cheese, fish and honey BBQ.
The fast-food industry isn't the only one feeling snack-tacular; casual eateries and fine dining establishments are offering up minimized nibbles as well.
The Cheesecake Factory, the popular restaurant chain known for its sizable portions, unveiled its "Small Plates and Snacks" menu in April 2009. The menu features 16 dishes intended to be a "pre-appetizer" or snack, all priced between $3.95 and $6.50.
Celebrated Spanish chef José Andrés, who operates seven restaurants in Washington and one in Beverly Hills, California, is opening two restaurants in Las Vegas, Nevada. One of them is another outpost of Jaleo, Andrés' wildly popular tapas (or small-plates) restaurant.
At the Bar Room in the Modern, a restaurant in New York's Museum of Modern Art, all the offerings are appetizer or half-entrée size. Those singing the praises of a full-fledged multicourse meal can opt for the more formal Dining Room, rated a 2005 Best New Restaurant USA by Esquire Magazine and Michelin star recipient.
Each day, the bar at McCrady's in Charleston, South Carolina, offers six featured bar snacks, from fried bread and butter pickles with ramp buttermilk dressing to beer-flavored pork rinds to chicken liver-foie gras pate. The chef, Sean Brock, recently won the 2010 James Beard Award for Best Chef Southeast.
Mintel's research also revealed that snackers are more likely to visit restaurants in the early and late afternoon. The most popular time frame was between 3 and 6 p.m. Only 19 percent of Mintel's respondents purchased restaurant snacks between 6 and 8 p.m.
"Snack options need to be appropriate for the time frame," Giandelone said. "Heartier and pricier fare may have more appeal later in the day, while light options may work best in the morning or early afternoon."
With the average snack course price set at a modest $3 to $5, three square meals a day might become a thing of the past in these belt-tightening times -- though sensible snacking is not always an easy task. The danger in increased snacking is that it can add superfluous calories to your day.
Surveys show that the average adult in the mid-1970s consumed approximately 200 calories from snacks. In the mid-1990s, the number jumped to 360 calories. Today, it's more than 470 calories.
Research also found that children now eat upwards of three snacks per day, accounting for more than 27 percent of their daily caloric intake. Coincidentally, nearly 34 percent of adults are obese, and childhood obesity rates have more than tripled in the past 30 years.
Despite these negative findings, Mintel expects restaurants to continue to explore this bite-sized trend.