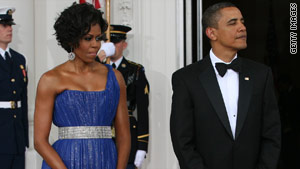 The sparkly blue gown is not the first Peter Soronen dress that Michelle Obama has worn.
STORY HIGHLIGHTS
Michelle Obama's style is considered youthful, accessible and irreverent
But she also makes a point of wearing bold colors, prints and cardigans
The first lady's signature pieces are standout belts and pins
(InStyle.com) -- What makes Michelle Obama's style so exciting? It's youthful, accessible and irreverent.
Case in point: the wow-worthy Peter Soronen gown she wore to this week's state dinner honoring Mexico. We're still talking about it, and how she consistently pulls off enviable looks with ease.
Here are 10 lessons we've learned so far from our very fashionable first lady:
1) Wear bold colors: Mrs. O isn't afraid of brilliant purple, lush green or even a sparkling electric blue, as we saw at Wednesday's state dinner. "
There's always somebody who will say, 'I wouldn't have worn that color,'" she once told Time magazine. "...But if you're comfortable in the choice and it resonates with you, then all that other stuff -- it's just conversation."
We love that she breaks out of the usual litany of black and beige, especially amongst the sea of neutrals favored in Washington, D.C.
InStyle.com: Obama's rainbow wardrobe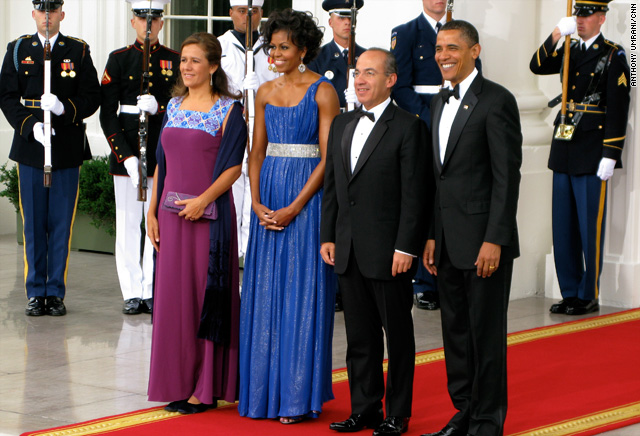 Gallery: Calderon state dinner
2) Choose a versatile hairstyle: Obama's modern bob is sleek, flattering and can handle fun curls (as seen at the state dinner) as well as it can the occasional up-tuck.
"The hair is just like any other accessory," her personal hairstylist Johnny Wright told us. "Some styles are made for hair only when it's blown-out straight. You want a cut that's made for both curly and straight looks." Once you have the perfect cut, the styling options are endless!
InStyle.com: Tips from Obama's hair stylist
3) Wear clothes that flatter: With arms like hers, going sleeveless is a no-brainer. Obama also favors flattering knee-length skirts and structured jackets. Know your body and embrace it: "I've learned to go with colors and cuts that look good on me, that I'm comfortable in," Obama told People magazine.
4) Try new labels: Starting inauguration day, when she chose a Jason Wu gown for the ball, the first lady has been a staunch supporter of up-and-coming designers, including Jasmin Shokrian, L'Wren Scott and Prabal Gurung. While we all have our favorite designers and stores, being open to new labels helps keep a wardrobe exciting.
5) Don't fear prints: From a graphic print dress by Diane Von Furstenberg to a peppy floral dress by Thakoon to a gorgeous violet and green scarf from Prova, Obama has proven she can fearlessly navigate prints like a seasoned fashionista. If you're new to prints, start incorporating them slowly, pairing tonal patterned separates with solids.
6) Work with a personal shopper: Chicago store owner Ikram Goldman acts as Obama's personal style whisperer, vetting flattering looks and helping her curate a very chic personal style. Many stores feature a complimentary personal shopping service take advantage of it!
InStyle.com: How to flaunt it like the first lady
7) Mix high and low: There are as many pieces from J. Crew in her wardrobe as there are from Lanvin. A true style icon knows when to splurge, when to save and how to mix and match the high-end with the bargains. "Some of my favorite summer dresses are from Gap and H&M," she told People.
8) Support American brands: Proving she truly supports the American dream, Mrs. O's wardrobe is packed with pieces from first and second generation Americans like Thakoon Panichgul, Narciso Rodriguez and Wu. She's also a fan of accessible Americana labels like Gap and Talbots.
9) Stock your wardrobe with cardigans: From J. Crew to Junya Watanabe and Moschino, Obama has a wardrobe full of cardigans. Take her cue and pair them with everything from skirts and blouses to glitzy gowns.
10) Anchor your look with signature pieces: For Obama, that means belts and pins. "It's amazing what you can do to dress up an outfit with a big belt or pretty pin," she told People. She cinches belts over coats, cardigans and blouses. They add a personal touch to each look and highlight her curves. As for her brooches, she advised "The View" audience: "Put a little pin on [the dress] and you've got something going on!"
For tons more on Michelle Obama's style, visit InStyle.com!
Get a FREE TRIAL issue of InStyle - CLICK HERE!
Copyright © 2011 Time Inc. All rights reserved.