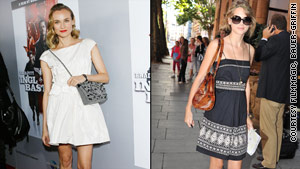 Diane Kruger and Taylor Swift carry chic, yet functional, bags.
STORY HIGHLIGHTS
Every woman needs at least three types of purses
A structured day bag in a neutral color that will go every where
Casual bag with style defined by what you wear on your days off
Evening bag: A go-with-everything classics or a fun, exotic little gem
(InStyle.com) -- You'll probably own many more than three bags in your lifetime, but these are the most reliable basics every woman should have in her closet. Find out which types will never go out of style and how to buy the perfect one for you.
Structured day bag
This is the bag you will use the most, not only because it is your home away from home, but also because it is the most versatile. It will look right with suits and dresses, and will add polish to casual looks, like jeans.
InStyle.com: 10 key pieces for every woman
Decide what size bag to get by considering how much you'll carry inside it. If your essentials are bulky, you'll want a bag with space, like a roomy, more-rigid satchel. If your needs are more spare, a smaller shoulder style works.
Your go-to bag should be in a neutral shade such as black, rich brown, gold or tan; whites are crisp, but keep in mind that you'll need to maintain their look.
InStyle.com: 12 heels that don't hurt
Casual
A casual bag, whether it is a slouchy hobo, an edgy messenger or a classic tote, should be determined by what you wear on your days off and, again, on how much room you need.
There is no reason to choose something understated here. Opt for hardware details or shades that pop; it is a great way to add vibrancy and texture to your weekend wardrobe. Just make sure the hardware doesn't weigh too much, or you'll strain your back when toting around for long periods of time at the mall or flea market, or on other outings.
Evening
These bags fall into two categories: the great, go-with-everything classics and the fun, exotic little gems. A simple black, silver or gold metallic clutch usually works with both over-the-top gowns and little black dresses.
Otherwise, have fun. From deep-hued minaudières to Day-Glo-colored satin fold-overs, this is one category of accessory in which you should buy a piece that makes you swoon.
InStyle.com: 7 hot bags for spring
How to choose the right bag
Just because it's the most gorgeous thing you have ever seen on the shelf doesn't mean the bag will be perfect on you. Try it on like you would a dress -- at a full-length mirror, scrutinizing every angle.
The bag should be in proportion to your figure and size. Too large, and the bag is overwhelming. Too small, and it make you look large by comparison. If you prefer a shoulder bag, be sure its strap is a width that sits comfortably on your shoulder.
Walk around a bit and see if the strap slips. Does the bag sit nicely under your arm? Is it light enough? Test it out with all your usual accoutrements inside --wallet, phone, etc. If it's too heavy, it can strain a narrow strap, dig into your shoulder, or cause back and shoulder pain.
See more fashion coverage at InStyle.com
Get a FREE TRIAL issue of InStyle - CLICK HERE!
Copyright © 2011 Time Inc. All rights reserved.