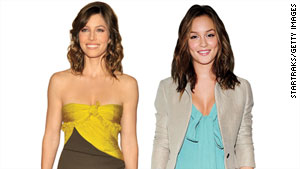 Leighton Meester and Jessica Biel add a bright pop of color to their wardrobe.
STORY HIGHLIGHTS
Colors can instantly refresh your wardrobe if you know which shades to use
Before you disappear in khaki or olive, add some hot earth tones to outfit
Pastels can make a stone or gray outfit look sophisticated or romantic
Sail into view with bright colors mixed with navy or white
(InStyle.com) -- Experimenting with color is a fun and easy way to instantly refresh your wardrobe. Here's how to work in some new shades to your favorite looks.
Love navy or white, try fun brights!
Crisp and preppy, this nautical duo holds a place in the hearts of traditionalists and those who like clean and simple hues. Both are bold and graphic alone or combined and look best paired with eye-catching brights like kelly green, citron, fuchsia and purple. These tones work so well because they're vibrant and, being blue-based, are derived from the same color family as navy itself.
InStyle.com: 10 key pieces for every woman
To experiment, accent your outfit with colorful accessories, like a vibrant clutch. Once you're more comfortable with incorporating color, try swapping in a bright cardigan for your standard navy one.
And when you're finally ready to break away from the basics, go all-out with a playful, eye-catching dress.
Love stone or gray, try subdued pastels
Worn in an unbroken streak from head to toe, these two tones can seem flat and chilly. And while pastels may strike you as way too sweet, tossing them in the mix creates a fashion alchemy that's as sophisticated as it is romantic.
InStyle.com: 12 heels that don't hurt
Enhance the neutrals you already own by selecting pretty shades such as blush, lavender, sky peach or even a washed indigo.
Love khaki or olive, try hot earth tones
There's a reason the Army uses this color combo for camouflage fatigues -- wear them together or separately and you'll usually blend right into your surroundings.
Avoid a disappearing act and still maintain the earthy vibe you love by sprinkling spicy shades throughout your outfit. Saffron, pine, pumpkin and wine possess warm undertones which work well with both neutrals and flatter most complexions.
InStyle.com: 10 hairstyles always in style
Find your best colors
Not sure what shade is right for you? Leatrice Eiseman, director of the Pantone Color Institute, suggests this quick and easy trick: Next time you go shopping, grab three or more sweaters in the same color family (e.g., mint green, emerald, and olive) and hold them next to your face (by a mirror in natural light is always preferred).
One of the hues will inevitably stand out as a winner, bringing out the natural glow of your skin as well as the intensity of your hair and eyes.
If you are stuck between two choices, ask a friend to weigh in. Repeat for all colors until you get a sense of the five or six that complement you best, and then stick to them.
See more fashion coverage at InStyle.com
Get a FREE TRIAL issue of InStyle - CLICK HERE!
Copyright © 2011 Time Inc. All rights reserved.