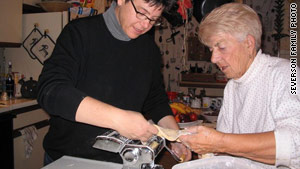 Food writer and author Kim Severson makes pasta with her mother.
STORY HIGHLIGHTS
NY Times food reporter Kim Severson asks iReporters about their plate-based lessons
iReporters talk of learning to trust their own tastes, but not everything someone tells them
A burnt dinner teaches one young man about his grandfather's love
Pizza restaurateur: Mom made people happy with food, hope I do too
(CNN) -- Some very important people have been in the kitchen with New York Times food reporter Kim Severson.
She serves up a wise, witty tale of how life lessons from culinary luminaries and family members helped her become the wife, mother, award-winning writer -- and, yes, cook -- she is today.
The stories are in her new memoir "Spoon Fed: How Eight Cooks Saved My Life."
Severson's journey to sobriety, coming out as a lesbian in a Catholic family and gaining confidence as a journalist were buoyed by food-based life advice from TV's Rachael Ray, former Gourmet Editor-in-Chief Ruth Reichl and celebrity chef and locavore messiah Alice Waters.
Now Severson has turned in a new direction, asking CNN's iReporters about who taught them a plate-based lesson.
"Think back and tell us about an important life lesson you learned in the kitchen," she asked. "It could be as simple as learning to share because you were forced to split a piece of cake with your brother, or as important as the last conversation you had with your grandmother."
iReporters cooked up quite a feast, and here are Kim's choice cuts.
DaElmer learned not to believe everything he's told -- especially when there are eggs and a microwave involved. He shared who led him down the wrong path and the huge, messy disaster at the end.
As a teen, McFrancia was taught the virtue of patience via a three-day marmalade process.
During the lesson, her mother said, "Next time you pile on the marmalade on your toast, you know how long it takes to make it. Just like life -- good things come to those who wait. And those who work to make things happen. Just like life."
McFrancia shared a recipe with that story.
Severson also appreciates that Thepizzaman knows "the perfume of a kitchen is transformative."
"I loved being in the kitchen with mom watching and helping her cook," he said. "She taught me a lot when I was very young. It smelled so nice in the kitchen with my mom's homemade sauce simmering on the stove.
"I especially loved her cooking and felt good when I heard people rave about how delicious her food was. That's what gave me the inspiration to be the pizza chef that I am today. I figured if my mom could make people happy with her cooking, I could do that also."
His late mother left him some money that he used to buy a restaurant he named after her.
"I now cook pizzas in the kitchen of Angelina's Restaurant and that always reminds me of my mom, Angelina."
Alamelu learned to take the bitter with the sweet at the start of a new year and includes a recipe for Vepam puv rasam -- a soup that sums it all up.
"Spring in Northern Hemisphere starts in the month of April. In India the neem trees bloom at this time. The birds, especially green parrots, come to feed on the neem berries. The wind wafts the medicinal purity of their fragrance and gives all living things a boost of energy. These flowers are collected and dried in the sun. These are used as an ingredient in rasam (soup) and pachadi/kichadi (varieties of salads). It tastes bitter and it has umpteen medicinal properties."
These dishes are made at the time of the New Year festivities to acknowledge "now that we have tasted the bitterness, the rest of the year will be full of sweetness and joy. It gives us the strength to face what life dishes out for the coming year."
MarioM1 may have burned the family meal in an attempt to impress and please his grandfather, but his soul was fed in a different way.
"I must have applied too much heat and not enough water, because after a few minutes the whole condo was filled with smoke. My rice was a smelly mess of hard-burned grains on the bottom and half-cooked grains on the top.
"My main concern was my grandfather. Perhaps now he would be upset or make fun of me and laugh at my ineptitude. But instead he said, 'It's OK Mario, hurry up and clean it up. I won't tell your father!'
"In just a few words he showed me his love and acceptance. He did not judge me or criticize me. He was not concerned about his food. He was more concerned about me not getting in trouble. And that selflessness has stayed with me ever since."
Severson gives "props to iReporter RomaniaScene for using Easter bread to give a wonderful cross-cultural lesson in American, Italian and Romanian food traditions all while reminding us how important it is to cook with children."
"I remember how good it felt to work the dough and to talk with my grandma, who always put so much care into the process of readying these for the tables of others. ... I am a grandmother myself now and in time, again, I will prepare the sweet braided loaves with my own granddaughter in the States," she said.
"But for now, I think about how much it meant to have a taste of something so carefully done and to take in the aroma of the baking and watch the simple ingredients miraculously become a shining piece of art in the process."
And laikob's lesson may be short and sweet, "go by your own taste. AND don't mix up salt with the sugar." Those are surely words to live by.
Please share your own delicious life lessons in the comments.
Learn more about Kim Severson at her website.