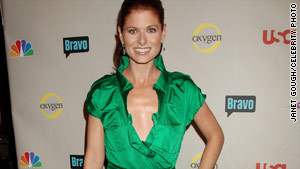 Actress Debra Messing shows off her décolletage.
STORY HIGHLIGHTS
Learn what to wear to flaunt your best assets and what to avoid
If you are spotlighting your waist, wear contrasting top and bottom colors and belts
For curvy backside, avoid pants with flap back pockets that increase volume
V-necks and unbuttoned collared shirts create the illusion of a leaner torso
(InStyle.com) -- Here's some tips on how to accentuate the positive, whether the focus is on your sculpted arms, killer legs, or sexy curves.
Flaunt your waist
Show off a defined midsection with color contrasts, waistline details, fabrics that glide over your frame, or a great belt.
Try: Thin and thick belts both work to define your shape when cinched at your midriff over jackets, dresses or blouses. For strongest impact, sharper color contrasts between tops and bottoms work better than muted color combos.
InStyle: 10 hairstyles always in style
Avoid: Unstructured dresses and tops (worn untucked), like A-lines, formless tunics, chunky knits, or baggy blouses, hide your figure.
Accentuate your chest:
No matter your size, scene-stealing details and necklines (hello, sweetheart!) flatter your bust without revealing too much.
InStyle.com: Ways to update your spring wardrobe
Try: Collarbones are as sexy as décolletage. Complement both in V-necks and unbuttoned collared shirts, which create the illusion of a leaner torso. A smooth foundation is crucial: Invest in a well-fitting bra with sculpted, unseamed cups and straps that don't dig into skin.
Avoid: High-neckline tops (like turtlenecks and anything that hits above the collarbone) cloak your bustline and give the appearance of shapeless bulk.
Highlight your butt
If you've got curves Venus would envy, bump it up back there with flirty ruching, clever pocket designs, and seriously sexy seaming.
Try: Cropped jackets that hit slightly above your waist showcase rear-side curves. Opt for thongs or seamless briefs, especially when you're wearing snug pieces in thinner fabrics.
InStyle.com: 10 ways to look more polished
Avoid: Jeans and pants with flap back pockets increase volume without defining your shape.
Call attention to your arms
You work hard to tone your arms, so highlight those sleek biceps by framing them with cuts that contour and complement them.
Try: Wear light colors on top and dark below to draw attention upward. An elaborate neckline or multistrand necklace works too. When exposing arms, keep them moisturized for a uniform appearance, and don't forget about those elbows.
Avoid: Peasant blouses, bulky sweaters, or full bell sleeves cover and add unwanted mass.
Show off your legs
Put the spotlight on your gorgeous gams: Keep arms covered so they won't compete for attention down below.
Try: Play them up by wearing sheer, opaque, or textured tights under slightly longer skirts, like a slimming pencil cut that hits at the knee. Baring your legs? Consider a light application of faux tanner to conceal blemishes and even out skin tone.
Avoid: Midcalf-length skirts and loose capris obscure and shorten legs.
See more fashion coverage at InStyle.com
Get a FREE TRIAL issue of InStyle - CLICK HERE!
Copyright © 2011 Time Inc. All rights reserved.