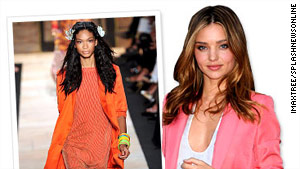 Even if the sun isn't out, a brightly colored blazer lifts spirits and punches up a basic outfit.
STORY HIGHLIGHTS
You don't need to board a yacht to sport the season's nautical trend

Take a break from stick-skinny leggings and go for softer pants this spring

Pair a sequined tank with fall's dark pants and skirts and wear minimal jewelry
(InStyle.com) -- These key pieces will get you ready for the new season!
TRENCH COAT
Why it works: With its tailored silhouette and neutral color, this timeless wardrobe staple can be worn with nearly any outfit.
How to wear it: Wear the coat open with casually scrunched sleeves, or look to the Christian Dior collection and try a cropped version belted over print dress.
PATTERNED SKIRT
Why it works: A colorful print can be matched with a variety of solid-hued tops.
How to wear it:: Pair a floral skirt with a single-tone lace blouse for a soft and feminine look or take a more graphic print and add a boxy crop top a la Dries Van Noten for a super-modern ensemble.
LACE BLOUSE
Why it works: A long-sleeved lace blouse is stealthily sexy, offering both coverage and sneak peeks of skin.
How to wear it:: Tone down the material's naturally seductive nature like Scarlett Johansson and pair the top with a high-waist tulip skirt or go all-out girlie with a tiered skirt as seen on the Dolce & Gabbana runway.
InStyle.com: 20 amazing spring fashions under $100
FLORAL DRESS
Why it works: Nothing says spring like flowers! A short, sleeveless dress in a micro-print is ladylike without being fussy.
How to wear it: Choose simple, classic accessories that pick up the print's palette, like Diane Kruger's skinny black belt and ivory quilted bag or the orange Anna Sui flats that coordinated with a citrus-hued shift.
STRIPED SAILOR TOP St
Why it works: Nautical but not preppy, a simple black and white Breton shirt is endlessly versatile.
How to wear it: Pair a sexy, off-the-shoulder version with jewel-toned shorts (any shade will work with the neutral stripes) or top one off with a sleek black blazer for an office-ready alternative.
BRIGHT BLAZER
Why it works: A sunny blazer is an unexpected way to add punch to an old-favorite outfit.
How to wear it: Let the bold hue top off jeans and a T-shirt just like Miranda Kerr or make an even bolder statement with a monochromatic look in various shades of tangerine, magenta or teal, as seen at Diane von Furstenberg.
InStyle.com: 10 under $10 -- spring beauty must-haves
KHAKI DRESS
Why it works: Its neutral tone allows a sexy draped design to transition seamlessly from day to night.
How to wear it: Think of master accessorizer Rihanna and accent the subdued shade with playful jewelry.
Find your little black dress style
SOFT PANTS
Why it works: Flowing and silky, a pair of lightweight trousers are a cool and easy alternative to a skirt
How to wear it:: Contrast the pants' loose, airy quality with a structured shirt or a strong-shouldered black sweater over a simple white top.
SEQUINED TANK
Why it works: A sparkly top in a simple shape is streamlined enough to wear with jeans for day and special enough to pair with an embellished skirt for after dark.
How to wear it::: A shimmery scoop-neck tank is a spotlight-stealer, so skip the accessories.
How to wear spring's hottest colors
FINISHING TOUCHES
Why it works: Fresh add-ons transform last season's basics, without breaking the bank.
How to wear it: Swap out a solid tote for a bright satchel, or play up your newly-bare wrists with ornate stacked bracelets. Ready to show off your new pedi? Indulge your feet with fabulous wooden wedges.
For complete spring fashion and beauty coverage, go to InStyle.com now!
Get a FREE TRIAL issue of InStyle - CLICK HERE!
Copyright © 2011 Time Inc. All rights reserved.