Etiquette quandary: Can I return this?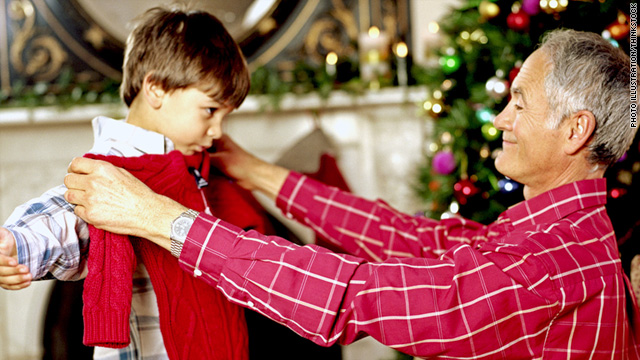 STORY HIGHLIGHTS
Author Jodi Newbern: Try to include gift receipts in whatever you're giving
It's usually OK to ask to return it unless it's monogrammed, Peggy Post says
Author Sherri Athay says exchanging is OK if the gift doesn't fit you
Editor's note: Every week during the holidays, we're asking our etiquette experts questions to help you navigate the perils of giving and receiving gifts. Check back next week for another dilemma.
(CNN) -- The sweater you wouldn't be caught dead in. The knicknack that doesn't match your decor. The Walkman (they still make those?) you'll never use. And it's always that same great-aunt/wacky uncle/out-of-touch grandparent that gives it to you.
The holidays are great when you get gifts that you want. Yet there's always something that doesn't fit you or your style. And while we love to pretend that we love it, we're really just silently searching for the gift receipt. If there isn't one, we wonder: Can I ask to return this? Our experts answer that question:
Jodi Newbern, author of "Regifting Revival: A Guide to Reusing Gifts Graciously"
I have a relative that returns or exchanges every gift they are given, even if it is something that they asked for. I just include the gift receipt and let it go. (Surprisingly, they hate gift cards and think they are tacky ... go figure!!)
For most of us, unless the gift giver tells you that it's OK for you to return it -- wrong size, for example -- then returning or exchanging the gift should not be an option (unless you are a cad, or a relative, or both).
Let's assume the gift giver thought you would really like what they chose for you. If you don't really want, need or like the gift, then after you've expressed appropriate gratitude, put it in your regift closet and do something else with it later. (Like use it for a "spare"...!)
Peggy Post, great-granddaughter-in-law of Emily Post

Ultimate last-minute Christmas shopping
Usually it's OK to ask to return a gift, unless, let's say, it's something monogrammed. Most people won't be hurt, especially if it just doesn't fit you.
Show your gratitude and say, "I love it, but unfortunately that doesn't fit/it's way too small/isn't my style." Just don't say: "I really hate it so would you mind if I exchange it?"
Sherri Athay, author of "Present Perfect: Unforgettable Gifts for Every Occasion"
If there is a compelling and inoffensive reason to return the gift (wrong size, duplicate gift, damaged item, missing part), you might mention it to the giver and see if he/she offers to give you the receipt. In such cases, the giver might even offer to make the exchange for you.
On the other hand, if there is any potential that making known your intentions to return the gift might hurt the giver's feelings, don't ask. Try making the exchange/return without a receipt (most stores will at least give store credit), or regift the item to someone you know is a better fit.
From our readers
Share your gift return advice, and it could end up here later today.
FOLLOW THIS TOPIC


Part of complete coverage on

Whether it's a surprise White Elephant party or a co-worker's overzealous gift-giving spree -- here's tips for gift shortages.

What would truly delight the geek in your life? It's nearly impossible to know if you don't share his or her peculiar tastes.

There's no reason why we can't have cultivated, old-timey holiday rituals and flourishes today as well.

Imagine the joy on a sports fan's face as he opens his gift on Christmas. We'll help you sort through the many sites that sell sports items

If you want to feel twice as nice about holiday gift giving, try donating to a charity. Here is CNN's charitable gift guide with fun, practical presents>

While your kid might not be coding just yet, it's not too soon to get him or her a tech-driven gift.

You probably know some people looking for work, and you may want to pay a little extra attention to what you buy them.

Cutting back on gifts when you've been extravagant in the past isn't always easy. Our gift-giving experts offer some help.


Most popular stories right now