Blessings of an Amish Christmas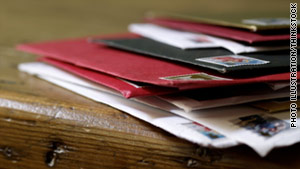 The Amish don't decorate for Christmas, but exchanging cards is part of their holiday tradition.
STORY HIGHLIGHTS
Author visits Amish friend during the holiday season
Home smells of Christmas cooking but contains no lights or decorations
Shelley Shepard Gray says her friend welcomes family visits, sends Christmas cards
Editor's note: Shelley Shepard Gray writes religious romance novels. Her latest book, "Grace," is about an Amish family and how it celebrates this time of year.
(CNN) -- My husband, children and I stopped by an Amish friend's house on our way to visit some relatives in Michigan recently. Since December is so busy for everyone, I was thankful that my friend had time to see us.
As we sat on her couch in her warm and cozy living room, I was struck by how alike yet different our Christmases were.
The Amish don't decorate for Christmas. There isn't a tree, or lights, or even a Nativity set in sight. My friend's home looked pretty much like it always did, except for a pretty display of Christmas cards in her living room.
The Amish, like the "English" (considered everyone who isn't Amish), love to exchange Christmas cards and catch up on the latest news. However, as you might imagine, these messages are more time-consuming, because all these letters are hand-written.
Though my friend hadn't gone overboard with "holiday cheer" like I do -- with miniature Christmas houses, multiple trees and way too many bows and decorations -- it was easy to tell her family was anticipating the holiday as much as mine was.
The house smelled heavenly. She had been baking Christmas cookies and cranberry bread, and even had a lovely plate of cookies for us to take to Michigan.
One reason my friend was so busy was because she was about to host some of her extended family. Like the rest of us, the Amish enjoy getting together with family and friends and exchanging gifts.
Of course, within the Amish community, less is definitely more. Husbands and wives might exchange meaningful or useful gifts, or one or two special items they've been wanting. Perhaps it would be a tool or a longed-for book, or item of clothing.
Amish children are like kids anywhere. A few toys are shopped for and given on Christmas Day. Some are store-bought, but others might be made. Toy animals are favorites, as are dolls. Robes and slippers are some popular store-bought items for everyone.
All in all, things are far less rushed and frantic. All the pressure of buying more and more gifts is pretty much nonexistent. With no television blaring commercials or radio playing Christmas carols, a true sense of peace abounds.
Baking is an activity for sisters, mothers and daughters -- it's not a chore on a busy to-do list. After all, no one in the Amish community forgets the true meaning of the season -- Jesus' birth. When we hugged goodbye, my friend and I told each other Merry Christmas. Soon after, I felt comforted, and my spirit was lifted. More than ever, I felt so lucky to have this friendship.
Being around her reminds me about what is truly important in life -- time with family, faith in God and moments of peace to reflect on my blessings.
FOLLOW THIS TOPIC