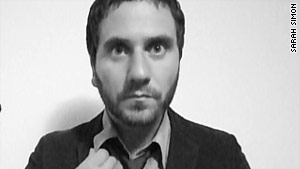 Musician Jim Bianco says dedicated fans from his previous tours helped him meet his goal.
STORY HIGHLIGHTS
Ordinary people can fund movies, music or charitable causes on the internet
Pledgemusic.com picks candidates and only after meeting goal are donations accepted
StayClassy began as way to fund cofounder's mother's cancer treatment
(HLN) -- Imagine watching the featured movie at a film festival and saying, "I helped make that."
Or donating $10 to cover New York's Fleet Week activities for local families to enjoy?
Or pledging $25 to your favorite musician so he can put out new CD and give you an advance copy and maybe some limited edition swag?
While many charities have had to tighten their belts in this recession, some people are still donating to causes via social websites.
About a dozen such sites have popped up in the last five years that make it easier for nonprofits, artists or anyone with innovative dreams to raise their profile, build a following and most importantly, receive much needed financing.
Pledgemusic.com offers independent musicians an avenue to put out their music, get advice from professionals and expand their listening base. It's basically a band manager, just without the pesky contracts, or being forced to sign over the rights to their songs.
The company lets the musicians set a pledge goal and if donors help them reach it, the site keeps 15 percent of the total.
Los Angeles-based musician Jim Bianco used a similar site and explained the appeal of fan funding sites, "Because the internet allows artists to have direct contact with their fans."
Don't have the budget to hire a grant writer? Can't figure out how to reach out to the Twitter or Facebook community? That's where sites like Blackbaud.com or StayClassy.org come into play. Both sites help nonprofits and individuals with fundraising specific software but StayClassy is also taking a personal approach to the actual process of fundraising.
Started in 2006, it was a way to raise money for cancer research after co-founder Scot Chisholm's mother was diagnosed with the disease.
However the response was so overwhelming Chisholm, along with buddy Pat Walsh, decided to continue the cause. Built primarily on positive word-of-mouth, StayClassy has now assisted 1,100 nonprofits in raising money, while maintaining their individual brand, and simplifying the process for people to donate.
Don't expect StayClassy clients to send you a letter asking for support either. This site tries to make it as easy and cost effective as possible to give money through a one-stop-shopping approach with software that includes extensive, built-in social networking and links up each client's donation efforts to StayClassy options.
More than buying a CD
The latest incarnation of fan funded websites is moving away from genre specific purposes and reaching out to anyone with a vision, idea or passion. Want to make gourmet gluten-free ice cream sandwiches? Film a project on the BP oil spill? What about put together your neighborhood's spookiest Halloween display ever? Kickstarter.com is a way for artists of all types, or someone with a quirky idea who needs backing, to bring their ideas and projects to life.
Each potential candidate submits a proposal to the Kickstarter crew, where it's then reviewed under the site's guidelines before a decision is made. The guidelines are fairly straightforward; does the individual have a way to spread the word about the idea, will the potential creator follow through with the proposal, does the project live up to the site's mission as a "resource for artists and creative endeavors?"
Once approved, each project has a deadline to raise the proposed amount of money. If a project reaches it's financial goal, the host site immediately gets a small percentage of the money raised -- 5 percent for Kickstarter and 15 percent for Pledgemusic -- and the individual receives the rest of the pledges through a pre-arranged account.
Winners and losers
In the best scenarios, everybody wins: Rising alternative music stars Jenny Owens Young, and the aforementioned Jim Bianco, each were able to raise more than $30,000 for their individual CD projects thanks to support on Kickstarter. They got the funds and people who were inspired by their proposals will eventually get a copy of the CD, and depending on the amount pledged, T-shirts, songs written just for the donor, and even house concerts.
But mining the creative field is still tricky and even these new sites can't guarantee success or financial safety. While philanthropic sites like StayClassy have legal obligations they're required to uphold, experts say potential donors should still use common sense: If it looks too good to be true, it probably is.
Many of these types of sites promise to help each proposal set and manage realistic goals, but ultimately it comes down to how much individual effort a person makes before and during the process.
Bianco credits his musical Kickstarter success to previous touring and dedicated fans, but offers some valuable advice that can be applied to any potential candidate, "No one needs YOUR music. Offer something special, something unique."