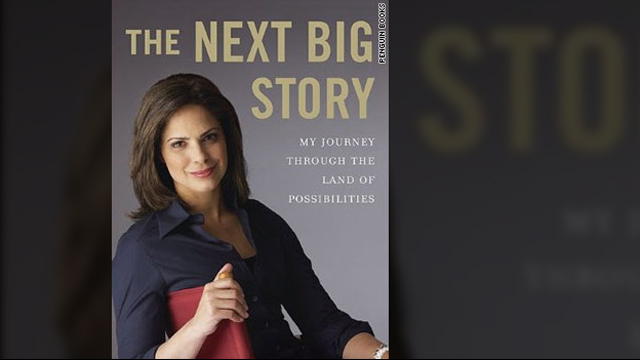 STORY HIGHLIGHTS
Soledad O'Brien's memoir "The Next Big Story" released November 2

She traces her journey from Long Island surburbia to CNN's anchor desk

Below is an excerpt from Soledad O'Brien's memoir "The Next Big Story," published November 2 by Penguin Books. Read other exerpts from the book about her early identity questions and her run-in with the Rev. Jesse Jackson.
We are approaching the fortieth anniversary of Martin Luther King Jr.'s assassination. The King family and Morehouse College offer me an exclusive opportunity to review his private papers. His words have become the treatise of our country's civil rights movement. Whenever people cry out for justice, they quote King. "There is a new Negro in the South."
I get to hold King's papers in my own hands at the Robert W. Woodruff Library at the Atlanta University Center, to see what he crossed out and what he added. I get to read the little annotations in the margins and they are spellbinding. I see the books he read and the parts he underlined. I get to see where anger gave way to hope, where optimism prevailed and dreams emerged. His speeches were like music and I am getting a peek at the notes. He had taken our nation on a journey from Birmingham to Selma trying to wash away the stain of racism. Yet his writings reveal a regular man, young and smart but mostly present when the moment called, steady when most sane men would run. He is poetic and values words. But it is obvious his writings come from a man inspired by a moment. That is what sets us apart in this country, how you rise up after you're kicked down. He makes me feel like just about anyone can do great things.
"After one has discovered what he is called for, he should set out to do it with all of the power that he has in his system. Do it as if God almighty ordained you at this particular moment in history to do it," he wrote. So, he does.
It is 1954. King is twenty-five when he writes his first sermon on four pages, back and front, of lined notebook paper. They are the simple words of a young preacher talking to folks in Montgomery, Alabama. But a year later Rosa Parks takes one of the ten seats reserved for whites in the front of a bus. She refuses to budge. Civil rights leaders want African Americans to boycott the bus system. King is plucked from obscurity to be the voice of the bus boycott movement. He is chosen because he is a noncontroversial young man who everybody likes. He ends up articulating the philosophy of a movement. "This is a movement of passive resistance, emphasis on non-violence in a struggle for justice."
I interview King's former aide Andrew Young and Parks's lawyer, Fred Gray, who recall how frightened Dr. King was by what came next. "Listen, nigger," an angry caller told King. "We've taken all we want from you. Before next week, you'll be sorry you ever came to Montgomery." His house is bombed. He steps outside and talks down an angry crowd. He tells them God had suffused him with instant courage. Gray tells me that King believed he'd found a cause worth dying for. No one was taking the bus after that. That was the "new Negro in the South" he had spoken of, people who would rather walk in dignity than travel in fear. Young said King was hardly the leader type, more interested in chatting about his new baby than strategy. Circumstances called for a leader and he rose up and answered.

Soledad O'Brien's 'Next Big Story'
His notes betray how unprepared he was for living in fear. He and his staff begin to write in code. He is Jack Kennedy and Birmingham is Johannesburg. He is arrested for marching. His jailhouse notes are focused on how much he misses his family. He calls the isolation a living death. His lawyer, Clarence Jones, sneaks in paper for him to write. He is composing his "Letter from a Birmingham Jail," where he says "when you have to concoct an answer for a five-year-old son asking in agonizing pathos, 'Daddy, why do white people treat colored people so mean,' then you will understand why we find it difficult to wait." I see where he's added the words "in agonizing pathos" at the last minute, as if he had conjured up his child's own face. Those three words make a world of difference. He is not just telling the story of the black community; he is evoking a painful image that any parent can absorb.
King's private library includes a copy of E. Stanley Jones's The Christ of the American Road, where he has underlined the part about how "America is a dream unfulfilled, a place where race and birth and color are transcended by the fact of a common brotherhood." In the book Horns and Halos, he pencils the note: "A dream that did not come true." I can see that he is in warm-up mode for the "I have a dream" speech. He makes a speech in the late 1950s imploring folks to "confront your shattered dreams." He goes further in an address to the National Press Club in July 1962, but crosses out the paragraph on dreams. An idea is germinating; he is collecting his thoughts. I can see the epic line of a movement coming together.
The night before the march on Washington in August 1963, Andrew Young remembers giving King notes as his advisors pushed him to come up with a new message. But President John F. Kennedy is so concerned about the march he asks the activists to tone down their speeches. King titles his speech notes "Normalcy never again." The word "dream" doesn't appear anywhere in that early draft. Witnesses said he turned his notes over in the middle of the speech and just gave himself up to the moment. "I have a dream," he said in the defining words of our country's civil rights movement. "That my four children will one day live in a nation where they will not be judged by the color of their skin, but by the content of their character." They are just words but there are people around the globe and in our country who can recite that speech to its end. They speak of the promise of our country and of promises unfulfilled.
A month later, four little girls die in a bombing at a Birmingham church because of the color of their skin. King delivers the eulogy and writes this:
"The innocent blood of these precious children of God say to each of us we must substitute courage for caution." And this: "No, we must not lose faith in our white brothers." He is asking people to tamp it down at exactly the moment when rage can win the day. I look at the notes from a speech he gave years before the Birmingham campaign titled "Loving Your Enemies," and I can tell this has always been a part of his philosophy. The lesson for the rest of us is clear -- don't let anger win the day, anyone's anger. "Throw us in jail and we will still love you," he wrote long before this awful bombing had been conceived. "Bomb our homes and threaten our children and we will still love you," he wrote. "We will wear you down by our capacity to suffer. We will win our freedom." He had no idea of the suffering that was still to come.
In February 1965, state troopers would fatally shoot twenty-six-year-old Jimmy Lee Jackson, a Baptist church deacon, in Marion, Alabama, while he was trying to stop troopers from beating his mother, Viola. King wrote of Jackson:
"He was murdered by the indifference of every minister of the Gospel who has remained silent behind the safe security of stained glass windows. He was murdered by every negro who passively accepts the evil system of segregation." Jackson died in Selma, the starting point of the marches to Montgomery, which led to the subsequent attack on protesters on the Edmund Pettus Bridge by police that became known as Bloody Sunday. Blood was shed to fulfill the words he said at the Capital that day. King cried at the White House when President Lyndon Johnson signed the Voters' Rights Act of 1965 and said: "We shall overcome."
King died planning a poor people's campaign. He came to believe that bigotry imposed black poverty and that poverty perpetuated inequality. He was looking ahead at the time where we live now. He tried marching with garbage workers but some youths broke store windows. He pledged to do it again without the violence. He came to Memphis on April 3, 1968, and stayed at the Lorraine Motel. He had a scrap of paper with him that said: "Gandhi speaks for us. 'In the midst of death, life persists, in the midst of darkness, light persists.'" Then King wrote:
"We are today in the midst of death and darkness. We can strengthen life and live by our personal acts by saying no to violence. By saying yes to life." He used it for a speech that night. He focused on death. "I don't know what will happen now. We have got some difficult days ahead. But it really doesn't matter with me now," he said. "Because I have been to the mountaintop. So I'm happy tonight. I'm not worried about anything. I'm not fearing any man. Mine eyes have seen the glory of the coming of the Lord." Andrew Young told me they had a silly pillow fight in King's room the next day. King seemed happier than ever when he walked out his door and into the sights of a killer.
FOLLOW THIS TOPIC