STORY HIGHLIGHTS
Experts: Cohabitating couples get married when it feels right or if one fears losing partner
Meredith and Jason Tyler said OK after a lawyer suggested they get married
Expert: Take a "cost of loss stance" to create commitment in your partner
(CNN) -- You've been living with the love of your life for months or years. Things are going great. So why get married at all and possibly mess up a good thing?
Cohabiting couples often decide to get married for one of two reasons, experts say.
The couple might see marriage as a jump-off-the-cliff type declaration that "we're all in" this relationship. Or the "I do's" are said because the person who has been reluctant to walk down the aisle finally decides that step would be less painful than losing their partner.
Meredith Tyler, 38, met her British-born husband in a bar in Key West, Florida, 15 years ago. For the next nine years, they lived together, bouncing from America to the United Kingdom and France, always with work permits or education visas.
When her now 37-year-old husband Jason's U.S. visa was about to run out in 2004, they consulted an immigration attorney. After listening to the couple detail their nine-year relationship, the lawyer asked, "Would you two just please get married, already?"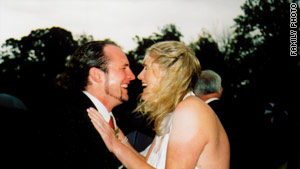 Jason and Meredith Tyler said their wedding vows as a big storm blew into Baltimore, Maryland.
"Quite romantically," Meredith laughingly recalls, "we looked at each other and thought, 'all right.' "
She said they had been moving closer to getting married, but the struggle to legally be together in one of their countries drove them to say, "We're either going to stay together or it's not worth all of this."
The couple phoned their parents, who echoed the lawyer with an "all right, already!"
"The quickie wedding -- or the announcement that we were going to be together -- was met with quite a bit of relief and, of course, joy."
They were married three weeks later by a minister with family and friends from two continents witnessing the outdoor ceremony on Federal Hill in Baltimore, Maryland, just as an October storm blew in to hurry the wedding along.
Krystee Manifold and actor/musician Kevin Spencer had been living together for five years when they went to Vancouver, British Columbia, for a concert by Kings of Leon.

Fewer couples saying 'I do,' poll finds

Marry me, finally
"I had known early on that she was the right girl for me," Spencer said.
They were completely comfortable and secure with their relationship and had fended off pressure to get married from family and friends.
That is until August 2009 when Kevin led Krystee by the Inukshuk sculpture on Vancouver's English Bay where they saw an elderly couple walking hand-in-hand.
"Ahhh baby, when we're older, we're gonna be them," Kevin recalls her saying. He dropped to one knee and asked, "Can I have your hand in marriage?"
"It just felt right," Kevin said.
But there was a catch: he told her they had to get married at 2 p.m. the next day at that same spot. She didn't believe they could do it.
Unbeknownst to his bride-to-be, Kevin had been planning for more than eight weeks, finding space in Krystee's schedule as a stylist for HGTV's "Designed to Sell," hiring a minister and arranging for their marriage license and ring sizings. And he had a boutique standing by with Dior and Versace reps who had chosen dresses and shoes in her size.
"She said 'OK, let's go,' " he remembers. "Then she ran across the street to a pub and ordered two double shots of Jack and said, 'If we're doing this, we're doing it right.' "
Their wedding did take place a day later, according to schedule, with close friends and family that Kevin had had flown in as guests.
It just felt right for psychologist Steve Brody and his wife, Cathy, to tie the knot after living together for half a year.
"It was more a matter of 'why not?' -- being as we had already made the emotional commitment," says Brody, who thinks living together before marriage can be quite helpful.
"Waiting until the honeymoon stage passes gives you the opportunity to see what's underneath the unrealistic, romantic glow or veneer of the relationship."
But that pre-wedding, living together arrangement should have a limit, according to Britain's Prince Charles
While responding that he was thrilled that his son Prince William had finally asked his live-in girlfriend Kate Middleton to marry him, Prince Charles also remarked, "They've been practicing long enough."
Brody says, "Chemistry gets you started, but commitment is the contract, the major handshake. Communication keeps the field clear afterward. "
He and his wife of 39 years teach couples those 3 Cs of a successful marriage. They also co-wrote "Renew Your Marriage at Midlife."
But what if one cohabiting partner can't get the other to commit?
Psychologist Diana Kirschner suggests taking a "cost of loss stance" to try to create commitment in the other person. She says it is not an ultimatum but a communication that the relationship may be lost if it doesn't proceed to marriage.
Start by deciding what relationship you want, she says. That may be finding a committed partner to build a life together and have children. But whatever your love intention is, she says, take a stance for yourself.
"You announce it to your partner. 'I'd love you to be the one. Here's why I think you would be great. However, if you're not available to do this, I will be taking measures to look at other people."
Kirschner, author of "Love in 90 Days: the Essential Guide to Finding Your Own True Love," says in many cases that kind of statement is not voiced but it may be in the air.
"If the man is dragging his feet, he knows his partner is not going to hang in there much longer because she may want to have children, she's getting in her late 30s -- he just knows."
And it's that moment when the potential for loss occurs, Kirschner says, that the couple "becomes very ripe for commitment, becomes very ripe for moving forward."
FOLLOW THIS TOPIC