Top words of 2010 evoke Gulf oil disaster, loud horns at soccer games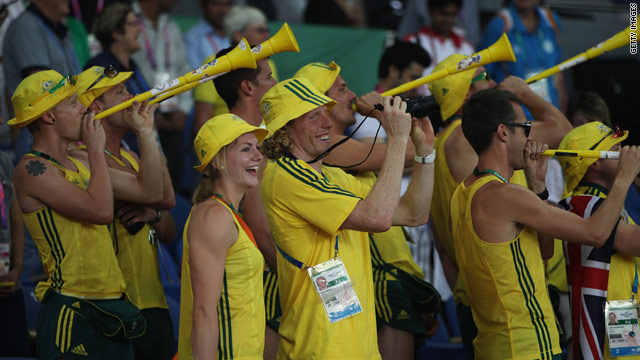 STORY HIGHLIGHTS
Analysis: "spillcam," "vuvuzela" and "refudiate" are among the top words of 2010
The Global Language Monitor tracks trends in word usage
Top words of the decade are global warming, 9/11 and Obama
(CNN) -- At this time last year, you might not have known what a spillcam or a vuvuzela was. But you probably do now.
The two phrases are among the Top Words of 2010, according to the Global Language Monitor, which analyzes trends in word usage with an emphasis on global English.
"Our top words this year come from an environmental disaster, the World Cup, political malapropisms, new senses to ancient words, a booming economic colossus and a heroic rescue that captivated the world for days on end," said Paul JJ Payack, president of The Global Language Monitor. "This is fitting for a relentlessly growing global language that is being taken up by thousands of new speakers each and every day."
"Spillcam" rose to prominence after an underwater camera captured images of oil gushing in the Gulf of Mexico after a well ruptured. Vuvuzelas gained fame -- or infamy -- after the 2010 World Cup in South Africa, during which fans blared the loud, brightly colored horns.
Other top words include "refudiate," a conflation of "refute" and "repudiate" used by former Alaska Governor Sarah Palin; "guido" and "guidette," terms heard on the TV show Jersey Shore; and "snowmagedon," a hybrid of "snow" and "Armageddon" that was used to describe record snowfalls in the United States' east coast and northern Europe last winter, according to the Monitor.
"Hu" -- as in President Hu Jintao of China -- was the top name of 2010.
The "rise of China was the No. 1 story of the first decade of the 21st century," the Global Language Monitor said.
"Tea Party," the grassroots conservative movement that gained momentum leading up to this year's midterm elections, made the list of Top Phrases of 2010.
The Monitor tracks the frequency of words and phrases in social media, on the Internet and in global print and electronic media and accesses proprietary databases, according to its website.
The Austin, Texas-based Monitor started compiling its lists of top words, phrases and names in 2000. That year, "chad," "dot.com" and "W" (as in President George W. Bush) topped the lists.
The top words of the decade were global warming, 9/11 and Obama. The top words last year included "Twitter," "Obama" and "H1N1."