STORY HIGHLIGHTS
Educators say they are seeing a surge in interest in show choirs thanks to "Glee"

Show choirs involve elaborate sets, singing, dancing and costumes

Music education has faded because of finances, heavier focus on academics
(CNN) -- As one choral teacher gleefully puts it: Singing is cool again.
At Harlingen High School in Texas, a group of teens who sing, dance and play musical instruments on stage and in costume are part of a newly minted show choir called "Broadway Bound." They are one of the first high school show choirs to hit Southeast Texas, and already the students are determined to perform at a national competition.
Sound like a familiar story line?
Their inspiration comes from Fox's hit comedy "Glee," about a fictional group of teenage misfits in a high school glee club. Dominique Gonzalez, a 17-year-old-senior at Harlingen, says she and several students were so obsessed with the show they proposed to bring "Glee" to life.
In the pitch to their principal, one of the girls even belted out a rendition of Barbra Streisand's "Don't Rain On My Parade," a song sung by "Glee" star Lea Michele last season.
"A lot of kids don't really know where their talent is needed," says Gonzalez, who plans to major in theater in college. " 'Glee' is a combination of everything: Set designing. Band. Singing. Dancing. Acting. It's a place where people can really find a place to belong."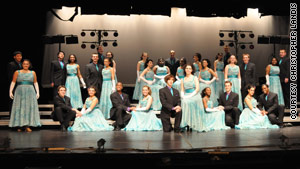 At Waltham High School, the show choir club saw a record number of auditions.
It has been dubbed the "Glee effect." Show choirs -- a singing-and-dancing tradition that originated in the Midwest decades ago -- are gaining popularity at high schools across the country as a result of the show, choral teachers say. The renewed interest in these musical groups gives hope to arts educators at a time when many schools have faced budget cuts in their music programs.
Broadway Bound at Harlingen High School is one of about 20 new high school show choir groups that have emerged in the past year, says Joel Biggs, president of FAME Events, a private company that puts on show choir events and competitions. By comparison, only a handful of groups formed the year before "Glee" began, he says. Biggs estimates there are about 300 strong programs at high schools across the country.
"Kids who have never even considered participating are now finding a place in show choir," says Biggs, who plans to launch his company's first national show choir competition in April.
A poll conducted by Harris Interactive in September found music-themed shows such as "Glee" and the Disney Channel's "Camp Rock 2" generated new interest in school music programs among students between age 8 and 18. The survey of 1,800 students found 31 percent more students wanted to participate in school music activities.
Earlier this year, a poll conducted by the National Association for Music Education published by The Boston Globe found 43 percent of choral instructors gave the show "Glee" credit for the surge in students coming to audition for musical groups.
Since "Glee" was introduced in May 2009, the show has been widely successful. "Glee" is the 25th ranked prime time show this season, with an average 12.7 million viewers, according to the Nielsen Company. Other shows have also inspired a music buzz in high schools, such as Fox's reality sensation "American Idol" and the NBC show "America's Got Talent," music educators say.
Christopher Landis, a show choir director at Waltham High School in Massachusetts, says he saw a record number of freshmen try out for his show choir groups at this year's auditions. He credits "Glee" for helping dispel the negative stereotypes around show choir participants.
Landis' co-ed show choir group, "Music Unlimited," is similar to "Glee" in that his students wear ornate costumes, follow choreographed dance numbers and sing classic and contemporary hits.
Like the show, there are participants who straddle the jock world and the music world, he says.
"We accept everyone, and my rule is, 'If it's not fun, then I don't want to do it,' " Landis says.
Show choirs and glee clubs differ from traditional choirs in that the students use choreography, costumes, set changes and live music. But the activity can be expensive, because it requires elaborate sets and travel expenses. Often, teachers must hire outside choreographers. Booster clubs usually fund the programs. Only a few months into the school year, Landis has spent $17,000 on the program.
We accept everyone, and my rule is 'If it's not fun, then I don't want to do it.'
--Christopher Landis, choir teacher
At Kettering Fairmont High School in Ohio, the same state where the show "Glee" is set, Brody McDonald, director of choirs, says show choir has been an integral part of the high school for more than 25 years. He says the benefits from the musical program outweigh the costs.
"I've seen kids that are shy, and at the end of the journey, they are confident people," he says. "They are much more open and communicative."
The National Association for Music Education reports that music has been shown to have a positive correlation with academic achievement. Schools with music programs experience higher graduation rates and standardized test scores, and music can also help improve memory and help with brain development.
After federal policies such as No Child Left Behind were implemented, some schools narrowed their curriculum to focus more on science, math and reading, says Lynn Brinckmeyer, former president of the National Association for Music Education, an organization with more than 75,000 music teachers.
"Many students learn differently than sitting at a desk and doing math problems," she said. "Some thrive that way and some don't. Without music programs, we are missing out on some of our learners."
Music-themed shows help parents, who are also frequent viewers, become advocates for music education, said Paul Cothran, executive director of the VH1 Save the Music Foundation, a group that works to bring music back into classrooms.
"I think it is getting people thinking again and wondering, 'Are my kids getting music in school?' and at least asking those questions," he said.
Back at Harlingen High, Eric Lopez, 17, is a multitalented musician who can play the guitar, keyboard and drums.
He was getting ready for rehearsals for the show choir's performance of songs from the Broadway musical based on Green Day's "American Idiot" album.
"It's just fun to play music and watch all these different groups collide," he said.
FOLLOW THIS TOPIC