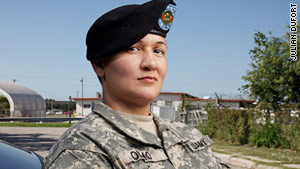 Victoria Olmo is a veteran of the Iraq war. She was injured in combat and has been deemed nondeployable.
STORY HIGHLIGHTS
It wasn't until Afghanistan and Iraq that women were exposed to combat in such vast numbers
Tens of thousands of female soldiers suffer from post-traumatic stress disorder
Civilians assume a female vet is honoring her brother's or husband's service
(OPRAH.com) -- Victoria Olmo, a 35-year-old army specialist known to her friends as Vikki or just plain Vic, is sweating in a lounge chair on a cement slab under a carport, sheltered from the burning Texas sun but not the breezeless Texas heat.
A sprinkler spritzes a patch of the backyard lawn; her two small dogs, tongues lolling, are collapsed at her feet. She's got one hand wrapped around a perspiring Corona, the other resting on her bad leg, which is slightly bent at the knee.
"That's a different kind of heat over there," she says. "Nothing like this. This is vacation heat. Qatar -- that was a humid, heavy heat. Imagine putting a blanket in the oven and throwing it over you. Now, Iraq, it was more a dry heat. There was always this powdery dust on the ground. You kick it and it was like kicking a keg of baby powder."
When Vikki first arrived home from Iraq, a good friend told her she had changed so completely it was like "meeting someone I don't know, like being introduced to someone else with your face."
"You used to be my hero," her friend told her. That sentence rolls around and around in Vikki's mind when she's feeling bad. "I can't forget her words: 'You used to be my hero.' I don't know what she meant by that ... whatever it was about me before that I did not have anymore."
Oprah.com: Custody battles of female soldiers

Veterans healing through art

Remembering those who have no one

Mental health app for US troops
Until recently, the transforming and traumatizing experience of soldiering belonged almost entirely to men and boys. Though women have served officially and unofficially in every American war, it wasn't until Iraq and Afghanistan that they were exposed to combat in such vast numbers: Vikki is one of 247,000 female troops who have served in Operation Iraqi Freedom and Operation Enduring Freedom.
One tends to forget there are so many. Or remembers only when some appalling story emerges about the staggering number who have been sexually assaulted by their brothers-in-arms.
But female soldiers have driven fuel trucks and ordered supplies; manned machine gun turrets; cleaned wounds; guarded prisoners; followed orders from good commanders and lousy ones; barked orders, too, some of them; listened for the whistling sound of incoming; hit the dirt; threatened the local populace with the points of their weapons; kicked down doors; scanned rooftops and bridges for snipers; sat with their backs to the wall; sweated; cursed; grumbled; joked; and soldiered on.
More than 600 have been wounded in combat, more than 120 have been killed, and tens of thousands suffer from post-traumatic stress disorder. Yet when they come home they seem to disappear.
Every female vet will tell you that she can slap an "Iraq Campaign Veteran" bumper sticker on her truck, tattoo the American flag on her right biceps, and hang military citations from the living room walls, but civilians will assume she's driving her boyfriend's vehicle, honoring her brother's service, or living with her husband's war mementos. It's not the hardest thing a female vet has to live with, but it stings.
Sixteen years ago, fresh out of high school and inspired by her oldest brother, who was a Marine, Victoria Olmo joined the Army reserves and was trained as a food service specialist. She was the youngest of six kids, the late-in-life, unexpected blessing, precocious, cuddled and coddled, dearly loved by her much older siblings.
The teenager who took the oath of enlistment was a high-spirited, athletic girl, self-assured, even a bit cocky but with a wide-open heart and a deep streak of loyalty -- to friends and family, to her hometown of San Antonio, to Texas, to her country. Vikki felt like she had landed feet first on the road she was meant to travel.
She was cool and quick under pressure, unbothered by blood, happiest when she was rushing to the aid of other people. The work didn't pay much, but "it fed my soul," she says.
Oprah.com: One woman's story of friendship, love and fear
She re-enlisted in the reserves in 2005, hoping to someday work as a medic, and then decided to go on active duty, knowing she would be sent to Iraq. She was a soldier, and soldiers go off to war. Deployment into a combat zone would help advance her military career.
She would receive danger pay -- which she'd give to her parents, who were struggling to cover the cost of their medications. And underneath those considerations, there was another motive. Her siblings, all married now and with kids of their own, may have adored their little sister, but they also thought she was spoiled.
For Vikki, what better rebuttal than jumping into the Army, sending money to her mom and dad and then heading off into the combat zone? Sure enough, in August 2006, she found herself picking up her automatic weapon, shouldering 90 pounds of battle gear, and boarding a plane with the 89th Military Police Brigade bound for Camp Victory, Iraq.
Shortly after Christmas 2006, when the mess hall was still garlanded in red, green, and gold, Vikki was unloading training supplies, tables, and chairs from the back of a cargo truck when she heard the whoosh of incoming mortar directly overhead.
The bed of the truck where she was standing was five feet off the ground. She was near the tailgate, facing the turret when the mortar landed with a boom. The truck shot forward, and Vikki flew back, as though someone had given her a hard shove. Her left foot was caught in a cargo strap; her body twisted as she flew. She did a flip and landed on her feet, standing straight up -- but immediately, her left leg buckled backward at the knee and she collapsed.
She jumped up, ready to run for her life, but her leg wouldn't hold her and she fell again. Next thing she knew, someone had grabbed her by the collar and was dragging her swiftly across the ground, her face scuffing the dirt.
Oprah.com: How you can help American vets
Pre-Iraq Vikki was always jumping up and going somewhere -- the movies, a restaurant, a bar.
Post-Iraq Vikki hardly ever wants to leave the house. Although being transferred to Fort Sam was "the best thing that ever happened to me," she says, because it meant getting medical care and being home with family and friends, it's hard to be on a base where "the wounded are a dime a dozen"; every missing leg and shiny skin graft brings the whole war home -- a visceral memory of the blast, its physical shock wave and deafening roar, the blood, the shouts.
"I hate hearing about something bad happening to another soldier," she says. "To look into the eyes of someone who's probably been over there is actually frightening. It's like a whole other experience of pain for me."
"There are things I can't do anymore, and I don't know how to fix it, how to function this way. It's hard for me to accept," she says. "And I'm not trying to sound unappreciative of the things that I can do. I can breathe. I can walk. I can see, I can hear. I can communicate. I'm very, very blessed. But you miss those things."
Because of her physical limitations, she has been deemed nondeployable. When she was given the news, "it just ripped my heart out of my chest," she says. "It's like having your heart broken by a lover."
Some afternoons Vikki comes home from the base and rides her stationary bike, but she feels she isn't putting her all into it, not gung ho like she used to be.
"I hate hearing about something bad happening to another soldier ... It's like a whole other experience of pain for me.
--Vikki Olmo, Iraq war veteran
When I ask her why that is, she says, "Because I'm upset, I'm in pain, I'm mad, I'm disappointed, angry. I feel like I've been given up on...." Tears slip from under her sunglasses and slide down her face. "Like they just gave up on me. Said the hell with it, go fend for yourself."
Oprah.com: Homeless female veterans
There is a long pause, and when she speaks again, barely above a whisper, her voice sounds clotted with suppressed tears. "It's just so ugly, so horrible, the things people do to each other."
And still there are sights she won't describe to me, secrets, she says, she will take to her grave. She is protective that way. She doesn't want people to share her knowledge, afraid they'll lose faith in humanity.
"For a while I was like: There is no God. There can't be a God. And then I thought, You know what? There is a God. He gave us the sense to make choices. Yes, evil exists. Yes, we can get as evil as we want, but we have to learn to love him. We have to choose to love him."
This new morality, built not on a vision of a benevolent world but a cruel one where we can still choose to be good, seems to have given her a foothold. And days of dredging up her memories, detailing them, examining them, sometimes crying, sometimes shutting everything down again and going off to kill zombies, have given her some peace of mind.
"I feel like it's not gripping me as hard, it's letting go a little," she says. I ask if she sees herself getting stronger and happier as the months and years go by.
"I am. I will," she says firmly, like she's giving one of us a pep talk. "As much as I've been beaten down and torn up emotionally, my soul is still alive. A little beat up, but..." Then she smiles. She's wearing her sunglasses, so I can't see if the smile has made it to her eyes.
See the full article on Oprah.com.
Subscribe to O, The Oprah Magazine for up to 75% off the newsstand price. That's like getting 18 issues FREE. Subscribe now!
TM & © 2011 Harpo Productions, Inc. All Rights Reserved.
FOLLOW THIS TOPIC