Post-election job advice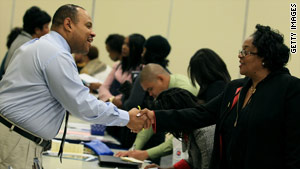 Martin Wills of Chick-fil-A talks to a job seeker during a job fair at Maryland's Prince George's Community College.
STORY HIGHLIGHTS
Eighty percent of the jobs available are never posted -- networking is important
Keep your job while looking for new one because there are 4.6 job seekers for every position
Make cover letter short, and try to include the name of someone you and hiring manager know
Editor's note: Christine Romans is anchor of CNN's "Your $$$$$" and author of the new book "Smart Is the New Rich" (Wiley).
New York (CNN) -- Some new faces are heading to Washington. Some old ones are returning too. But you're probably just wondering who can change the jobs situation and when.
Nothing happens in the labor market overnight, but here's some advice for weathering the worst jobs market since Ronald Reagan was president.
If you have a job, keep it. There are 4.6 job seekers for every available position. That's a lot of competition. So if you have your job, be on the top of your game every day. Recruiters and human resources experts say managers have cut to the bone, and workers who get results may be in a position to move ahead.
If you are looking for a job, don't blindly mail hundreds of cover letters. Experts say if your cover letter makes it to the hiring manager's desk, that person spends about 10 seconds or less looking at it. Make sure it is short, to the point and interesting. And better yet, make sure it includes the name of someone you both know to get the hiring manager's attention.
There's a war for talent. Recruiters say the finance and information technology fields are hungry for exceptional workers. Eighty percent of the jobs available are never posted -- hidden really -- as managers reach out through connections to add to the ranks. Keep up ties with former bosses and co-workers.
And downplay the gap. If you are unfortunately one of the 6.2 million people out of work for six months or longer, downplay the gap on the résumé by filling it with volunteer work, classes or work with your professional organization. The hiring manager wants to see that you have filled your time well.
FOLLOW THIS TOPIC