STORY HIGHLIGHTS
WWII medic Tony Acevedo turns over diary to U.S. Holocaust Memorial Museum
Diary catalogued life inside Nazi slave labor camp for 350 U.S. soldiers
Acevedo became the first Mexican-American to sign the museum's Holocaust survivor registry
Washington (CNN) -- The tattered journal, its pages yellow with age, contains the painful memories of a U.S. medic, a man who recorded the deaths of soldiers who survived one of World War II's bloodiest battles yet met their end as slaves in Nazi Germany.
32. Hamilton 4-5-45
33. Young 4-5-45
34. Smith 4-9-45
35. Vogel 4-9-45
36. Wagner 4-9-45
"Some were dying," said its author, Tony Acevedo, now 86. "Some died, and I made a notation of that."
Flipping through the pages, you encounter a horrific part of world history through the eyes of a 20-year-old inside a slave labor camp. Amid the horror, the journal captures extraordinary human moments of war. Acevedo sketched beautiful women in the back pages, pinups whose eyes provided comfort amid hell.
Acevedo kept the diary hidden in his pants. He feared death if the commanders saw it. Yet he believed it was his duty as an Army medic to catalog the deaths and the atrocities against the 350 U.S. soldiers at the camp known as Berga, a subcamp of the notorious Buchenwald compound.
With his hair silver-streaked and a smile that exudes charm, Acevedo recently made the journey from his California home to the U.S. Holocaust Memorial Museum in the nation's capital. He carried his Red Cross medic's band, a cross that provided comfort in war and his diary. He also brought a prayer book that he read to the sick and dying.
"I speak for all my buddies who were there," Acevedo told museum staff members in a private ceremony. "I turn this over to the Holocaust museum with honor and pleasure, with all my heart."
He spoke softly, gently. Like the book itself, his hands showed the mark of time. His face beamed with pride, his chin held high. On his lapel, he wore a pin with a star and beneath it the words: "U.S. Army."
Acevedo flipped through the diary pages one final time. He licked his finger, like he'd done thousands of times over the past 65 years, to help turn a page, drawing raised eyebrows among archivists.
As personal as the diary is, for the museum, it underscores a universal truth about the Holocaust -- in which 6 million Jews were killed -- that sometimes escapes notice.
"This diary exemplifies the fact that the Holocaust is a story that belongs to many types of people from various ethnic, religious, national groups," said Scott Miller, the museum's director of curatorial affairs.
I turn this over to the Holocaust museum with honor and pleasure, with all my heart.
--Tony Acevedo, World War II medic
"You did your best as a medic," he told Acevedo. "You did your very best as a witness to history by writing this diary for us and future generations."
The room erupted with applause. Acevedo smiled and nodded his head in thanks.
It took six decades for the U.S. Army to publicly recognize the Berga soldiers -- largely the result of Acevedo's diary and his telling his story to CNN two years ago.
On this visit, he became the first Mexican-American to register with the museum's Holocaust survivor list -- out of 225,000 others. His diary is one of 150 donated to the museum and the first written by an American captive.
It almost never made it out of the slave labor camp. Twice, it fell in front of an older Austrian guard, the only one at the camp with any compassion.
"He would ask me what I write. I would say, 'I'm writing about the nice vacation I'm taking here in your compounds.' "
The guard would laugh. "I'll never forget him," Acevedo said, his voice trailing off into the past.
Singled out and sent to slave labor camp
They were hand-picked to be the Germans' slaves.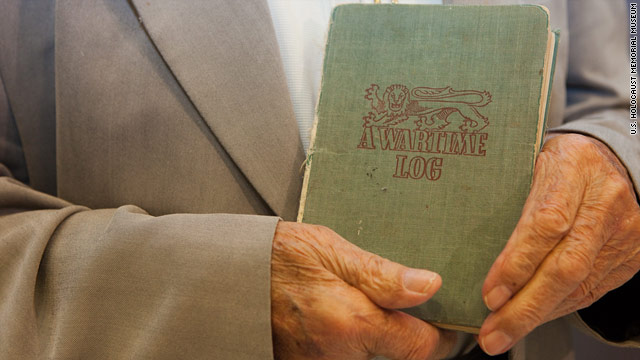 Gallery: WWII vet donates Holocaust diary
The American soldiers, most captured during the Battle of the Bulge, were called into a yard at the prisoner of war camp known as Stalag IX-B in Bad Orb, Germany, where thousands of American, French, Italian and Russian soldiers were held.
Word had spread among the American captives that Jewish soldiers would be separated. It was early February 1945.
"All Jews," the German shouted, "and anyone who looks like a Jew, step forward."
Few willingly did so. About 80 Jewish soldiers were singled out. The Germans needed 350 slave laborers. They began choosing 270 other "undesirables."
A guard shoved Acevedo, a Catholic, forward. "You're going to a beautiful camp with a theater and live shows," he was told.
The son of Mexican immigrants, Acevedo had been segregated before. As a young boy in Pasadena, California, he couldn't attend the same classes as his white peers.
And in 1937, his parents were deported to Mexico. Though 13 and a U.S. citizen, he went with them. Four years later, after the Japanese bombed Pearl Harbor, Acevedo returned to his homeland. He signed on as a medic in the U.S. Army.
That decision had led him here, thousands of miles from home, cold, frozen, frigid, unaware of his fate. He and the other soldiers were about to experience something no other U.S. soldier faced: the Holocaust behind enemy lines.
They marched from the prison compound to an awaiting train.
"If you need to defecate, you do it in there," a German soldier said of the cattle cars.
The men were packed inside, 60 to 80 standing shoulder to shoulder. Many, like Acevedo, were youngsters fresh out of high school. Others were fathers, their family lives interrupted by war.
The train pulled away and into the bitter winter. They were packed so tight, they had to sleep standing up. Icicles clung to the windows. The soldiers broke them off and sucked on them.
"Fear was always within you," Acevedo remembered.
American planes strafed the train, unaware of its inhabitants. Acevedo closed his eyes and prayed.
The boxcars arrived at Berga after a week on the tracks. The men would spend the next two months digging tunnels, in 12-hour shifts, forced to work for the German military machine. At a separate Berga compound, political prisoners, mostly Russians and Slovaks, also were forced into slave labor.
They were beaten and starved. Many died.
The diary arrived in a Red Cross package, along with a Sheaffer fountain pen. Acevedo mixed snow with the ink to help it go further; other times, he'd urinate in the ink container to make it last.
There were two journals in the pack. He gave the other to Pfc. Stephen James Schweitzer, POW #25802, on March 20, 1945. Schweitzer would also survive the war.
Acevedo wanted to make sure history was recorded. It was ingrained in him, as a medic and as a soldier who kept the war ethos: I will always place the mission first; I will never quit; I will never accept defeat, and I will never leave a fallen comrade.
"Five more men escaped today -- Goldstein's body was returned here today for burial," Acevedo wrote March 20, the same day he gave Schweitzer the other journal. "He was shot while attempting to re-escape. So they say, but actually was recaptured and shot in the head (forehead)."
One sketch shows a German guard beating a soldier. That was typical of the treatment: Soldiers were struck with rifle butts or rubber hoses and forced to continue to work in mines. Ice water was dumped on one malnourished American, who died of shock moments later.
"Today, I received the only letter from my girlfriend, the girl I am hoping to see when I get back," he wrote on March 24, 1945. "I think a lot of her. I won't forget; her name Lolin Espinoza." (He married Lolin, his second wife, in the 1980s, and they're still together.)
The next sentence comes back to camp reality: "Another of our boys died last night from malnutrition."
A few days later, he marked Good Friday. "On this Holy Day our thoughts are all at home and of the coming Easter Sunday," his March 30 entry says. "It is also the feast of Passover for our Jewish comrades and they also think of home and family."
By April 2, the day after Easter, the situation had grown dire. "Two more of our men died today and one last night, 3+ 16 -- makes 19; living in unsanitary conditions; water must be boiled before it is drinkened. No latrines. Deaths are increasing in great number."
As liberating American troops advanced, the American soldiers held in Berga were forced on a death march, beginning on April 6. "The highway of a super hell, a Hitler super hell," Acevedo reflects.
Acevedo pushed a wooden cart with as many as 20 men on it. Some suffocated under the weight of their comrades. Lines of political prisoners in front of them caught the full brunt of the defeated Nazis.
"You could see them hanging to the barbed wire, trying to escape, but they hung up when they were shot," he says. "Men, women, children."
At one point, they came across a "pile of women, children, men, young men being slaughtered by the Germans. They were Jewish. It was awful."
He was liberated on April 23, 1945. Before returning home, Acevedo signed a document that still haunts him today. "You must give no account of your experience in books, newspapers, periodicals, or in broadcasts or in lectures," it said.
It ends with: "I understand that disclosure to anyone else will make me liable to disciplinary action."
A war crimes trial, convictions -- and commutations
The camp commanders, Erwin Metz, and his superior, Hauptmann Ludwig Merz, were tried for war crimes in Germany in 1946.
They gave a very different account of treatment at Berga. They described prisoners who ate better than guards, of comfortable accommodations and of trying to help the American soldiers as best they could. Survivors were not called to testify.
Merz described inspecting the soldiers on April 19, two weeks into the death march. "Roughly 200 prisoners were there, all of whom gave the appearance of being well-rested," Merz told the court. "I noticed one sick, who was sitting on the ground, because he could not stand up the entire time it took me to make my inspection."
Pressed further, he said, "Among those that I saw there were no sick, except the one I mentioned."
Acevedo's diary entry from that same day, April 19, paints a different picture. "More of our men died today, so fast that you couldn't keep track of their numbers," he wrote. "We kept on marching. I fell back of the column to help the sick ..."
The next day, he added, "Day and night, it rained. Every man was wet from top to bottom. We march and as we walked along the road you could see men which had been shot through the head. These were political prisoners. Every 25 yard intervals there layed 3 or 4 men -- men that couldn't make the march had to drop out, then were shot."
Merz and Metz were found guilty and sentenced to die by hanging. Yet, in 1948, the U.S. government commuted their death sentences, and in the 1950s, the men were set free.
The two were among dozens of convicted Nazi war criminals whose sentences were commuted by the U.S. government as part of an effort to bolster Germany, which was facing the threat of Soviet expansion.
"Metz, though guilty of a generally cruel course of conduct toward prisoners, was not directly responsible for the death of any prisoners except one who was killed during the course of an attempt to escape," the War Department said in explaining the commutations.
The Berga soldiers weren't just survivors of the Holocaust; they'd become early victims of the Cold War.
A loving uncle's fight
Back home, the chief advocate for Berga survivors was a dogged and powerful Manhattan attorney named Charles Vogel, whose nephew had died in Acevedo's arms.
Working pro bono, Vogel contacted more than 100 survivors of the Nazi slave camp and forwarded their accounts to the U.S. War Department. He was relentless, a loving uncle doing all he could for his nephew.
Vogel had even offered to pay for Berga survivors to fly to Germany to testify against Merz and Metz, an offer the War Department refused.
When he learned, in June 1948, that the death sentences for Merz and Metz were being commuted, Vogel was outraged. He spent the next few months gathering signatures of dozens of "survivors of this horror and by the next-of-kin of the G.I. dead." He pleaded in a petition to President Truman, Secretary of State George Marshall and Defense Secretary James Forrestal to act against "these monsters."
"The civilian prisoners received treatment on a par with that at Buchenwald and Dachau," Vogel wrote. "This, in itself, is sufficient cause for Merz and Metz to hang."
That justice never came.
The soldiers' captivity at Berga, and the release of the camp commanders, has always been a touchy subject for the Army.
For decades, no ranking Pentagon official had described Berga as a "slave labor camp."
Yet after Acevedo first spoke to CNN, in November 2008, hundreds of people lobbied two members of Congress: Reps. Joe Baca, D-California, and Spencer Bachus, R-Alabama, who had long championed the Berga soldiers.
The congressmen urged the Army to act, and in June 2009, the Army did just that in a ceremony for prisoners of war in Orlando, Florida.
"These men were abused and put under some of the most horrific conditions," Maj. Gen. Vincent Boles said. "It wasn't a prison camp. It was a slave labor camp.
"Just as they never left their fallen comrades, we will never leave them," Boles said. "You were good soldiers, and you were there for your nation."
Six of the roughly 20 remaining Berga survivors attended. Acevedo boycotted it. He felt that any recognition of the soldiers should be held in Washington.
Boles told the men the tunnels they were digging were part of a sophisticated V-2 rocket factory. As for the "secrecy" document many signed, he said it was intended for POWs to "not to talk about escapes, people who had assisted them, people who had helped them."
"What they went through didn't need to be kept a secret," Boles said. "That was not our intent at all, but we screwed that up."
Acevedo begs to differ. He was there, at Camp Lucky Strike. The American interrogator, he says, told him to keep his mouth shut.
"We had to sign our lives away," he says. "It was almost like signing a will of death, not able to say anything about what we had gone through."
He began talking of his experience to family, to schools, to veterans groups in the 1990s. Enough years had finally passed, he thought.
The U.S. Army says 70 soldiers died at Berga or on the death march, although war crimes investigators found the bodies of more than 90 soldiers. Charles Vogel calculated about 115 Berga deaths from his interviews with survivors and letters from families of those who died.
Acevedo still believes the death toll was higher. His diary contains at least 68 deaths. But, he says, he couldn't keep up with the rising toll in the final days.
A hero comes full circle
For years, Acevedo trembled in bed. He'd wake up sweating. Sometimes, he screamed.
His diary was a constant companion. He'd turn the pages, to remember, to reflect, to never forget. It was part of him for 65 years.
A day after giving it to the Holocaust museum, he took a private tour of the place. He said he missed his little book. But donating it was the right decision, he said. "I did it with honor."
Wearing a black cap that said "POW-MIA You Are Not Forgotten," he paused often amid Nazi displays and the documentation of the extermination of Jews
"It brings back memories. You don't forget. You remember more."
When he came across a wooden cart like the one he pushed on the death march, Acevedo gaped. He'd told stories about the cart for years, of tugging and toiling to not leave soldiers behind. The bodies were stacked five high.
"That's the cart," he said, in a hushed voice. "You see this and you say, 'How inhuman everything was.' "
He continued on. He stopped outside a rail car. His face grew pale. His son, Fernando, placed his hand on his father's shoulder.
It was as if Acevedo was transported through time, to the side of the tracks where the Nazis crammed the soldiers inside boxcars meant for cattle.
Slowly, cautiously, he stepped forward. The car stunk of sweat and feces. He pointed at the tiny windows, talked of eating icicles, of being moved like cattle. Of being treated as though he were not human.
"All we did was just pray and say, 'We're in your hands, God.' "
Finally, he broke down and wept. His son held him.
And this time, as Acevedo left the train, he stepped into freedom, a part of history.
FOLLOW THIS TOPIC