STORY HIGHLIGHTS
Atlanta family has legal and illegal siblings, each facing different challenges

Javier, a 17-year-old honor student and athlete, is trying to get into college

He lives in a state that bans undocumented students from certain public universities

He is hoping the DREAM Act will pass and give him access to college
Atlanta, Georgia (CNN) -- Javier is a clean-cut high school senior, a 17-year-old who sports a gelled faux-hawk, an Abercrombie shirt and Puma sneakers. He looks like your typical American teen.
His English is almost impeccable as he recounts his achievements. You have to listen closely to hear his accent, one of the few remnants of a bygone life, before he left Mexico and illegally crossed the border at the age of 8.
The crowded apartment where he lives with his family in Atlanta, Georgia, is evidence of his relentless drive: Report cards reflect a 4.125 grade point average. Certificates boast he's in the top of his class. Piles of brightly colored T-shirts from volunteer events reveal his altruistic personality.
Glossy yearbook photos depict him as a teenager who has it all: Junior class president. Captain of the cross country and swim teams. A decorated soccer player.
Javier's little sister, Emily, is a bubbly 10-year-old with a round face and crooked grin. She has big aspirations, too. Today, she'd like to become a doctor, she tells her mother. She admires her big brother, but even at her naive age, she knows his academic future is bleak because of his undocumented status.
She starts crying when she explains that she has "the papers."
And Javier does not.
Born in the United States, Emily's "papers" are her birth certificate and Social Security card.
There are at least 400,000 families in the U.S. like Javier's and Emily's, where there is a combination of documented and undocumented siblings in the household, according to the Pew Hispanic Research Center. They are commonly called "mixed-status families."
Javier's family agreed to let CNN interview them to share their views on their contrasting statuses, as long as their last names remained anonymous for safety reasons.
Javier is pictured with his siblings. Only one of the siblings, his little sister Emily, is documented.
The family says the differences between Emily and her five siblings, including Javier, amount to a few sheets of paper. But only Emily has the keys to accessing federal loans and scholarships to college in Georgia, a state that has recently cracked down on undocumented students attending public universities.
"Making good grades?" Javier says. "That's not the problem. Anybody can do it as long as you apply yourself. The problem is the money you need to acquire after the 12th grade. You want to live the dream and do better, but the reality is if you don't have legal status, [going to college is] like winning the lottery."
This month, Javier faced a new barrier in his quest to attend college -- something Emily will never have to worry about. He had just celebrated completing his application to Georgia State University when he learned the University System of Georgia passed a policy that prohibits five public universities from taking undocumented students.
Georgia State University is one of them.
Georgia law also bars undocumented students from receiving in-state tuition.
Georgia is one of three states that prohibit undocumented students from accessing in-state tuition rates, according to the National Conference of State Legislatures. One state, South Carolina, completely bans undocumented students from all public universities.
In contrast, 11 states make access to college easier for illegal immigrants by allowing them to receive in-state tuition. New Mexico and Texas also help undocumented students by providing state financial aid, the state legislatures group reported.
The news of Georgia's new university policies was shattering for Javier, particularly after learning the Senate stalled the long-awaited yet contentious DREAM Act, which would grant certain illegal citizens legal status if they were to complete some college.
The DREAM Act would create a path to citizenship for illegal immigrants who entered the United States as children. Under the bill, an individual would have to be of "good moral character" and complete at least two years of U.S. military service or college. As a citizen, Javier could apply for federal financial aid for college.
The DREAM Act has been introduced in Congress but has failed to pass. Last month, a group of senators threatened a filibuster.
At least 2.1 million would be eligible for citizenship if the bill were to pass, estimates the Migration Policy Institute, and that's a hard number for critics to swallow.
"It's detrimental for undocumented students wanting to learn and wanting to go to school," Javier says. "I don't think they are going to see a purpose. Now, they're going to think, "What's the point of doing well if they are going cut us off afterward?"
The last border: College
Javier thinks he can do just about anything if he works hard enough.
When he was 8, he crossed the border by foot without his family or money. He hid in ditches along the border until he could join other illegal immigrants packed into a van like sardines.
He says it was never his choice to come to Atlanta to join his mother. Sometimes, he wants to tell her that when he feels paralyzed by his illegal status.
"You either make it or you die," he says. "You risk your life to come here."
Javier mastered English quickly in the public school system. By sixth grade, his grade cards show, he was placed into the gifted program. He earned top scores in his classes, beating U.S.-born students and documented Mexican classmates, he says.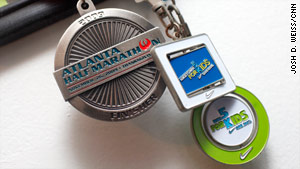 The children in the family have won numerous academic and athletic awards.
He achieved this on his own in a single-parent household. His father died in Mexico when he was a baby.
The athletic and academic opportunities he's been afforded in the U.S. are almost nonexistent in his home country. Javier suspects he would have dropped out of elementary school and been picking strawberries and herding cattle like his mother when she was 9.
"You get to experience those little things that other people don't get to go through," he says. One of his favorites was a leadership camp last summer where he met other motivated students like himself.
Javier's drive is palpable. Each school day, he arrives an hour early to lead a student club or to study. He often doesn't return home until dark, usually exhausted from a cross-country practice or soccer game. When he talks about his Advanced Placement courses -- a total of four crammed into his senior class schedule -- he's grateful.
These classes may be the closest he can ever come to college.
Monique, 50, an English teacher who taught Javier in high school, says he is one of the top students she has encountered in 24 years of teaching. Her last name was withheld to protect the family's identity.
"The frustration, it didn't seem to get him down," she says. "He knew if he put forth effort, things would work out for him. He had that positive outlook on life."
After all his efforts, Javier isn't picky about which college he'd like to attend. Just a school his family can afford.
Without legal status, he knows scholarships are rare and federal financial aid is impossible. Private school tuition can cost more than $45,000 a year.
So he set his eyes on Georgia State University. He learned about a private scholarship that would pay for the tuition, and he planned to apply for it. On the side of an information sheet for the scholarship, he scribbled "gotta get it!"
He was devastated to learn last week that Georgia State University is among the schools that will now bar undocumented students.
Officials with the Georgia University System say undocumented students can still attend other public universities in Georgia, but the five universities they selected have "capacity constraints."
"Everybody wants to go to the University of Georgia," says spokesman John Millsaps with the board of regents. The University of Georgia is another school that banned undocumented students. "They can't accept everybody every year -- now does that mean they can't go to other public universities in Georgia? There are plenty of options."
The board oversees 35 public institutions in Georgia, Millsaps says.
More than two dozen advocacy groups in Georgia disagreed with the board's decision. Azadeh Shahshahani, an attorney at the American Civil Liberties Union in Georgia, says the policy was short sighted.
"It's a matter of fundamental fairness to provide access to undocumented students to institutions of higher education," she says.
Legal or not, 'they are still family'
From the minute Emily was born in Atlanta -- at 8:11 p.m. on April 18, 2000 -- she was different from her five older siblings.
The 14th Amendment to the Constitution grants children born on American soil automatic U.S. citizenship. The number of children like Emily is growing: One out of every 12 babies born in the United States in 2008 was the child of an unauthorized immigrant, the Pew Hispanic Center says.
"I knew she was born here, and she was going to have more opportunities," Javier says.
The relationship between documented and undocumented siblings has been little-studied, says Michael Fix, co-director of the National Center on Immigrant Integration Policy at the Migration Policy Institute.
"We haven't had a large undocumented child population moving through the system in the past," Fix says. "We are running a huge national experiment on this issue."
Emily heard her family buzzing about her "papers" before she learned to walk. By the time she was 6, she'd learned to bring up the papers in petty arguments with her brothers and sisters.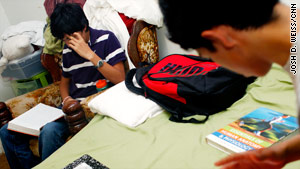 Javier and his younger brother Antonio are both honor students hoping to attend college.
"I've got papers, and you don't," she'd tell them.
But the teasing was just good fun. There is no jealousy or bitterness between Emily and Javier, despite their contrary statuses.
"It doesn't matter if they have papers or not," Emily says. "They are still family."
Like many of her siblings, school comes effortlessly to Emily. Emily brings home certificates recognizing her for earning A's. She cuts them out and puts them in a frame above her bed as a reminder that she is on her way to making college a reality.
Emily knows getting there has been a family goal.
Her two oldest sisters, Isabel and Gloria, quit elementary school to come to America with their mother. Rather than focusing on school, they worked in fast-food restaurants to earn enough money to bring Javier, their sister Mayra, and their brother Antonio over.
"It's always been us against the world," Gloria says one day after a long shift at a convenience store. She typically juggles two to three jobs.
While her siblings are barred from applying for most scholarships because of their unauthorized status, Emily will be eligible. She will also be able to rely on student loans and financial aid.
Meanwhile, Javier is thinking of a Plan B, now that he cannot attend Georgia State University. He is looking into private schools with scholarship opportunities that don't check citizenship. But he knows the chances of attending a private college will be slim.
Two years ago, his older sister Mayra, who is now 20 and also undocumented, applied to two private colleges. Mayra, an honor student, was accepted, but even with a quarter of her costs covered, she couldn't afford tuition, books and transportation.
She declined to attend the schools and is working to save up enough money for community college.
"Sometimes you say, "Why did I even bother to come here?" she says. "Why did I even dream of coming here?"
She keeps her college acceptance letters as a reminder of what could have been.
FOLLOW THIS TOPIC