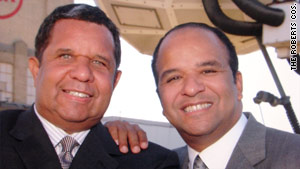 Michael and Steven Roberts
STORY HIGHLIGHTS
The Roberts brothers own businesses, from hotels to TV stations, worth more than $1 billion.

They think black Americans need to be exposed to more examples of black entrepreneurs' success stories.

The brothers like to share their story as encouragement for people to chase their dreams, they say.
CNN's Soledad O'Brien looks at how some are fighting debt from the pulpit in "Almighty Debt: A Black in America Special," premiering at 9 p.m. ET on October 21.
(CNN) -- Michael and Steven Roberts are business moguls navigating the global recession, but they say the lessons they have learned could be applied to any business owner.
"We've had to do the entrepreneurial shuffle," says Michael, chairman and CEO of the Roberts Cos., based in St. Louis, Missouri.
The two African-American brothers and business leaders estimate their current holdings -- from hotels to TV stations -- are worth $1 billion. Now, in a time of economic uncertainty, their billion-dollar empire is vulnerable.
"As we began to get hit hard [by] the recession, we looked at what are the better assets for us to sell in order to create liquidity, and this year we sold our communications tower company for about $90 million," Michael says. "Your businesses are like your children. As you grow them and mature them, at some point you may feel you have to let them go."
For Michael and Steven (who takes on president and COO duties at the company) doing well in the recession is relative. Michael says, "If you want to say we've survived and done well, yes, but had there not been a recession we probably would have done exceptionally well."
They're immensely successful, but they say for the rest of black America to follow suit people need to be exposed to more examples of black entrepreneurial excellence.
"Black folks need legacy," Michael says. "Our own so-called black history only talks about civil rights and slavery and completely ignores capitalists who happen to be of African-American descent ... the type of history that would generate a level of confidence to our black students to think, 'Maybe I can start a business.'"
The brothers got their business start in a historically black neighborhood in St. Louis. There, they grew their business from a one-room office to an empire of commercial real estate, TV stations, telecommunication companies and more.
The brothers like to share their story as encouragement for people to chase their dreams. (They shared their early days with CNN in 2009).
"We tell folks, learn it, get your hands dirty -- you know, a little sweat equity," Steven told CNN last year. "For that college student, for that future entrepreneur ... we're saying understand what your passion is and understand what your product is, too."
There will be times, Michael says, when you will stumble, but don't let those hiccups get you down -- even in a major economic downturn. "We are in a time like no other time. ... It's the best time to start a business."
Michael says he believes this is especially true for black Americans. "Black folks cannot fall off the bottom. If there is a downfall in the economy... that means it's a leveling of the playing field for us."
CNN's Wayne Drash and Ed Lavandera contributed to this report.
FOLLOW THIS TOPIC