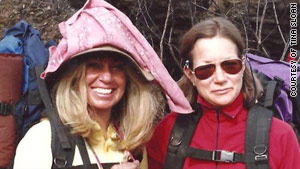 Tina Sloan, left, and Patti Malcolm on their climb of Mount Kilimanjaro
STORY HIGHLIGHTS
Actress and author Tina Sloan on things she she resisted, things she should have avoided
Fear almost kept her from skating in Central Park, which now delights her
She spent a night wrestling with glamorous gown that tried to fall down
Her part in a Woody Allen film did not turn out as she expected
Editor's note: Tina Sloan played nurse Lillian Raines on the TV soap "Guiding Light" for more than two decades and climbed Mount Kilimanjaro before sitting down to write "Changing Shoes," which she then turned into a one-woman show about aging with "style, humor and grace."
(CNN) -- I am not sure we ever get past the annoying disappointments, nor do we ever learn to break through walls and climb mountains, but we can get close to it if we just do it.
I know I sound like a Nike ad but that is the answer Michael Jordan had along with so many other athletes and saints and artists. You just put one (well-heeled) shoe in front of the other and keep going.
In the book, I talk about simply staying in the room, staying when you want to run away or get furious but knowing that by staying you will finish the race or the picture or the invention or the book. It is just doing it -- no matter what -- that makes it happen.
Five great things I avoided
1. Oh, how I balked at learning to ice skate, but since my husband had played ice hockey in college, there was no way I wasn't going to have to learn. So I did -- thinking I would hate the cold and hurt myself and look ridiculous holding onto the railing and going round and round with tiny children. But after a few falls and being circled by brilliant children as I held on for dear life, I began to get the feel of it. Now, a great joy for me is skating on snowy nights in Central Park.
2. Learning to IRON. As a child, I was taught to iron and thought it was ridiculous, but soon I found it soothing to press my white-collared uniform blouses. It was a place I could go and be alone and somehow the rhythm of it gave my mind time to whirl and be creative.
3. Getting up at 6 a.m. to board the Staten Island Ferry to see the tall ships come into the harbor for the 200th anniversary of the United States. My husband woke me and said, "Let's go and take the ferry and see what is happening." I mean -- really! But I did it and it was one of the most exciting days of my life. Those huge battleships coming right by us. ...
4. Hiking through Yellowstone National Park in a torrential downpour. I could be cuddled up with a book in front of the fire! My son really wanted to see the park and we only had the one day, so off we went, drenched even as we left the cabin. But the solitude and camaraderie with him stay with me to this day.
5. Auditioning for my first role in a play. I was in college and I was completely paralyzed and thought I was insane, but followed whatever was driving me and went in and read and it changed my life.
Five dreams that turned out not-so-good
1. I did a small part in a Woody Allen movie. The second movie I did for him was heaven. I played a wealthy woman in the 1940s -- dream come true and since it was my second film for him, I thought I was on my way to being one of his "gang." I ran to see it when it was released and I was totally cut out. Devastated.
2. Climbing Mount Kilimanjaro (19,792 feet). This was a dream of mine but oh, the reality is not the same. It is not all glory and summiting with angels singing and bells ringing and dawn breaking magically at the top. No, it is aching backs and having trouble breathing and feeling sick and headachy and having such thick cloud cover at the summit that you see absolutely nothing.
3. Getting the perfectly beautiful designer gown to wear to a glamorous party. I felt like Cinderella, but somehow it dug into me the entire night and the top kept sliding down and I spent the entire evening trying to look happy as I pulled and pushed myself around to keep the "glamorous" dress on.
4. Every man and woman has had this one. You finally go out with the person you have been yearning to go out with. The looks passing between you, the smiles, oh the flirting and then you have the date and -- whish -- all of it goes away as he doesn't know how to kiss and you are devastated.
5. The day you have been waiting for for months is here -- a day to be alone and think and relax. But the car horn outside never stops, the book you got in the mail is the wrong book, the computer breaks down, all the little intricacies of life gang up on you.