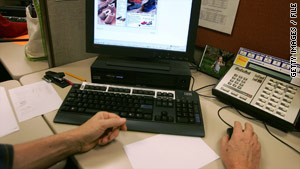 Researchers say "dark side" personality traits have their place at work, and many good bosses possess them.
STORY HIGHLIGHTS
NEW: Some workers agree with the study's assessments
Negative character traits are sometimes part of the package that makes a good leader
Some negatives are positives for some careers, but don't enhance others
A university study followed West Point cadets
Atlanta, Georgia (CNN) -- Ask someone for the qualities of a good manager or leader and you're likely to get a laundry list of attributes -- all of them positive character traits.
Good communicator, inspirational, problem solver and cool under pressure are likely to be on anyone's short list.
But what about those other qualities? Let's call them the less attractive ones that often are a part of the package that makes up a successful manager.
Researchers at the University of Nebraska-Lincoln's College of Business Administration studied the development of leaders over a three-year period and found that negative, or "dark side" personality traits have their place too.
"Mae West told us that when she's good, she's good. But when she's bad, she's even better," said Peter Harms, an assistant professor of management and the study's lead author. "We chose to investigate so-called subclinical or 'dark side' traits because we really didn't know much about how and to what degree they affected performance or development."
Prior research had established that clearly positive personality qualities -- such as extraversion, emotional stability and conscientiousness -- had helpful effects on both the performance and the development of leaders.
But researches have never take a close look at the negative elements.
"Was it possible that they might be beneficial in some contexts?" Harms asked. "For some of them, it turns out that the answer was yes."
The study followed more than 900 officer cadets in their second, third and fourth years at the U.S. Military Academy at West Point. It used the Hogan Development Survey, a comprehensive measurement of traits that can derail managers, to predict changes in a variety of leadership areas that were regularly assessed in developmental reviews at the Academy.
Several of the 12 "dark side" traits -- such as those associated with narcissism, being overly dramatic, being critical of others and being extremely focused on complying with rules -- actually had a positive effect on a number of facets of the cadets' leadership development over time, the study found.
Stubbornness is a bad-but-good trait that Marko Salonen sees in his manager.
"It gets things done. She won't let go. She won't let go," he said. "In any other relationship, it would be a bad thing, but at work it's a good thing."
"By themselves, these ... traits had fairly small effects, but when aggregated, they played a substantial role in determining which cadets developed leadership skills," Harms said. "Assumptions about how these traits affected performance and development were mistaken ..."
The moderation-in-all-things rule may apply here.
At extremely high levels, the characteristics become pathological and can lead to career derailment, Harms said, but can be positive in smaller doses.
And some character traits are better for some fields than others.
Workers who are very precise and rule-adhering may not make the cut in sales or marketing divisions, but may flourish in accounting or legal departments.
Being uncompromising and narcissistic are some more of those 'dark side' traits that can work to the benefit of managers.
"You do need someone who is 'Oh captain, my captain' at the head of the ship, who can get the job done," said Gigi Demming, who does market research-related work in London., England.
Demming said it worked especially well in her former field of consulting, where it was necessary to win contracts no matter the cost. The boss had to be uncompromising and just go for it.
"Not so favorable in a lot of areas, but very favorable in the workplace," she said.
The authors said the study's results might be unique to the military and that more research is needed to fully understand the role of subclinical traits in the workplace.
The article, which appears in a forthcoming edition of The Leadership Quarterly, was authored by Harms and Seth M. Spain at UNL, along with Sean T. Hannah of the Center for the Army Profession and Ethic at the United States Military Academy.
CNN's Melissa Gray in London, England, contributed to this story.