STORY HIGHLIGHTS
A summit in Georgia teaches middle-schoolers how to tackle racism, stereotypes, bullying
Organizers say students often don't have means or vocabulary to address intolerance
Organizers: Lessons learned must be reinforced at home and school for lasting impact
Atlanta, Georgia (CNN) -- "You're fat."
"You don't have as much money as my family does and I am better than you."
"You're not the same race as me and I think I am better than you."
"You don't have the same religion as me and I don't like it."
These types of messages of intolerance and hate are what one grass-roots organization is fighting to eradicate in the middle-school population and beyond.
The Power Over Prejudice Summit, or POP, is organized by The Anti-Prejudice Consortium, a nonprofit organization based in Atlanta, Georgia.
Each fall, the three-day event brings students together from private and public middle schools with a wide range of demographics to tackle issues of racism, stereotypes, prejudice and bullying.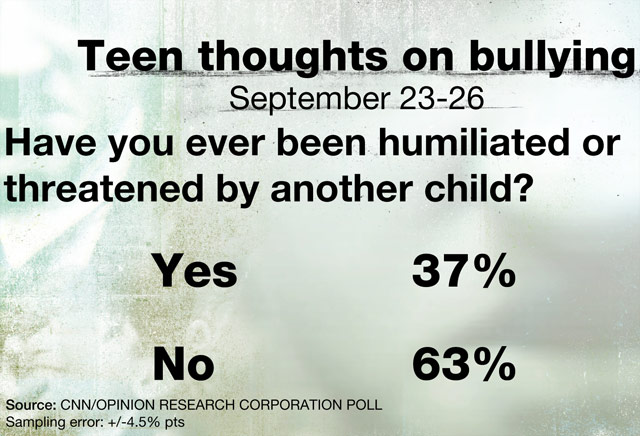 Gallery: Poll of U.S. students and bullying
Summit organizers said students often do not have the means or the vocabulary to address intolerance. The event helps students learn how to recognize their own biases and overcome prejudices, as well as tackle the issue of bullying in school, through various small group exercises and discussions.
More than 5,000 students and 400 school counselors throughout metro Atlanta have participated in the POP Summit since its inception in 1997.
"We see the summit as a starting point of discovery and we hope students will continue this exploration throughout the year and throughout their lives," said Richard Welch, a POP facilitator. "One day can't change someone, but it's a start."
Students selected to attend POP are pegged as top leaders and performers in their respective schools. They are encouraged to take the lessons they've learned at POP and teach them to their peers.
Adryan is among the thousands of students who participated in the summit this year and is passionate about the program.
"In my opinion, the best thing about the POP Summit is being able to see students become so open-minded about other people and ideas," said Adryan.
Shawna Singer, a school counselor, said she thinks the summit has made a positive impact on some of her students. She recalled an incident in which she visited the home of two students who argued with a parent about that parent's racial biases.
"The next year, this parent had demonstrated some positive changes in her former thinking, values and attitudes," said Singer. "The girls were fierce advocates of peace, equality and justice and had a positive impact at home and in the schools they went on to attend."
A POP board member recalls an incident at the beginning of a previous summit. Some students from a Catholic school had approached students at a Jewish school and told them they were going to hell because they did not believe in Jesus.
"The counselor at the Catholic school was very upset and called the Jewish school counselor to talk about it," said Bonnie Capsuto. The counselors decided to jointly create a program, based on the POP curriculum, and bring students from both schools together after the summit.
"They took several opportunities during the year, and for several years after that to teach their students to embrace and respect the similarities and differences of their religions," Capsuto said.
The Catholic school also invited the Jewish school to observe a Catholic mass, and the Jewish school hosted a Sabbath and Passover dinner.
"In general, I'm encouraged by the actions that students in the POP program are taking at their schools, but I think they could do more," said Capsuto. "There are several things that inhibit them, including peer pressure and the fact these are tough issues to battle at any age."
We see the summit as a starting point of discovery
--Richard Welch, POP facilitator
So has the program made an impact on the students participating in POP and is it worth the time and effort? Emory University in Atlanta has conducted surveys over the years tracking the results of the summit. In a 2005 report, the most recent one published, Emory found:
• Ninety-one percent of students reported that the summit positively affected their attitudes about prejudice and people different from themselves and gave the event a high rating
• Ninety-eight percent of school counselors stated all middle school students would benefit from the summit
• Seventy-four percent of counselors said the summit helped them understand their own prejudices
Some of the comments Emory collected from students included:
• "It made you think twice before you say something because it could hurt someone"
• "One student was about to bully someone, but then students fought back and said 'power over prejudice' "
Emory also surveyed students who did not attend the summit and asked them about POP's message. Emory's report found:
• Forty-three percent noticed changes in the entire school after their peers attended the summit
• Forty percent of students talked about POP with parents, siblings and friends
Some of the comments collected from students not attending the event included:
• "Because for like three months, there was a lot less bullying and excluding of people"
• "I learned that no matter what their color is that we can treat people the way we want to be treated"
Organizers of the event said lessons learned from POP must be reinforced at home and at school for a lasting impact, which is not always an easy task.
"Young people are a reflection of what they see," said Al Duncan, an event sponsor and speaker.
"So, if we want that to change, we have to put a different vision in front of them, and I believe the Power Over Prejudice summit accomplishes that," said Duncan.
FOLLOW THIS TOPIC