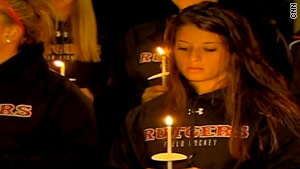 Students at Rutgers University mourn their classmate, Tyler Clementi on Sunday.
STORY HIGHLIGHTS
A New Jersey college student committed suicide last month after allegedly being bullied online

CNN's "AC360°" along with Cartoon Network, People Magazine and CNN.com will be exploring bullying

This week marks National Bullying Prevention Month

Both school yard bullying and cyberbullying are prevalent in schools
Editor's note: Bullying is in our schools, and it's online. Why do kids do it? What can be done to put an end to it? Don't miss an "AC360°" special report in collaboration with PEOPLE Magazine, "Bullying: No Escape," all this week at 10 p.m. ET on CNN.
(CNN) -- Rutgers University student Tyler Clementi was 18 when he jumped off the George Washington Bridge to his death.
He committed suicide after his roommate and another college classmate allegedly placed a camera in his dorm room and streamed his sexual encounter online. A mobile status update September 22 on a Facebook page purportedly belonging to Clementi revealed his plan: "jumping off the gw bridge sorry."
His body was found in the Hudson River on Thursday.
As the school and community continue to mourn his death, it is clear that bullying is a serious problem in our schools. From traditional school-yard to cyberbuyllying, experts say the problem has expanded to elementary-school aged children and college students such as Clementi.
This week begins National Bullying Prevention Month, and CNN's "AC360°" along with Cartoon Network, PEOPLE Magazine and CNN.com will be exploring the problem: What is bullying? Why do kids do it? What can be done to put an end to it?
Take a look at CNN's weeklong coverage dedicated to bullying
We began our coverage with the story of Jason, a 13-year-old boy who experienced cyberbullying during the seventh grade.

Video: Ellen to bullied kids: There is hope

Video: Bullying victims speak out

Video: Fighting back against bullies

Video: Your bullying stories
One in five youths between age 10 and 18 have been a victim of cyberbullying or participated in it, according to a survey of 4,400 children conducted by the Cyberbullying Research Center, an organization tracking the internet bullying trend. This figure is conservative, because children are often afraid to come forward to their parents, bullying experts say.
The recent bullying incidents have also stirred concern among parents. CNN's bullying coverage will also feature voices from parents, including mother Donna Witsell, whose daughter Hope committed suicide after a sexting incident humiliated her. Other parents are interviewed in a piece by Oprah.com about the grief of "bullycide."
Parents and students can share their bullying stories on iReport.
Technology is changing the way children bully each other. Earlier this year, the Kaiser Family Foundation reported that children devoted an average 7½ hours a day to their gadgets. The proliferation of cell phones, iPods and Facebook brings a complicated challenge for parents, teachers and students: The constant exposure to technology and the Web amplifies opportunities for children to bully each other online.
But technology can also be a tool stop bullying. On Wednesday, CNN.com will look at how technology can also help protect kids from bullying.
And there is no doubt the physical and psychological toll of bullying can be daunting to a child. Later in the week, CNN will examine the health effects of bullying.
Father fights bullying to honor son
While cyberbullying is becoming a common -- and easy -- platform for bullying, traditional face-to-face bullying remains widespread in schools. Just under a third of students ages 12-18 reported being bullied in school in a recent study by the National Center for Education statistics. The study, done during the 2007-2008 school year, found that the harassment predominantly came in the form of "being made fun of" and "being the subject of rumors."
This weekend, CNN's "AC360°" plans to air "Bullying: No Escape," a special report with PEOPLE magazine and Cartoon Network that includes guests Dr. Phil McGraw, Rosalind Wiseman -- author of the book that inspired the movie "Mean Girls" -- American Idol finalist Crystal Bowersox and families affected by the issue.
Later this week, experts and authors will discuss what schools and parents can do to stop bullying. Frank Sacco and Stuart Trembow, co-authors of "Why School Anti-Bullying Program's Don't Work" will offer solutions based on successful programs implemented in Jamaican schools. Programs that educate students, parents and schools about bullying will be critical to preventing tragedies such as the suicide in New Jersey.
After authorities discovered Tyler Clementi's body in the Hudson River on Thursday, students gathered at a vigil for him this weekend.
Read about the Tyler Clementi's vigil
"Our entire campus is very upset about what happened," said Greg Blimling, Rutgers' vice president of Student Affairs.
"The entire campus is in mourning. And we feel very deeply for what happened to the family. This is a terrible tragedy."
FOLLOW THIS TOPIC