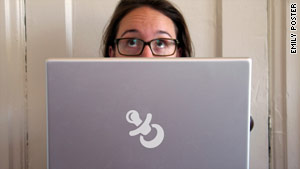 Some moms chronicle their kids' lives on the Web.
STORY HIGHLIGHTS
Do bloggers make their kids' lives public for profit without their permission?
Writer wonders whether parents should tell details and post pictures
Notes Heather Armstrong on Dooce writes about conflicted feelings about family
Dooce now asks older daughter if it's OK to post about her
(The Frisky) -- In a recent online post called "The Older Child," blogger Heather Armstrong, better known as Dooce of the popular parent-blog Dooce.com, seemed to suggest that her eldest daughter no longer wants her mother to blog about her, at least not without her permission. Which begs the question: Should so-called "mommy bloggers" be able to blog about their kids without their kids' permission?
Arguably, Heather Armstrong is the queen of the mommy bloggers phenomenon. Nicknamed "Dooce" due to an ages-old spelling error, the now-mother-of-two lives in Salt Lake City, where she blogs about motherhood, running a home, and life as a working mom.
Her first daughter, Leta, was born in 2004. After her daughter's birth, Armstrong experienced severe postpartum depression and ultimately checked herself into a mental hospital. Eventually, through counseling and antidepressants, she was able to overcome the episode. In 2009, she gave birth to a second daughter, Marlo.
The Frisky: 30 things every woman should quit doing by 30
Armstrong isn't alone in her struggles with postpartum depression. What set her apart is that she blogged about it. She also blogged about some of the most intimate and uncomfortable experiences she had as a mother.
Her posts are rife with stories of her conflicted feelings about her children, as well as her husband, and she isn't afraid to go all out when it comes to the more graphic tales of being a working stay-at-home-mom, from dirty diapers to days when she thinks she's going crazy.
Primarily, it's Armstrong's candor that has made her a success in the blogosphere. Readers, fellow mothers among them, can't get enough of her say-anything confessions about life behind the (metaphorical) white picket fence.
Since, she's parlayed her brand into a major business. In 2008, her site was generating some four million page views a month, and while neither Armstrong nor her husband, who quit his job to help run Dooce.com, will say what the site generates in ad revenue, in 2008 the Wall Street Journal estimated her potential monthly revenue at $40,000 a month. Nowadays, she's published two books and has a new partnership with HGTV.
The Frisky: Black parents confused with white, blond baby
But at what cost? In another recent entry on her site, Armstrong is cagey but seems to be suggesting that Leta, whose life and whose mother's sometimes deeply conflicted feelings towards her have been chronicled in graphic detail and in photographs posted to the web for all to read and see, no longer wishes to be photographed by her mother, and, possibly, if one reads between the lines correctly, no longer wishes to be written about on her mother's site without her permission.
Apparently, readers had been wondering where Leta had been lately, as Armstrong hasn't been writing about her much. "One, she expressed displeasure at having her picture taken several months ago, and now she actually runs out of the room when I break out a camera," she reveals.
"Two, I didn't expect our relationship to become so complicated so early in her life." She continues, "In fact, I thought that some of what is going on in our house wasn't going to happen for another ten years." She doesn't say exactly what that is, but when she goes on to write, "For the last several months if I have mentioned Leta here I have most likely asked her if I could do so, even if it has been something totally innocuous," it makes one wonder if what Leta is having a hard time with is the fact that her mother made her life public -- without her permission.
The Frisky: 20 things that make a man
Of course, anyone who's been following the site knows that this day, if that's what it is, was inevitable. And, surely, Leta is not alone. A whole mini-generation of kids provided fodder for their parents' parenting blogs, and, in the case of the Armstrongs, those intimate confessions enabled their parents to have a very generous income. Recently, the family moved into a big new home. Their office remodel will be sponsored by Verizon.
In her post, Armstrong seems to shrug and dismiss the issue with her usual no-matter attitude. After all, she's got a new baby, Marlo, about whom, she reassures her eager readers, she'll be writing about aplenty for years to come. That is, until when? Maybe until Marlo is old enough to read.
The Frisky: 10 men who stayed with their mistresses
TM & © 2010 TMV, Inc. | All Rights Reserved