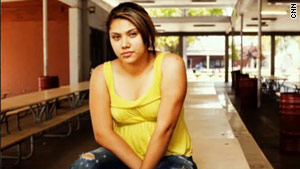 Cindy Garcia, profiled last year in CNN's "Latino in America," was struggling to graduate high school.
STORY HIGHLIGHTS
Nearly 70 percent of students do not graduate from Fremont High School in Los Angeles

This school year, the school underwent "extreme reform" measures

Teachers had to re-apply for jobs, students wear uniforms and steps taken to relieve overcrowding

Critics say these aren't guarantees for success, and instead, need to get at the root of problems
Soledad O'Brien explores how Latinos are re-shaping our communities and culture. CNN's documentary "Latino in America" re-airs Saturday and Sunday, 8 p.m. ET. Part of the In America special report
(CNN) -- Last year, Cindy Garcia was a Fremont High School student in Los Angeles, California, struggling to catch up to her classmates and graduate on time. In her senior year, she made the ambitious attempt to attend school from sun up to sun down, including weekends, to reach her goal.
In the end, years of sporadic attendance and an unexpected pregnancy made it impossible to achieve her plans.
Cindy is among the 70 percent of students who do not graduate on time from Fremont, a school whose students are mostly Latino. Like the children of many new Latino immigrants, family often trumps school. In Cindy's case, she was pulled out of school to take care of her siblings and niece, to translate for her mother or to help out at the family store.
Local school district leaders decided schools needed a new plan to help students like Cindy. In July, Fremont High School opened its doors as the first restructured school in the Los Angeles Unified School District. Extreme reform measures called for a complete takeover of the school by the district and for all staff and teachers to reapply for their positions. This school year, about 50 percent of the teachers returned. The majority of the support staff returned as well.
The reform effort was too late for Cindy, whose struggle was featured in CNN's "Latino in America" documentary. But school administrators say it will help students in the future.
It's especially important to the Latino community, said Monica Garcia, president of the Los Angeles school board. With Latinos on track to be the largest demographic of school age children by the year 2050, the stakes are high.

Video: Maintaining Latino roots

Video: Meet the Latino Martha Stewart
"I firmly believe that the new high school has a different level of urgency and a different level of support from the district," she said.
Others don't support how Fremont was restructured.
"It never ceases to amaze me that people keep buying the big lie," said A.J. Duffy, president of the United Teachers Los Angeles, the union that represents the teachers at Fremont. "The fact that the school board chose to put reform on us instead of with us is the big tragedy, a great lost opportunity."
Even experts who have been studying school restructuring don't see extreme reforms, like those at Fremont, as a guarantee for success.
"It's not efficient unless other key factors are at play," said Paul Goren, executive director of the Consortium on Chicago School Research.
The Consortium's research points to essential supports of any school organization that leads to outstanding outcomes: leadership; connections between schools, parents, and their communities; student-centered environments; professional capacity to carry out high-level instruction and student support; and evidence of ambitious high level instruction.
School district officials hope reforms will improve test scores and graduation rates. The school board's Garcia said there are more changes aside from control and personnel changes. This year, students wear uniforms, the campus was cleaned up and two new schools are in the works to relieve overcrowding at Fremont. She's proud of the fact that this is only one of the models for school reform within the L.A. district.
"We want to move away from one size fits all and let the communities decide on how to do it using some autonomy and flexibility," Garcia said.
As for Cindy Garcia, the reform efforts came too late. She is the mother to a baby girl and is studying for her GED and taking classes to become a medical assistant.
Duffy, of the teachers' union, is hopeful for different types of reform, but doesn't see it happening with this current effort.
"The problem with (reform) is if you don't change the way you help and support teachers in the classroom, you are just rearranging the deck chairs on the Titanic," he said.
FOLLOW THIS TOPIC