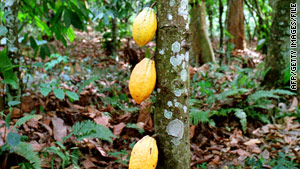 The advancement will improve traditional breeding and not involve genetic engineering, a USDA official says.
STORY HIGHLIGHTS
Preliminary cacao genome sequence released
Results will aid farmers and help sustain world's cocoa supply
Discoveries may one day lead to healthier chocolate
(CNN) -- Mars Inc. -- maker of M&M's, Snickers and Twix -- and its research partners Wednesday released a preliminary genome sequence for cacao, the tree that ultimately brings us chocolate.
Having such a tool will lead to more disease-resistant trees, bigger and better cocoa bean yields and a better life for 6.5 million farmers, most them in West Africa, researchers said.
The news also could be sweet for U.S. consumers, who sustain the $17 billion chocolate industry. Chocolate consumption is growing by 2 percent a year, and companies and researchers want to make sure the cocoa bean supply meets the demand.
Knowing the sequence and improving the breeding process could one day lead to healthier and better-tasting chocolate, said the team, which included IBM, the U.S. Department of Agriculture, Clemson University and Indiana University. The sequence will be in the public domain and available to others.
"What is good for science is good for cocoa farmers," said Howard-Yana Shapiro, global staff officer of plant science and research at Mars.
Until recently, cacao benefited little from the type of genetic research that led to the genome sequencing for rice, wheat and corn.
The current breeding process takes a long time, but with the genome sequence known, researchers can shorten the time it takes to learn whether a tree will be disease resistant and produce a superior crop. That means only strong and desirable trees will be planted.
For example, Shapiro said, the time to produce a strong and healthy cultivar may be reduced from 10 years to 36 months.
That would be a big bonus for farmers in West Africa -- notably Cote d'Ivoire and Ghana -- who grow about 70 percent of the world's cacao trees. Farmers around the world have at times lost 40 to 60 percent of their crop to disease, drought and other factors, Shapiro said.
Healthy and strong yields are crucial for farmers, who may lose about $700 million in crops a year to diseases.
"It's a way for them to pay to get their children to schools," said David Kuhn of the U.S. Department of Agriculture, who stresses that the advancement will improve traditional breeding and not involve genetic engineering.
"Chocolate is unlike anything else in the world," said Shapiro, who said he has a soft spot for dark chocolate.
The key to its taste is the fermentation of the cocoa bean, which is not eaten in its raw form. Chocolate has alkaloids that are similar to caffeine.
The cacao tree actually gots its start in the New World, where the Olmec and then the Mayans domesticated it in the Upper Amazon region nearly 3,000 years ago. European conquerors enjoyed liquid chocolate, which required a lot of stirring, said Kuhn, who works in the USDA Agricultural Research Service in Miami, Florida.
Scientists labeled the tree Theobroma cacao. (Theobroma, appropriately enough, translates from the Greek to "food of the gods.")
The trees were brought to European colonies in West Africa.
Shapiro, who co-edited the book "Chocolate: History, Culture and Heritage," said manufacturers and chocolatiers have improved the taste with flavoring and better production equipment.
"Palates have been refined," he said.
Both Kuhn and Shapiro talk mostly about the social implications of the genome sequence, saying it will help farmers and save more rainforests because yields will be higher and soil less depleted. But there's also the opportunity to make healthier chocolate by breeding for ideal fatty acid, said Shapiro.
"We currently have no way to breed for flavor," said Kuhn, adding it could happen one day.
For now, researchers are concentrating on the yield and social benefits, not the taste.
"I don't think people want us to mess with Snickers and M&MS," Shapiro said.
FOLLOW THIS TOPIC