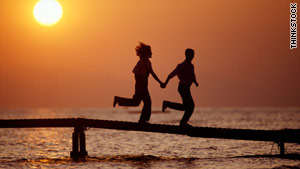 Many counselors and psychologists say summer romances can be beneficial.
STORY HIGHLIGHTS
Some students may be pondering whether to end or prolong a summer romance
Geography and academic obligations can provide a graceful exit
If a couple was clear about expectations from beginning, there are fewer hurt feelings
If you're undecided on ending romance, expert says you may be open to a relationship
(CNN) -- Short-term relationships can happen any time of year, but summer is particularly rife with them.
Whether young adults are leaving their research lab or resort behind, the decision to end or prolong that romance can be a tricky one.
Many counselors and psychologists say summer romances can be beneficial, especially for students who meet their partner abroad or during short internships. But with the last days of summer come tough decisions, such as whether to maintain the relationship, and how.
"In my experience, people's motivations really vary," said Dr. Mary Commerford, director of the Furman Counseling Center at Barnard College in New York. "Many times they become involved with people realizing someone is going to go to another country or go someplace else. But if the attachment feels real and important, many people try to maintain it over a long distance."
Romantic partners can now keep in touch over Facebook and Skype. "There are more avenues to stay connected than there used to be that feel more immediate and gratifying," said Commerford.
Research shows summer romances to be very common, according to Catherine A. Sanderson, psychology professor at Amherst College.
"People out of their regular environment find it easier to pursue romance or love [during vacation], especially late adolescents, because they don't have classes or exams, as they would in their regular social world. They almost take on a different persona, and that can make it easier for some students to engage in summer romances.
"The tough thing is that the relationship will change when they return to the real world," Sanderson said. "One person might see it as a summer romance. The other person might see it as the beginning of a longer romance. One of the difficulties people have is deciding to describe the relationship in the same way."
By being clear about expectations at the start of the relationship, both partners can avoid disappointment.
Having those conversations, though sometimes unpleasant or difficult, is important, said Beverly Chen, associate dean of student health at Harvey Mudd College in California.
"It's very key that if people do decide to get into a summer relationship that they be upfront, able to clarify and discuss expectations on both sides," said Chen. "That makes saying goodbye easier, so no one is feeling hurt at the end of the day."
The other side of the coin is that summer flings may turn into serious long-term relationships.
"People often go into short-term relationships with the expectation that this will simply be fun and casual and enjoyable -- and they find themselves getting more emotionally attached to that person than they initially anticipated," said Sanderson, whose former thesis student met her husband while studying abroad in France.
Part of the reason for this phenomenon has to do with the stages any relationship goes through -- from the honeymoon stage to disillusionment.
In the honeymoon stage, partners idealize each other, seeing only their partner's best qualities, said Commerford.
"After that comes the disillusionment phase, where you start to see different aspects of the person, and eventually, the whole person ... If that relationship comes to maturity, you start to see the person in a fuller way."
The honeymoon stage is also the life span of most summer flings. Danny and Sandy's summer lovin' in "Grease" isn't the only precedent. According to Sanderson, TV reality shows like "The Bachelor" and "The Bachelorette" offer the same sort of experience.
"They are totally away from their regular lives, so put in these beautiful locations where they're not in regular contact with family, friends or coworkers, any of that, and in turn, you see these relationships occurring very quickly in these reality shows," she said.
"That's what happens in summer romances. You're away from your regular life. You're often in a beautiful location. You're on vacation, in a sense -- and you're also away from parents, coworkers, etc."
Even though geography and academic obligations can provide a graceful exit, some couples who may not be sure if they want to stay together might not want to break up, either.
"I think if you're undecided, that means that you're open to a possible relationship and you want to see what develops," said Commerford.
Sanderson agreed: "I would say the real question becomes, do you want to give it a chance?"