STORY HIGHLIGHTS
Dad quits 9-to-5 job to spend more time with family in their SUV
Family sells house, hits the road as a family band for 9 years
Kids are bus-schooled as they travel from state to state and into China and Ireland
Oldest son leaves for college, but family tour will go on
Atlanta, Georgia (CNN) -- Andrew Witchger and his wife, Janet, took a leap of faith with four children under 12. Andrew quit his job as a church music director in 2001 and they sold their home, moving out of the suburbs and into their SUV. They've never looked back.
Nine years later they're still going, circling the country with their Irish folk music group called ShaeLaurel, playing more than 250 shows a year in elementary schools, county fairs and renaissance festivals across more than 35 states.
Tight quarters
At 9 a.m. on a recent balmy Georgia morning, four air mattresses are squeezed together like Tetris pieces on the floor of their 40-foot tour bus.
Andrew and Janet have been up for a while now, but they're letting their four teenagers do what teenagers do best: sleep. They sip coffee in the kitchen of a friend's house, their bus parked in a cul-de-sac, across the street from the life they left behind. Andrew believes the physical divides of rooms can drive families apart.
"Some people do look at us and think we're really strange," Andrew says. "But we're reminded every time we visit somebody that if we were in a house we wouldn't see each other as much. That's how families get disconnected, because it's pretty much inherent that the bigger the house, the bigger the divide."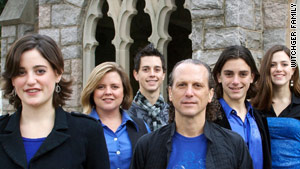 From left: Jessica, Janet, Andy, Andrew, Christian and Kathryn Witchger
When their parents return to the bus, the kids snap awake nearly in unison. In a flash, the four pajama-clad teenagers are upright, rolling and deflating their lives back together. Day 3,417 has begun.
Bus-schooled
The Witchger kids have been in a lot of schools in the past nine years, but none as students. They are what they affectionately refer to as bus-schooled. Assigning themselves homework and giving themselves grades, the autodidacts say their curriculum is as difficult if not more so than the average high schooler's. "Believe it or not, we're pretty tough on ourselves," 19-year-old Jessica Witchger says. "We're hard core teachers."
At 16, Christian is the baby of the family. Starting bus life when he was only 7, he is the only Witchger who has never attended formal school. This year he was the first to go to a prom.
Meeting other kids on the road can be tough, but family friends and fans met at shows have filled up the Facebook pages of Christian and his 21-year-old brother, Andy. It was one of these family friends who asked Christian to be her date. When CNN first met the Witchger family, Christian was talking about his plans for the special evening. He had heard of teens picking up their dates in limousines, but he was considering outdoing them. He had a tour bus.
Even though he had seen movies about the big night, Christian was surprised by what he saw. "It wasn't what I expected," he said. "At the dance they played hip hop and rap and people were dirty dancing. When I asked the DJ if he was going to play any other music, he said, 'This is what they want.' "
Keep smiling
The Witchger bus is emblazoned with a sticker that reads more like a family motto. It says, "Keep Smiling," and they are clearly heeding the advice. It's what makes their lifestyle of extreme closeness possible. Despite their lack of a ZIP code, they have a sparkling, wholesome optimism that is purely Midwestern. The harder one searches for holes in an apparent Osmond-esque façade, the more one realizes there simply aren't any.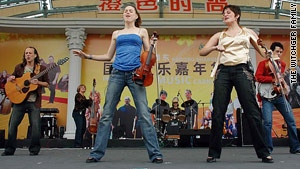 ShaeLaurel played in Shanghai, China, in 2007.
Just ask the television crew who spent two years trailing the family in hopes of producing the next hit reality show. For two years, up to 30 crew members jammed into the already cluttered lives of the Witchger family, filming their every move. But those tapes are gathering dust on the cold steel shelves of a production studio that couldn't quite figure out what to do with hundreds of confessionals that ended cheerily with, "It was really fun."
"They were looking for people who fight and don't like each other and they wanted all this internal conflict and that's just not us," says 17-year-old Kathryn. "Yeah, if we didn't like each other, we would totally live in a house," Jessica adds.
The final gig
At, 21, oldest son Andy decided this year that it was time for college. But the decision wasn't easy. Each time he had felt he was ready to fly away from the diesel nest, the band had gotten a faint whiff of fame, appearing in national parades or on stages in China and Europe.
But this year after a particularly disappointing audition on "America's Got Talent," in which the family didn't quite make it on TV, Andy finally decided to leave the band, the bus and his family for the first time. He is a freshman at Duquesne University, where he is studying physics and, according to his dad, he is "enjoying it very much."
But despite being down to five members, the Witchgers have no plans to stop rolling.
"I don't know when this stops. I don't know where an end would be," Janet Witchger says, reflecting fondly. "Now I see the grandkids coming and joining us and learning fiddle and being on stage with us. I can't imagine stopping anymore."
FOLLOW THIS TOPIC