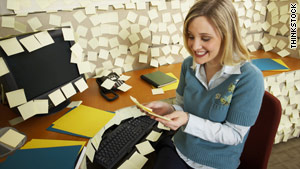 Personalize your cubicle but don't go too far, experts say.
STORY HIGHLIGHTS
Expert: Personalize your cubicle at work but don't stick out like a theme park or disaster site
Family photos, mugs, paperweights, mouse pads and plants are usually acceptable
If your cubicle helps you relax and makes you efficient, you've done a good job of decorating
(CareerBuilder.com) -- "My cubicle tells others three things that are of utmost importance to me -- faith, family and my small business," says Carmin Wharton, an educator from Tampa, Florida.
Among the items: family pictures, a floral centerpiece from her daughter's wedding reception, small spiritual books, file folders for her business and stone-like plaques with single words such as "harmony" and "rejoice."
With the amount of time people spend at work, it makes sense that they like to make their surroundings pleasant. While many companies let staff decorate and organize as they wish as long as work is getting done, others are more particular about appearance.
Here's a peek inside the cubicles of actual workers -- and what their style may reveal.
You've got a personality ...
"When decorating a cubicle, consider corporate/office culture," notes Deborah Brown-Volkman of East Moriches, New York, a career coach and author of "How to Feel Great at Work Every Day."
"You want to be an individual, but you also want to fit in. The goal is to find a blend between the two."
For some workers, striking that balance isn't too difficult when the decorations are free and lying around already. For Timothy Mambort, an account executive at a public relations agency in New York City, adding character to his "otherwise boring and simple" cube space was easy.
"I have worked for a variety of clients, so I have a nice collection of giveaways and such on my desk and hung from various thumbtacks," he says. In addition, he has a wall of pictures of family and friends and desk items ranging from Play-Doh to Legos that he likes to use while reading online.
"People comment all the time and always get a good laugh about it. It doesn't hinder my productivity at all," Mambort states. "I have the stuff I need organized, and the rest of the items just fit my personality."
... But so does your company
While Mambort's tchotchkes may make him appear fun or spirited at his workplace, some organizations have stricter regulations.
"I had nine lava lamps in my cubicle. I loved it and so did everyone around. The lighting and atmosphere really helped me relax," states Peggy Sanchez, a technical writer from Minnesota.
"But we had to 5S our work spaces (sort, straighten, sweep, standardize and sustain). My boss decided the lamps had to go, not because of complaints or problems but 'just in case someone higher up saw them.'"
Your company might have similar restrictions or you might not want to be the employee whose cubicle forces the company to adopt a detailed policy on appropriate decorations.
Either way, you can still customize your space and play it safe. Family photos, mugs, paperweights, mouse pads and plants are among the personalizations Brown-Volkman believes are generally accepted by most companies. For other items, look to your neighbors' cubicles as a gauge.
Right or wrong, decorations say a lot about your style
Workers can have different styles and still get the job done, but arrangement choices can give off different impressions.
Open drawers or file cabinets and papers falling out of overstuffed folders give off an air of being "disorganized and not very detail-oriented," according to DeAnna Radaj, owner of Bante Design LLC and author of "Designing the Life of Your Dreams from the Outside In."
Conversely, she notes that users of calendars, color-coded files and neat folders give the opposite impression.
Likewise, a tidy space can make workers appear more productive and competent -- and oftentimes they do indeed perform better.
"In general, just because a desk may be 'organized,' that in and of itself doesn't make the person more productive, but it does make it easier as you aren't wasting time looking for files, information and e-mail that you need," Radaj states. "You will waste less time, money (buying more supplies because you can't find them) and space by being more efficient, which does lead to greater productivity."
Even if you aren't the kind of worker who has a specific place for every document, giving the appearance that you do could improve your reputation.
Make your work space work for you
That said, Radaj recommends sitting at your desk and going through how you process your job so that your cubicle feels correct. Case in point: Janice McAllister of Needham, Massachusetts, can sense immediately if something in her cubicle is out of place.
While co-workers sometimes suggest she modify her work space," she likes her arrangement. "I am left-handed, and therefore I am very strategic about where I place things. I try to make what little space I have as usable as possible to make myself more relaxed and efficient."
If your cubicle can help you relax and make you efficient, you've done a good job of decorating. Rather than worry about appearing to be a hard worker or striving to give the impression that you're organized, a relaxed and efficient worker can just be himself or herself. With fewer concerns on your mind and a visually appealing and functional work space, you can focus on your job. What boss would complain about that?
&copy CareerBuilder.com 2011. All rights reserved. The information contained in this article may not be published, broadcast or otherwise distributed without the prior written authority.