STORY HIGHLIGHTS
Two young Muslims are traveling to 30 mosques in 30 states for Ramadan
CNN joined Aman Ali and Bassam Tariq for three days
Two mosques welcome CNN; a third kicks group off property
Mississippi police officer pulls over the 2 Muslims, asks opinion of "ground zero mosque"
(CNN) -- As the blue Chevy Cobalt crept toward the edge of the property in Chula, Georgia, a palpable nervousness wafted through the cramped car.
Three men, straight out of central casting from "Deliverance," craned their necks toward our vehicle. A 30-by-50-foot Confederate flag waved 120 feet in the air. Nothing says "Welcome to the South" quite like the old battle flag.
We were quite the sight for this rural stop along Interstate 75: two olive-skinned Americans on a mission; an African-American photographer; and me, a white boy from the Bible Belt.
Even I, a lifelong Southerner, wondered about the wisdom of stopping here. Should we pull up to the Confederate souvenir shop or keep on going?
Aman Ali, a 25-year-old Muslim born in Columbus, Ohio, inched the car onto the gravel lot.

Video: Surprise, hope amid journey

Video: Battle over Islamic center evolves

Video: Muslim raps for peace
It wouldn't be the only time we might confront stereotypes on this most unusual road trip, what we dubbed the Rolling Embodiment of America's Melting Pot.
Aman and his friend, Bassam Tariq, a 23-year-old Muslim of Pakistani descent, are visiting 30 mosques in 30 days in 30 states for the holy month of Ramadan, a time for spiritual purification. It's a cross-country journey that will cover 12,000 miles.
By blogging and interviewing Muslims in each community, as well as fielding constant media calls, they hope to show that Muslims are more mainstream than many portrayals in the media. The two also want to learn more about the nation's heartland, the flyover country that some people see only from airplanes.
With the nation focused on the proposed Islamic community center and mosque near ground zero in New York City, I wondered what could be learned by traveling with Aman and Bassam into mosques far from the media spotlight.
Reaction to the New York mosque, just blocks from where the twin towers of the World Trade Center once stood, has stirred emotion all over the country, both for and against it. And Muslims have faced opposition to mosques beyond New York, from Tennessee to Wisconsin to California.
So when Aman and Bassam swung through Atlanta, Georgia, and stopped for a television interview at CNN headquarters, photographer Robert Johnson and I joined them for the next leg of their journey.
Watch the two explain their road trip mission
What would be the takeaway for two Christians like Robert and me? How would we be received by Muslims as they celebrated Ramadan? And what would Aman and Bassam learn in their adventure across a nation that seems clearly conflicted about Islam in America?
Along the way, we were welcomed by a largely African-American Muslim congregation in Atlanta -- home to former NBA star Shareef Abdur-Rahim and one of the nation's most decorated African-American swimmers, Sabir Muhammad. A diverse group of Muslims in Jacksonville, Florida, greeted us just months after a firebomb attack on their mosque.
Yet, not everything was peace, love and Kumbaya.
Animosity didn't come from the Confederate-flag-waving Southerner along I-75, as we all feared. But it would come later -- directed not just at the non-Muslims, but at all four of us, as outsiders.
And just after we parted ways, as the two traveled alone into Mississippi, an officer of the law would test their faith -- not in Islam, but in the America they love.
Wired like an Apollo mission
We climb out of the car and walk past the men sitting outside the souvenir shop. "Great weather today, ain't it?" one says.
Inside Lollygaggers, women's T-shirts are emblazoned with the Confederate flag, along with the words "Dixie melons." A newspaper from just after the September 11 terrorist attacks hangs on a wall. "Day of terror," the headline reads.
The shop's lanky owner -- a hardscrabble fella -- greets us with a dose of Southern hospitality. He says he believes the Confederate flag has gotten a bad rap. Peering from beneath his camouflage hat, he adds that he condemns racism. A couple of weeks earlier, a man came in toting a bunch of literature from white nationalist David Duke. "I pointed toward the drive and told him to go on and get."
Good news for all of us, maybe, especially Robert. Aman hops back in the car and laughs about the whole exchange.
I believe strongly in the core principles of what America represents: freedom, justice and equality.
--Imam Mansoor Sabree of Atlanta, Georgia
Already, the road trip has been a bizarre learning experience. It was our own preconceived notions -- OK, our prejudices -- that almost prevented us from stopping.
The gravel kicks up as our car pulls away.
"My problem," Bassam says, "is what do you think they're saying about us now?"
I still had one eye toward the back of the car, wondering if someone would give chase.
The car bops down the highway. Aman jams to "Eye of the Tiger," his thumbs beating to the rhythm on the steering wheel, his voice belting out the lyrics. "... now I'm back on my feet, just a man and his will to survive ..."
In the passenger seat, Bassam reads fan e-mail, scans the internet and checks their website, 30mosques.com.
"I just read a news piece that one in five Americans think Obama is a Muslim," Bassam says. "Isn't that crazy?"
The front seat seems better equipped than an Apollo mission. Bassam is constantly plugged into his laptop. Aman keeps a navigation system in his hand for much of the journey. An iPhone app tells them when they need to pray.
Every now and then, Bassam gets updates from family still in Pakistan about the floods that have devastated the nation.
I write daily recaps of our trip for CNN's Belief Blog. One commenter tells me to check the trunk for explosives. I look in the back and -- gulp! -- it's loaded with clothes, a sleeping bag and a pillow.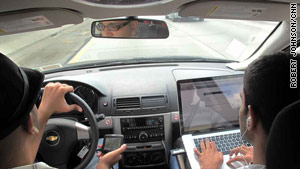 Aman Ali and Bassam Tariq are constantly plugged in during their journey.
"Be careful Christian brethren," another person writes. "Do not end up converting to Islam hanging around with these moslems. BE VERY CAREFUL. Do not discuss religion on the road trip. Listen to loud suggestive Christian music to drown out discussion of religion. These moslems are dangerous."
Marvin Gaye croons through the car speakers. "... Ooooo, sexual healing ..."
As part of Ramadan fasting, from sunup to sundown, sex is prohibited.
"The station is teasing y'all during fast," I say.
They laugh. We sing along with Marvin.
Our two companions are surprised by all the roadside porn shops and churches in the South. I take note of the many barbecue joints that whiz by. Even if Aman and Bassam weren't fasting, we couldn't stop. Pork isn't allowed in their diet.
Aman has seen this country before. Although he's an award-winning journalist for Gannett News Service, he's also a standup comedian who's traveled a lot. Once, in Tuscaloosa, Alabama, he went into a convenience store. The white guy at the counter walked away, he says, and hollered in the back: "We've got a colored! We need you to serve him." A black man came to take his money.
Aman's parents emigrated from India before he was born. In his hometown of Columbus, Ohio, shortly after 9/11, a man shouted, "Go back to where you came from."
"But I live here in Columbus," responded Aman, then 16.
Humor helps, he says. "Stuff like that, you want to get offended, but you can't do anything but laugh."
A graduate of the University of Texas, Bassam worked for an ad agency out of college and, more recently, filmed a documentary in Pakistan. He was born in Pakistan, but his family moved to New York when he was just a baby. By middle school, he and his family had made their way to Houston.
At 17, he became an American citizen. Men and women wept at the ceremony. He was one of the youngest there.
Quiet and reflective, Bassam says he wonders if the "accepting nation that my parents first came to" has changed.
"It just doesn't feel like it's the same country anymore."
Then, he wonders, has the media blown intolerance out of proportion? "I don't think there's that much hate," he says.
In fact, a new poll by the Pew Research Center shows 38 percent of Americans have an unfavorable view of Islam, while 30 percent hold a favorable opinion. Nearly a third of the 1,003 adults polled offered no opinion.
On this trip, Bassam says he hopes to learn, "Are we really standing the test of assimilation, and what is the medium that we're finding for ourselves? That's what's driving me."
The two got the idea to tour the nation during Ramadan after visiting 30 mosques in New York during the holy month last year. They figured they'd up the ante this time.
Our first stop together is a mosque in Atlanta. By then, they'd already been to mosques in five other states and the nation's capital. One of their first stops was Park51, the Muslim community center near ground zero that has stirred so much emotion.
Aman expected to feel a tingling sensation as he entered.
"But all it felt like," he says, "was praying inside a mosque."
Muslim girls hoop it up
The students at the Mohammed Schools -- a combined elementary, junior high and high school in Atlanta -- scurry into the gymnasium so they won't be late for afternoon prayer. The kids of the Islamic school smile at their guests. Aman and Bassam join them in a line and bow to pray.
When the prayers end, a group of girls take the court and begin hooping it up. They dribble, drive and shoot dressed in headscarves and long sweats. They giggle and slap high-fives when someone scores.
Are we really standing the test of assimilation, and what is the medium that we're finding for ourselves?
--Bassam Tariq
Two banners for the Lady Caliphs hang on the wall. "The year we made history," says the sign for the 2005-2006 team. That season, the team made it to the state championship, only to fall short of winning it all. They finished 24-3.
Sabirah Muhammad, a 16-year-old junior on the basketball team, hopes to go to college and then on to medical school at Morehouse, so she can become a dermatologist. Her school has a 100 percent graduation rate.
She glances up between smiles. She likes Beyonce and India.Arie. She digs R&B.
"What it means to be Muslim in America?" she says. "It means to be modest, to be humble."
After 9/11, she walked down a street with her grandfather, an imam in Atlanta. People shouted: "Killer!" When she was in public school, kids would gawk at her headscarf. "Are you a terrorist?" they asked.
"I don't take it as them being offensive," she says. "I just try to tell them about it. ... Being Muslim is about acceptance and toleration and understanding.
"I love it."
By nightfall, hundreds gather at the Atlanta Masjid of Al-Islam. In keeping with Ramadan tradition, they've come to pray and break their daily fast -- a splendid soul-food iftar feast of whiting, green beans and rice. Children race between picnic tables. Others play basketball in the dark of night.
I'm greeted with handshakes and hugs.
On this night, New York Gov. David Paterson suggests a compromise location for the so-called ground zero mosque. Those here miss Paterson's television appearance, yet the topic is dished out like the green beans and rice.
"It just speaks volumes to the work that the Muslims are doing in New York City," says Imam Mansoor Sabree. "That's just kind of a Georgia view looking up there and seeing that the active faith people are engaging a community that looks dilapidated, is boarded up and no longer in use, and trying to make something positive out of it."
"This would be a victory for America," says Ahmed Salim, another person at our table. "... If 9/11 is going to remind people of how evil Islam can be, it's good to have something close by that [represents] what real Islam is like -- you'll have something to show that Muslims also mourned on 9/11."
The Atlanta mosque is active in community outreach and works to feed the homeless. Every summer, it hosts an "I love my family" event for people of all faiths to gather, meet and get a better understanding of one another.
"I believe strongly in the core principles of what America represents: freedom, justice and equality," Imam Mansoor tells me. "And it coincides directly with my faith, of being one who is free."
He ponders: What would the prophets, including Christ Jesus, think if they were living in today's society?
"Would they be proud of what we're doing? And that becomes a question for Muslims and Christians," he says. "We are facing the same ills of society."
Bombing at a mosque
The gold dome of the Islamic Center of Northeast Florida juts into the sky. A seven-story minaret towers above it.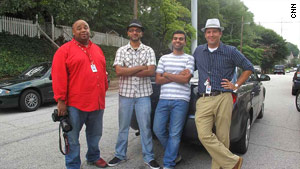 CNN photographer Robert Johnson and reporter Wayne Drash joined the two for three days across the South.
A mix of Pakistanis, Indians, Bosnians, Africans and African-Americans mingle in tents outside. They are doctors, business owners, lawyers, computer engineers. The mosque serves 2,000 of Jacksonville's roughly 5,000 Muslims.
"There's a great harmony in our community," says Hafez Assali, a board member who came to the U.S. in 1982 from Gaza.
Aman tells him about his 30 Mosques project. I say I've come along to learn more about Muslims.
"You are welcome here," he says. "You will have iftar with us. ... The only thing I say to you: Interact with the Muslims and see how they behave."
Assali says some colleagues express surprise when he says he's Muslim because "they envision a Muslim to be a scary person, a long beard, a person who just wants to kill somebody."
Even then, he says, "I honestly believe the average Americans do understand our religion, do understand the love that Islam brings, just like the Christianity, just like Judaism. All religions preach peace and love."
The mosque was bombed in May. Security cameras caught a man placing a 3-foot pipe bomb and a gas canister at the foot of the minaret. Shrapnel flew more than 100 feet into the air.
No one was wounded in the attack. The FBI and other federal agencies are investigating, but no one has been arrested.
The bombing has not stopped the congregation. More than 200 people gather for prayer this evening. Kids race across a playground. Mothers and fathers -- in separate tents -- appear glad to get a break from the young ones. Indian families have cooked dinner for tonight's feast.
Prayers continue late into the night. By 1:30 a.m., Aman and Bassam are working to update their blog. They'll have to awake for prayers by 5 a.m. Then, it's off to the next state.
Before we leave, a teacher from an area school enters the mosque. He appears nervous and sweaty, as if gripped by fear for simply entering this place of worship. Did he fear being chased off?
"I want to learn more about Islam," he tells the woman behind the desk, "so that I'm knowledgeable when I teach my kids."
The woman tells him she can arrange a field trip for his students.
Alabama mosque: Keep out
The highway from Jacksonville to Mobile, Alabama, is a straight stretch across the Florida Panhandle. Aman and Bassam make a last-minute change of plans. They decide to visit Mobile, instead of Birmingham. It will save them several hours to their next stop in New Orleans, Louisiana. Plus, they've heard that many of the car dealers in the city are Muslim. That could make for a good story -- the Muslim car moguls of Mobile.
At the other mosques we visited, we'd made contact ahead of time. So the two work the phones. They call a mosque in Mobile and leave several messages. They touch base with one dealership. In calling around, they learn there's been a split between two mosques in town. Perhaps naively, we decide to pick one and show up out of the blue.
We head to the Islamic Society of Mobile, a nondescript facility not far from the campus of the University of South Alabama. It looks like an old ranch home.
There are no signs out front marking the property as a mosque. A playground is adjacent to it. A sign on the front door indicates that this may be different from the others we've visited. It details what men and women can wear inside.
"For brothers please, 1. No shorts or pants dragging on the ground 2. No tight pants 3. No Islamically offensive symbols or images anywhere on your clothes. For sisters please, 1. Wear a head piece that covers all your hair, your ears and your chest 2. Wear loose undecorated dress long enough to cover feet (wearing pants without loose dress is unacceptable) 3. Wear long sleeves (only your face and hands may be exposed) 4. Do not wear perfume or makeup."
I get a sinking feeling as I read the sign. Aman and Bassam enter the facility to scope out the situation. Robert and I wait outside. After a few minutes, the two come back out.
We decide to try to find the imam and tell him about 30 Mosques and why we're tagging along.
We take off our shoes and step inside. A barrel-chested man with a long beard is putting out fresh dates for breaking the evening fast.
"These guys, they are from CNN," Bassam says.
Before we can utter a word, the man takes one look at us and, like an umpire tossing a baseball manager from a game, slaps his hands and points toward the door.
"Outtttttttt!!!" he shouts.
We quickly comply.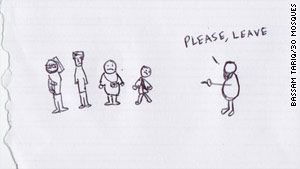 Bassam Tariq drew this sketch of the incident at the mosque in Mobile, Alabama.
Our presence has stirred a commotion outside. A man approaches. "What's the problem?" he says.
Robert and I tell him about Aman and Bassam's journey across the country to 30 mosques, how well we've been received at mosques in Atlanta and Jacksonville and how twice we've been invited to break fast with them.
"Both of the young men are inside talking to an official," I say.
The man interrupts. "I am the official of this mosque!"
He disappears behind the doors and never returns.
Aman and Bassam are allowed to pray inside. But they've soon rejoined us at the car, embarrassed by what we just experienced.
We didn't know it at the time, but the mosque has been under scrutiny -- a man wanted on terrorism charges once attended there. Omar Hammami, a 26-year-old from the nearby town of Daphne (a town I once lived in), has been charged with providing material support to terrorists and conspiring to provide support to a Somali terrorist organization with al Qaeda links. Now known as Abu Mansour al-Amriki, "the American," he's believed to be in Somalia, according to the FBI.
I later call the home of the mosque's president, Shafik Hammami, seeking a better explanation of what transpired. Was it because we showed up unannounced? His wife takes the message and calls her husband at work. He declines to comment. Not only is he the mosque's president, he's the father of the wanted terror suspect.
That night, we end up at a halal restaurant, The House of Kabob and Gyros. The mosque officials told Aman and Bassam they'd enjoy their iftar better there than at the mosque.
Before the two feast, they go around back, where they find some cardboard in the parking lot to kneel on for prayer. "You've got to do what you've got to do," Aman says.
Asked about what happened at the mosque, he says, "Inside, I was very, very agitated, because I feel Muslims in this country are making a lot of progress. And things like that, as we make 10 steps forward, that just knocks us back 20 steps."
Was CNN's presence the problem?
"The media presence had a lot to with it," he says. "But I think it's safe to say that was the least welcoming" mosque.
Robert and I soon say goodbye and wish them well on the rest of their journey.
But their night was about to get really scary.
Blue light special in Mississippi
I learned of what happened to them the next morning. This is their account:
As the two zipped along the dark highway toward New Orleans, their next planned stop, a police officer in Biloxi, Mississippi, pulled out and followed them for about 15 minutes.
Aman changed lanes, using his blinker. The blue lights flashed. They thought they were about to get a speeding ticket.
"I pulled you over because you swerved carelessly into the right lane."
Aman showed him his New York driver's license. "Sir, this is a state ID," the officer responded.
He asked Aman to get out of the car. Bassam nervously stayed put in the passenger seat. He loaded their interview on CNN from a few days earlier, as backup. The officer eventually approached Bassam and asked him a series of questions.
The officer seemed skeptical of the existence of a mosque in New Orleans. Bassam played the CNN interview. The policeman shone his flashlight.
"So tell me," he says, "what do you think about that ground zero mosque?"
Bassam sat, frozen. He and Aman had intentionally avoided driving at night previously, partly for fear of being racially profiled. The answer to this question, he thought, is going to decide whether we're going to spend the night in Biloxi or in New Orleans.
He decided to give the cop the answer he thought he wanted to hear. "For them to build it by ground zero is very insensitive," Bassam said. "... Isn't it just a slap in the face?"
The cop eased up. "I'm not pro-religion or anything, but that's just wrong for them build it there." He sent the two on their way.
"I just sat there wondering, 'Did that just happen?' " Aman told me later.
As embarrassed as the two were when we got kicked out of the Mobile mosque, I felt the same for them: It seemed they had experienced one of the worst stereotypes of the state I call home, the perception to this day that some of us from Mississippi can't see past skin color.
And that's what this journey was about -- learning to live in the cramped melting pot of a Chevy Cobalt, discovering our similarities as Americans.
Robert and I were struck by the mosques in Atlanta and Jacksonville, because they seemed to be so much like our own churches and upbringings in Christianity. The imam in Atlanta talked of how their teens face the temptations of sex and drugs -- just like all the other kids in the nation -- and of how the members do their best to steer children to a moral lifestyle. "I'd say we have strong Christian conservative views," he said with a laugh.
As part of the first generation of Southerners born into a society that was non-segregated, by law, I know I can never fully understand the struggles of being a minority in America. I found it a bit ironic that a white guy from the South got sent out a door in Alabama. But I was also deeply disturbed by the incident.
I'm equally troubled by Aman and Bassam's encounter with the police officer in Mississippi. I ask my colleague Robert if he, as a black man, has ever faced something similar. The stories roll from his tongue with a "welcome to the club" mentality. "And I grew up in upstate New York," he says, laughing.
Earlier, Bassam told me that he hopes to find out "how broad of a definition of America are people willing to accept."
It's a question our nation has toiled with since its founding.
Aman presses the pedal. The journey continues.
FOLLOW THIS TOPIC