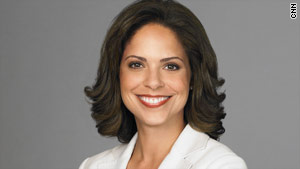 CNN's Soledad O'Brien
STORY HIGHLIGHTS
New Orleans' Pontchartrain Park neighborhood struggles to rebuild after Katrina
Area was one of the first U.S. suburbs where blacks could buy homes in the segregated 1950s
Hurricane Katrina devastated parts of New Orleans five years ago this month
"New Orleans Rising" airs at 8 p.m. ET Saturday and Sunday on CNN

Learn more about how the residents of Pontchartrain Park banded together to help rebuild their community on CNN In America's "New Orleans Rising" at 8 p.m. ET Saturday and Sunday.
(CNN) -- My first visit to Pontchartrain Park is on a big day in New Orleans East. I'm met by actor Wendell Pierce, the president of Pontchartrain Park's Community Development Corp., for the opening of the first model home.
"The Park," nestled between Lake Pontchartrain and the Industrial Canal, was devastated after Hurricane Katrina in 2005.
Then, where we stand was under 12 feet of water. But today is not about the past. It's a coming-out party of sorts, and Pierce is like a proud parent.
He's taking a break from filming the HBO series "Treme" to show off his neighborhood.
Today marks the start of what he calls "the 21st-century redevelopment of Pontchartrain Park."
He has spent the last two years trying to bring back this neighborhood. Being a developer has become his new day job. He introduces me to his family and friends, then delivers a rousing speech to the crowd. I sit and listen beside families who have lived here for more than 50 years.

Video: A look at 'New Orleans Rising'

Video: Actor rebuilds New Orleans suburb

Video: 'Treme' actor turns activist
It is clear this is about much more than community. It's a legacy he doesn't want to see die.
Pierce tears up as he recognizes the original families in the crowd: "The Oubres, the Pierces, the Woods. ... This is for you!"
The first time I meet Hurby Oubre he takes me on his weekly 80-mile drive from New Orleans to a relative's house in Baton Rouge. I've made this flat and boring drive many times, but he fills the time by describing the love he feels for Pontchartrain Park.
There, he purchased his childhood home -- the same one his parents bought more than 50 years ago. It's the first home he and his wife ever owned. He raised his son there.
He can't imagine ever giving it up -- even if it's been decimated by Katrina and still not restored. Oubre's wife, Lisa, and their son live in Baton Rouge because they don't want to return to sad memories.
Lisa is beautiful, tall and lovely with fabulous cheekbones and a gorgeous smile. As the two sit together, you can tell they really love each other deeply, though they are at battle.
Lisa refuses to move back to Pontchartrain Park. She tells me she's moved on. Lisa and their son Jacques are sharing a four-bedroom home with nine people. She is focused on making this life the beginning of the future, while her husband has hurled himself into rebuilding what he loved to get over the pain of what he's lost. He was angry for a long time, Lisa says.
Now he's obsessed with rebuilding for his family, even though all that remains is a plot of grass. As they reminisce about the years since Katrina, they both choke back tears, and the love they feel for each other bubbles to the surface.
I ask Lisa if she can see herself moving back. She says no and lists the reasons why it will never happen.
The next person we meet is retired teacher Audrey Woods, whose house cost $15,300 when she and her husband, Meldon Woods, bought it more than 50 years ago.
Her father was so ready for her and her new husband to leave the shotgun home they shared that he gave her $300 for the down payment. Insurance was $4,200 a year, she says with a laugh.
They estimate it will take $300,000 to rebuild that home, and the insurance will not begin to cover it.
Today, in her 80s, Woods is a force of nature. She has four adult children: Cabrina, Rhea, Wayne and Justin. Three are attorneys, and one is a program analyst.
Justin tells me, "My parents almost stayed. If they had stayed, they would have died."
Within a year of Katrina, the Woodses began gutting the house by themselves. These families join Pierce on his quest to rebuild their neighborhood.
Pontchartrain Park was born of the racial politics of the 1950s. Pierce walks me along The Ditch or what he calls the "DMZ" -- a drainage ditch that once cut a line separating white from black.
We see the golf course, the neighborhood's crown jewel. Much was gained in this community as blacks were able to stake a claim to this land over the years.
Black veterans settled here, including Pierce's father. Pierce tells me the story of his father's war medals. His father served in World War II, but on his return, he was informed that he couldn't have won the medals he was claiming. So he never got them.
About two years ago, Pierce found out about what happened and made it his mission to help his father get the medals. Luckily, the letter his father wrote requesting the medals in 1945 survived Katrina. With Pierce's help, his father eventually was awarded his medals.
The story is interesting because it gives me a little insight into Pierce. He is charming but stubborn. He loves his parents like crazy.
He would move heaven and earth to make something happen for them, and that's what he is doing today. I ask him if ultimately saving Pontchartrain Park is about making his parents proud, doing something for them.
He pauses -- almost like he's caught. Or maybe he's just never thought of it quite like that.
"I guess that's it," he says slowly. "It's about honoring them, all our mothers and fathers."
FOLLOW THIS TOPIC