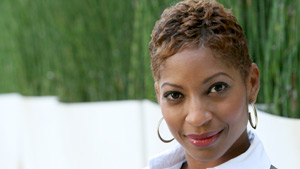 When Audrey Irvine was a child, her mother taught her that the world did not revolve around kids.
STORY HIGHLIGHTS
Single moms worry about how their dating will affect their child
Columnist's friend didn't date until her child turned 9 years old
Child acted out because all she knew was getting all of her mom's attention
Audrey Irvine says her own mom taught her she was not the center of mom's universe
Editor's note: Audrey Irvine is a senior assignment manager for CNN. Her experiences in the dating world inspire her "Relationship Rant" column. Check back every week for her take on dating and relationships.
Atlanta, Georgia (CNN) -- Single moms can feel that dating and relationships are an impossible feat because there is always concern about how this will affect their child.
A lot of my single friends with children say they never anticipated meeting someone who is willing to accept them and their child. Some men actually feel they are competing with the child for that woman's affections. And some children don't like to share Mom's affections.
A friend recently experienced this phenomenon. It's been just her and her daughter for nine years. For the most part, it's the two of them; it's always been that way. She took her daughter to school, left work early to pick her up and took her to ballet classes. On weekends, they spent all of their time together.
My friend's world was her daughter. It was the two of them against the world. That is, until my friend met a guy at the beginning of the year. The two shared an interest in working out.
After spending more time together, their friendship over months became more serious and they started dating. When he was simply a friend, my girlfriend's daughter thought he was fun. However, the more serious he became about his relationship with her mother, the more the daughter resented him and acted out.
This was strange behavior, because she had always been a well-behaved, extremely polite little girl. Up until this point, she hadn't had to share her mother.
My girlfriend and I discussed the difficulties she was having in this new chapter in her life.
She felt as if she was always caught in the middle; her daughter unhappy that this man was in her life vs. his frustration that her daughter took issue with his existence.
What's interesting is the conclusion that my girlfriend came to. She blamed herself for the situation. How was this her fault? She couldn't have predicted that this man would have such an impact on her personally.
But what she said was interesting. She felt that because she never expected to meet someone, she created a scenario in her daughter's mind that the world revolved only around her. In essence, her daughter's behavior was the child simply reminding her of the promise she had made: It's you and me against the world. This man -- with whom she now had to share her mother's attention, love and laughter -- was a formidable threat in her 9-year-old eyes.
This made me consider my own situation having been raised by a single mother. I remember always feeling like my mother would stand up for and support me in most anything I did. But I definitely never felt like my mother's world existed only to serve me.
One of my favorite and most humbling moments with Mom was during our Saturday routine. I would tag along for all her errands, sometimes out for 10 hours. The entire time, she took care of things for herself, never once feeling like she needed to appease me with a treat because I was her kid.
My mother had no problem getting her hair done while I sat in the salon and watched, hoping that someone would take pity on me. So, what did this teach me in the long run?
That Mom came first and she didn't owe me the world. It didn't mean that I wasn't important, but it did show me that that her needs were sometimes more important.
The most that parents are tasked with is to love, guide and protect their children, then release them into the world so they can take care of themselves. No one said that parenting means that adults give away their identity or the possibility for potential happiness beyond their kids.
It doesn't mean parents love them any less.
So, my girlfriend is still dealing with the growing pains of having a relationship with a precocious 9-year-old; a child who pushes the limits with her mother because she cannot see her as a woman who has needs and desires outside of her parenting duties.
There is nothing wrong with loving your child while also having a loving adult relationship. The two can coexist; it just takes a lot of patience. Because in the end, the best gift my girlfriend can give her daughter is to show her what it looks like to truly love yourself and be loved by another.
FOLLOW THIS TOPIC