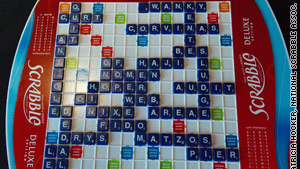 Nigel Richards of Mal knows how to spell S-U-C-C-E-S-S. He recently won the 2010 National Scrabble title.
STORY HIGHLIGHTS
The Scrabble champion takes home $10,000
Knowing the dictionary well is helpful
Nigel Richards wins the championship for the second time
The tournament attracts people into their 90s
(CNN) -- It's not much of a stretch to call Nigel Richards a wordsmith.
The champion of the 2010 National Scrabble Championship has a photographic memory, said John D. Williams, Jr., the head of the tournament that wrapped Wednesday at the Hotel InterContinental in Dallas, Texas.
"He is probably the best Scrabble player in the world at this point," Williams said of the 43-year-old New Zealand security analyst, who lives in Kuala Lumpur, Malaysia. "He's got the entire dictionary memorized. He's pretty much a Scrabble machine, if such a thing exists."
Richards, now a two-time national champion, spelled his way to first place over the five-day competition, beating out over 400 competitors from 42 states and four countries.
Richards collected a $10,000 prize and bragging rights for his knowledge of the English language with his victory. Second-place honors went to another former national and world champion, Brian Cappelletto, 40, an options trader from Chicago, Illinois. Laurie Cohen, 43, a research director at a community college from Tempe, Arizona, came in third.
Competitors in the tournament included everyone from doctors and lawyers to truck drivers and school teachers, and ranged in age from 12 to 92, according to Williams.
If all this sounds intimidating, it doesn't have to be. Williams said amateurs can get pretty good pretty fast and see their scores jump with a bit of research.
"There are about 100 two-letter words, and they're very valuable to know," according to Williams. "Things like 'za' which is slang for pizza, and 'qi' which is a variation of the 'Chi' in 'Tai Chi."
In winning this year's championship, Richards used the word "zarf" - a coffee cup holder that does not have a handle.
Another fundamental strategy is something Scrabble enthusiasts call "rack management."
"You might make a good move and score 25 points, but if you leave 'z', 'u' and 'w' on your rack you're going to have a terrible rack for the next four or five turns," Williams explained.
Still, as large as your vocabulary might be, it's not always enough to claim victory. Lady Luck is an undeniable factor in succeeding at the game.
"Scrabble is about 25 percent luck," Williams said. "So when there are two players of equal ability, the player with the best tiles is going to win unless the other guy really screws up."
Although, like most board games, Scrabble faces competition from newer forms of entertainment, like the internet and video games, Williams insists it is hardly showing its age.
"Scrabble is culturally at an all-time high," according to Williams, who said board games tend to have a spike popularity during tough economic times. "People simplify their lives, they stay at home and spend time with their families, and don't spend as much money."