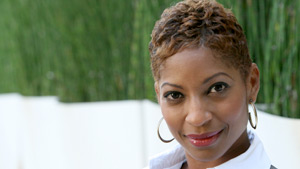 Columnist Audrey Irvine admits she is learning new lessons in her new relationship.
STORY HIGHLIGHTS
Columnist Audrey Irvine is used to taking care of things by her single self
She was also told by her mother that she didn't have to tell everything in a relationship
But now that she's in a relationship, her beau tells her sharing is part of it
Editor's note: Audrey Irvine is a senior assignment manager for CNN. Her experiences in the dating world inspire her "Relationship Rant" column. Check back every week for her take on dating and relationships.
Atlanta, Georgia (CNN) -- An old wives' tale has caused some trouble in my love life.
Growing up, I listened to a massive number of old wives' tales that have been passed down from generation to generation in my proud West Indian family.
For instance, never put your purse on the floor or you will always be broke. Or one in particular that haunts me to this day: If you're in a relationship, you don't need to tell everything. It is this second tale that created some wrinkles in my new relationship.
Too often for the single man or woman, if they've been dating for too long and finally find that person to have a relationship with, they continue to act single.
I consider myself an independent-minded person who is used to handling things on my own. If I had a financial decision to make but needed advice, I sought the counsel of a financial adviser. If I needed to make a workplace decision but was unsure of which direction to take, I consulted with trusted mentors. In the end, I always felt empowered to make the decision and live with the consequences.
But the other day, I came home from work stressed over an issue that was still on my mind.
My beau realized immediately that I had a bad day. I told him not to worry. It was a work thing, not really his concern, and it would take too long to explain.
When I took a break from my narcissism, I saw not only was he genuinely concerned about my problem but hurt that I would not share it with him. I reiterated that it was a work issue that I could discuss with work colleagues to determine the best strategy.
That's when he flat-out told me what I didn't want to hear. He stated very plainly, "If you're going to be in a relationship, you need to stop acting like you're single or you will end up single."
Ouch! At first, I took offense to his statement. How exactly does one act single in a relationship? At face value, I thought he meant I acted like our relationship was not important; that I somehow am projecting a single woman image to the outside world.
Boy was I in for a rude awakening. After discussing it further, I realized he was telling me acting single is acting as if you are alone. In other words, I was doing as I had been instructed: don't share everything.
After dating for so long and having to fend for yourself, protect yourself and explain yourself until you want to scream, those defense mechanisms don't automatically come down once you are in a relationship.
That "don't tell everything" mantra issued by my mother had evolved into my own way of protecting myself. It meant not sharing my fears, concerns and admitting to my man that I didn't have the answers to everything.
So to my single folks seeking a nice, fulfilling relationship, please learn to not put so much armor on that you cannot recognize when to take it off.
To those formerly single who are now enjoying the benefits of a relationship, true unconditional love is not just about sharing a bed and knowing you always have a companion for dinners and movies.
A true partner wants to hear everything, warts and all. So, the next evening, after a long day at work, I took the time to explain the challenges I faced at my job, all the while fighting my instincts to not share.