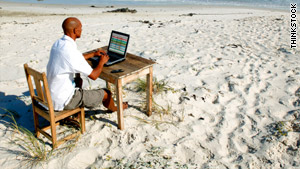 If you do take time off for a vacation, don't take your work along with you, expert says.
STORY HIGHLIGHTS
Survey: Effects of recession leave more workers needing a vacation
Money and understaffing makes some employees fearful to take all their vacations
Expert: Plan ahead and communicate plan with team members and supervisors
Take a "staycation" or hunt for last-minute bargain travel packages
(CareerBuilder.com) -- With the recession resulting in smaller staffs and bigger workloads, it's easy for companies and their employees to become strained and stressed.
Typically, vacation has been seen as one of the best stress relievers for the overworked -- which is why when people say they need a vacation, it's usually not an exaggeration.
Indeed, a recent CareerBuilder survey showed that, largely due to the effects of the recession, more than half of workers feel they need a vacation more now than in the past. Despite the growing need for vacation, though, recent research has shown that about a third of workers don't take all of their paid time off. So why are so many stressed-out workers still hesitant to take vacation?
According to a recent survey by Expedia.com, the three biggest factors in not taking vacation were:
• Getting money back for unused vacation days - 11 percent
• The need to schedule vacation time in advance - 10 percent
• A spouse/partner who is unable to get away from his/her job - 10 percent
Additionally, the CareerBuilder survey reported that many workers still felt uncomfortable taking a vacation due to the economy -- either because they couldn't afford it or felt like they shouldn't miss work when their companies were already understaffed.
Yet despite any hesitation, vacation days are given to workers for a reason -- everyone needs a day off once in a while. "It is important to take time off, as we need a change of pace, both physically and mentally," says Beverly Beuermann-King, a stress and wellness expert.
"Similar to a car engine, we can't continue to rev and rev without putting some maintenance into it. We need to jump off the roller coaster for a while and enjoy the down time so that we can come back to work rested and rejuvenated. It can give us the energy we need to problem solve and be more creative in solving those problems," she says.
Following are tips to eliminate the counterproductive stress often associated with taking time off.
Plan and communicate
Often, workers skip vacation because they feel as if they are inconveniencing their coworkers or employer, or they feel like they have too much on their plate to miss work. In order to combat these feelings, "Plan for when the best time would be and communicate with supervisors and team members on how to take that time off," Beuermann-King suggests.
Lay out how decisions will be made while you are away, train a co-worker on how to do the most important parts of your job, and decide what should get done by someone else and what can wait until you return. "It is only through this kind of teamwork, that vacations can be energizing and not a drain when we return to our jobs," Beuermann-King says.
Take a 'staycation'
If cost, the stress of planning, or coordinating schedules with your spouse are preventing you from taking time off, consider taking a "staycation" instead. A trend made popular in the past couple of years, staycations involve vacationing at home, and can actually be one of the most rewarding and stress-free ways to take time off.
They require very little research and planning, are cost effective and are a great compromise for those with family obligations. Additionally, vacationing at home eliminates anxiety-provoking logistical and travel plans, allowing workers to return to the job rested and refreshed.
So book an appointment at the nearest spa, grab a few new books, throw a cocktail party or plan a night at your favorite local restaurant, you're going on staycation.
Look for bargains
If you feel like you need to actually get away during your time off, but the expense is keeping your from traveling, look for last-minute vacation packages on the internet, which are often deeply discounted. "Be open to last minute deals," says Beuermann-King.
"When your schedule permits, you need to be able to act. With the economy being the way it is, these deals may be just the right fit for your budget and schedule."
Last minute travel doesn't mean you have to leave unprepared and in a hurry either. Once you make the decision to start searching for last-minute deals, prepare like you would for any other vacation. Make a packing list, gather necessary travel documents, ask your babysitter or a family member if they are up for spontaneous childcare and start a running list of projects you are working on in the office. That way, when an eleventh hour deal comes up, you'll feel like you've been planning your vacation for months.
Leave work behind
It's not a vacation if you can't put down the BlackBerry. In order to get the most out of your vacation time, concentrate on enjoying yourself and restoring your energy.
"Ideally, we should completely disconnect and focus on enjoying ourselves, relaxing, and connecting with our friends or family," Beuermann-King says. "However, if you must check [with work], do so at the beginning or at the end of the day. This is not the time to be carrying on detailed conversations; otherwise you might as well be back at work. Vacations are for re-energizing not for doing work in a different location."
&copy CareerBuilder.com 2011. All rights reserved. The information contained in this article may not be published, broadcast or otherwise distributed without the prior written authority.
FOLLOW THIS TOPIC