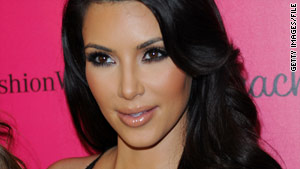 A website "I Write Like" analyzed a blog from Kim Kardashian and it said she writes like Irish author James Joyce.
STORY HIGHLIGHTS
A new website, "I Write Like," reveals which author a person's writing most likely resembles
The site examines the word choice and writing style in the submission
Among the authors that appear on the site are Stephen King, James Joyce and H.G. Wells
By Sunday, the site reported it already analyzed about 1.5 million texts
(CNN) -- Are you more of a Margaret Atwood? Dan Brown? Or Leo Tolstoy?
For all the curious writers, bloggers, Facebook wall scribblers and texters out there, a new site called "I Write Like" claims to determine the famous author that your writing most resembles.
Launched a few days ago, the site, created by 27-year-old Russian software developer Dmitry Chestnykh, has already gone viral.
The site works like this: Users paste a short writing sample in a box and click the "analyze" button. The site examines word choice and writing style to select the author that the submission mirrors.
As of Sunday, "I Write Like" reported the site had analyzed about 1.5 million pieces of text.
But don't take the site too seriously. Chestnykh told TheAwl.com, a New York City-based politics and culture site, he isn't qualified to analyze literature.
"This is my way of learning: When I want to do something, I do it, learning along the way," he said in an interview.
The site may be silly, but it sure did pique CNN.com's curiosity. We decided to run some writing samples through "I Write Like" and see what author popped up.
1. President Obama: We submitted part of President Obama's speech on unemployment insurance that he gave earlier this week.
Writing sample: "Good morning, everybody. Right now, across this country, many Americans are sitting at the kitchen table, they're scanning the classifieds, they're updating their resumes or sending out another job application, hoping that this time they'll hear back from a potential employer. And they're filled with a sense of uncertainty about where their next paycheck will come from. And I know the only thing that will entirely free them of those worries --- the only thing that will fully lift that sense of uncertainty --- is the security of a new job."
It's written like: Famed horror writer Stephen King.
2. Kim Kardashian: We pasted in a blog post from the reality television celebrity about bowling.
Writing sample: "This is really random, but I thought it was kind of cool!!! The International Bowling Museum in Texas are doing a poll to see who should be inducted into the bowling hall of fame and I have been nominated! I probably shouldn't admit it, but I'm not the best bowler haha. But that doesn't stop me going and having a great time! Bowling to me is about spending time with friends and family! Where's the fun in getting perfect strikes every time!? I'd rather have some fun trying and laugh at myself than get a perfect score."
It's written like: Irish novelist and poet James Joyce.
3. Craigslist: We decided to submit a personal ad posted this week by a Virginia man seeking a gym partner.
Writing sample: "I am looking for someone to work with. Help each other with our respective goals. I don't care if you're new to working out or if you're an expert. It doesn't matter if you're plus size and have some work to do, or totally shredded. I'm neither. I'm average, In the middle."
It's written like: American author and essayist David Foster Wallace.
4. The Supreme Court: We plugged in a few lines from the U.S. Supreme Court's opinion for the case Wrotten v. New York, which was released in June.
Writing sample: "We recognized in that case that "a defendant's right to confront accusatory witnesses may be satisfied absent a physical, face-to-face confrontation at trial," but "only where denial of such confrontation is necessary to further an important public policy." Id., at 850. In so holding, we emphasized that "[t]he requisite finding of necessity must of course be a case-specific one." Id., at 855. Because the use of video testimony in this case arose in a strikingly different context than in Craig, it is not clear that the latter is controlling."
It's written like: "The Da Vinci Code" author Dan Brown.
5. Justin Bieber: We had the site analyze the some lyrics from the 16-year-old pop star's hit song "Baby."
Writing sample:
"And I was like
Baby, baby, baby ooh
Like baby, baby, baby noo
Like baby, baby, baby ooh
Thought you'd always be mine, mine"
It's written like: Stephen King.
6. The college essay writer: We submitted a portion of a sample college essay found on CollegeBoard.com.
Writing sample: "The University of Michigan offers me more than the great reputation of this fine school, but a large student body with diverse likes and dislikes, and many activities, both academic and non-academic, to participate in. With the help of the University of Michigan, I will be successful after college and be able to make a name and place for myself in our society."
It's written like: American novelist Kurt Vonnegut.
7. The texter: We tested out a text message from the website Texts From Last Night.
Writing sample: "I just threw up in a patch of wild flowers on the side of the road. I never knew rock bottom was so beautiful."

It's written like: L. Frank Baum, author of "The Wonderful Wizard of Oz"
8. Edgar Allan Poe: We tried running Poe's notable poem, The Raven, through the site. But the analysis determined the poem was written in another author's style.
Writing sample:
"Once upon a midnight dreary, while I pondered, weak and weary,
Over many a quaint and curious volume of forgotten lore,
While I nodded, nearly napping, suddenly there came a tapping,
As of some one gently rapping, rapping at my chamber door.
"'Tis some visitor," I muttered, "tapping at my chamber door -
Only this, and nothing more."
It's written like: British science fiction author H.G. Wells.
9. This CNN.com article: Finally we submitted this article to the site. Apparently, it's written in the same style as Canadian science fiction author Cory Doctorow.