Blast of sports news this weekend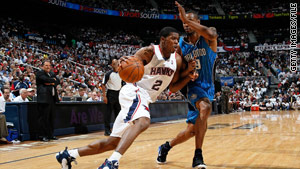 Joe Johnson was offered $124 million to stay with the Atlanta Hawks.
STORY HIGHLIGHTS
Fireworks may come this weekend from best NBA free agent class in recent memory
Two NFL quarterbacks may face legal troubles
Rafael Nadal faces Andy Murray and most likely Novak Djokovic at Wimbledon
One of the baddest men on the planet, Brock Lesnar, goes against Shane Carwin in UFC
(CNN) -- The off season excitement of one of the best NBA free agent classes in recent memory as well as big names trying to win at Wimbledon are just some of the fireworks that this holiday weekend has in store.
NBA free agency
The NBA free agency period started at midnight on July 1. This is when teams court free agents and try to convince them to sign with them. This year's free agent class has a bunch of big names, and those teams that have big name free agents up for grabs are doing everything they can to re-sign them. This is obvious with players like the Cleveland Cavaliers' LeBron James and the Miami Heat's Dwyane Wade, but apparently they aren't the only ones.
Supposedly the Memphis Grizzlies have agreed to a five-year, $81.6 million deal with their star forward Rudy Gay. The Atlanta Hawks took it to the next level offering guard Joe Johnson a six-year, $124 million contract to retain him. Both teams believe they will have trouble wooing other star free agents to their cities and decided to overpay for the stars they have rather than be picked apart.
One of the early losers appears to be the New York Knicks. Although they are looking to land one of the big fish, if more players decide to stay at home, the Knicks, who have been making deals to clear money for this free agent class for the past two years, will appear to be the biggest loser. But according to Sports Illustrated's Ian Thomsen, the Knicks are offering James a chance to create his own destiny.
NFL problems
Another NFL quarterback is in the news this week, and it's not good news. Philadelphia Eagles backup QB Michael Vick is being looked at as a possible "person of interest" by police after his cousin was shot in the leg outside a nightclub. Vick was jailed for 21 months following dog fighting charges. The Philadelphia Inquirer's Phil Sheridan says the Eagles may have to make a tough choice.
Also this week, Tennessee Titans backup Chris Simms was arrested on charges of driving while on drugs. They join Pittsburgh Steelers QB Ben Roethlisberger and Tennessee Titans starting QB Vince Young on the blotter of this off season.
Wimbledon
Despite being ranked No. 1 in the world going into Wimbledon, Rafael Nadal was given the No. 2 overall seed. Even with Roger Federer failing to advance this week, Nadal will still have his hands full trying to win another Wimbledon title. To do so he will have to get through Andy Murray and most likely Novak Djokovic, the No. 2 and No. 3 ranked players, respectively.
On the women's side Serena Williams will face off against Vera Zvonareva in the Wimbledon finals. Williams is entering her 109th straight week as the No. 1 tennis player in the world and has been dominant this year, not losing a single set. A victory will give Williams four Wimbledon titles.
World Cup
The World Cup will look a lot different in four years. After numerous controversial calls that could have been overturned with the use of instant replay technology, there is a good chance the issue will be addressed before the 2014 World Cup in Brazil.
But the Brazilian soccer team has unfinished business in Johannesburg, South Africa, right now. They face the Netherlands Friday for a chance to advance to the semifinals. Brazil is one of four teams from South America still alive in the tournament. The Washington Post's Steven Goff says a one-continent final four could happen.
UFC
July 3 will put one of the baddest men on the planet, Brock Lesnar, in the UFC octagon against Shane Carwin. Lesnar (4-1-0) has been impressive in his brief UFC career, simply overpowering all but one of his opponents. His massive 6-foot-3, 265-pound frame helps, but Carwin (12-0-0) matches up nicely at 6-foot-2 and 265 pounds.
This match will be a title-unification bout, which is exactly what UFC President Dana White wants. The growing popularity of mixed martial arts has taken boxing off the map as the pay-per-view king, and at $45 a pop it looks as though it is here to stay.