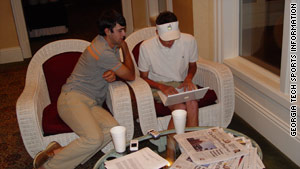 Georgia Tech golfing teammates Cameron Tringale and Chesson Hadley study while on the road.
STORY HIGHLIGHTS
College basketball player Billy Pettiford studies on planes, buses, airports, hotels
Say he learned to "apply yourself on those trips to keep your head above water"
Teammates had to do better on tests because they lost points missing classes
Georgia Tech football player tells of having game, fluid dynamics lab on same day
(CNN) -- Billy Pettiford could study at 30,000 feet in an airplane and he could study at sea level on a bus. He could study in a hotel room or in a locker room. He could study wedged into a seat in a waiting area at an airport, and he could study on a table top at a fast-food restaurant.
Pettiford, who was a senior basketball player at Indiana University-Purdue University Indianapolis (IUPUI), studied on trips between Indiana and Oklahoma and Indiana and Louisiana and he studied in the hills of the Dakotas.
Cracking a book in the stacks at the his college library would have been a luxury because there were weeks during the school year that Pettiford was gone from campus Wednesday to Sunday.
He does not recommend the grind.
"You really had to apply yourself on those trips to keep your head above water," said Pettiford, who will have a degree in sports management when he finishes an internship this summer at the Indiana Sports Commission.
"Basically, you better learn to be a teacher and teach yourself. You can miss a lot of class time in-season with athletics."
IUPUI has a thicker frequent-flier portfolio than many schools, but the Jaguars are not the only athletes with study hall at 30,000 feet.
Boston College travels to Miami for competition in the Atlantic Coast Conference; Louisiana Tech has league games in Hawaii and Boise, Idaho. East Carolina has a league opponent in Houston, Texas. Now that Nebraska is going to the Big Ten, its athletes will make their way from Lincoln to State College, Pennsylvania, a journey of 1,072 miles.
When the latest round of expansion talks in college athletics was being discussed, student athletes' welfare and the travel burden was not, so to say, driving the discussion. But those who work with athletes to keep their grades up insist the simultaneous pressures of academia and athletics can be crushing.
"A lot of the conferences are being realigned because of the commercial market for football," said Amy Perko, the Executive Director of the Knight Commission on Intercollegiate Athletics, which is watchdog on college athletics. "The financial decisions need to be made with an eye toward how they impact the university and all student athletes. What may work with football because football games are on a Saturday may not work for the other 16 sports."
Nebraska is quitting the Big 12 to join the Big Ten because the Cornhuskers can increase the revenue for their athletic department. Officials at the University of Texas said travel considerations for athletes played a role in the university's decision to turn down an invitation to join the Pac-10 Conference, which would include trips to the Northwest. But many observers feel student athletes' welfare had little to do with the decision and UT would have bolted the Big 12 if financial concessions to Texas has not been made.
"I had teammates where points were taken off their grade for attendance, which meant they had to do better on the tests to make up for the points they lost for attendance," Pettiford said. "You are missing quite a bit of classroom lecture time and what you rely on is some older guys who have taken some of those classes to help you."
"It was a lot of lecture, there were not a lot of passed- out notes. You could look at somebody's notes, but it is not the same as being there and hearing it and writing it down. I got a C+, but it was tough."
Pettiford's mother, Lynn Howard, said she talked to her son every day by phone when he traveled, but did not nag him about school work -- until he got back to Indianapolis from a trip.
"I would ask him when he got back if things were taken care of, and they were," she said. "He never complained about it; he learned early that if he wanted to play, studies come first. I don't think people have any idea what they have to go through with the travel and keeping up."
Dr. Ed Etzel, a psychologist and professor at West Virginia University who has worked with student athletes, said the rigors of travel take their toll.
"Even for the best, most motivated and well-organized students, it can be challenging to deal with trying to be excused from classes, do work in advance or make up work, studying on the road in a bus, in airplane, airport or hotel," Etzel said. "The focus of these trip is to be preparing for, participating in, and subsequently recovering from physically and psychologically demanding competitions.
"It is particularly challenging when travel and competition is during weekdays -- something that is quite common."
When Georgia Tech played a Thursday night football game at Miami last season, the Yellow Jackets left campus after classes on Wednesday, missed classes on Thursday, and returned to campus Friday morning at 1:30 a.m. That is not a friendly schedule at a rigorous academic school like Tech, especially for offensive lineman Sean Bedford, an aerospace engineering major.
"I had a professor in my major, an older gentleman, who didn't quite understand that I was going to miss his class on a Thursday for a football game, he didn't understand the priority," Bedford said.
"Losing a day of class at a place like Tech can be tough, so you have to utilize your down time in the hotel. I don't know how the basketball guys do it with so many midweek games. We'll come back from one of those Thursday night games and just be physically exhausted. We have one of those Thursday games at Virginia Tech this season and I have a [experimental fluid dynamics] lab that day. It's something you have to plan for."
It is, after all, rocket science.
FOLLOW THIS TOPIC