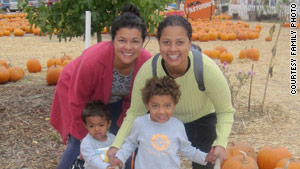 Niki Solis, right, with her family, says she still sees the Latino community left out of mainstream GLBT advocacy at times.
STORY HIGHLIGHTS
For the first time, a Gallup survey found more than half said gay relations were "morally acceptable."

But some LGBT advocates say data doesn't count one of the greatest challenges for acceptance: race and ethnicity.

Efforts to reach out to more diverse groups have just gained momentum in the last years, advocates say.
(CNN) -- It's been a long time since Niki Solis was a teen living on a different coast than her parents, uncertain how to tell her Latino, Catholic family that she's a lesbian. In the decades since they found out -- they were surprised only that she waited so long to tell them, Solis said -- that kind of uncertainty faded amid her legal career, marriage in San Francisco and motherhood.
"I have to say, in my life, it's hard for me to remember homophobia," said Solis, 42. "When you're open and honest about it, people are more accepting. If I don't have a problem with it, why should they?"
For the first time since Gallup began its annual Values and Beliefs survey a decade ago, more than half of respondents said gay and lesbian relations were "morally acceptable." The number has risen most years since 2001, and peaked this year at 52 percent. The percentage that said gay and lesbian relations are "morally wrong" dropped to a new low of 43 percent. Support for same-sex marriage increased, too, although more than half still said they oppose it.
"I would not say it was a surprise," Gallup Editor-in-Chief Frank Newport said. "Obviously, there have been changes in the environment. Gay and lesbian relations are more public and more discussed."
But it's not more public among all demographics. The latest data doesn't count what LGBT advocates say is one of the greatest challenges for acceptance: race and ethnicity. Acceptance increases when people know gay or lesbian individuals, and for decades, white gays and lesbians were more open to the mainstream. People of color weren't.

Video: Obama: We'll stop discrimination

Video: Gary and Tony want a baby

Video: Laura and Denise's journey to a child
Solis said she knows people without supportive families or friendly communities. Although she's open about her sexual orientation, she still sees the Latino community left out of mainstream GLBT advocacy at times. When California's same-sex marriage ban passed in 2008, she saw it not as a vote of homophobia, but as a failure to reach out to diverse communities.
"I don't think black parishioners, Latinos or Catholics hate gay people. All of California wasn't educated," Solis said. "Being white and gay is different from being a person of color -- it's harder. I know a lot of people of color who would have put themselves out there and educated those communities."
It's the kind of education that mainstream pop culture received over decades. Advocates say the data reflects unprecedented numbers of openly gay and lesbian people in TV and movies, gay-straight alliances at schools, LGBT workplace outreach and movements to discuss sexuality in church. In recent years, fewer weeping parents of gay adults call into Parents, Families and Friends of Lesbians and Gays, or PFLAG. Instead, calls come from mothers and fathers who want to keep their young teens safe at middle or high schools.
It's a far cry from when PFLAG Executive Director Jody Huckaby came out. He was one of four gay brothers from a devout Catholic family from Louisiana. For years, his parents didn't know how to talk about their sons, Huckaby said, and one sister didn't want her children to be around them.
"Not everybody landed where I would have wanted them to land, but as they became more educated, it became easier," Huckaby said. "I'm inspired by the polling. We're still challenged by the reality."
Efforts to open up discussion among more diverse groups have just gained momentum in the last five to 10 years, advocates say. Local PFLAG chapters are using Spanish language events, materials translated into Creole or Hmong, and one-on-one meetings that might be more comfortable than large group get-togethers.
Sharon Lettman, executive director of the National Black Justice Coalition, a black gay civil rights organization, said they've spent the last few years encouraging and leading discussions at black churches.
"We say African-Americans invented 'don't ask, don't tell,' " she said. "If you're really going to change hearts and minds, you're talking about people that look like you. Our toughest audience is usually our family and community."
For Solis, it's only a matter of time. She hasn't yet needed to talk with her two young sons about why people might react differently to them or their two mothers. The plan for that will come later -- if they need it at all.
"We're on the precipice of acceptance. It's incumbent on us," Solis said. "If we're just more open, people will see it's not such a thing to fear."
FOLLOW THIS TOPIC