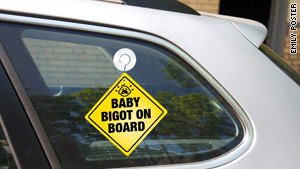 Woman claims her boyfriend's ex-wife urges children to be racially prejudiced.
STORY HIGHLIGHTS
Woman: Boyfriend's ex-wife is teaching her kids to be racist towards her
Says kids tell dad that mom doesn't want them sitting on girlfriend's lap
Columnist: Up to dad to parent kids, tell ex to respect your relationship with him
Advises girlfriend to treat kids, mother with respect
(The Frisky) -- Dear Wendy:
My ex-fiance and I recently reunited after being apart for nearly 10 years.
We were high school sweethearts for several years but I wasn't ready to marry him at the time so we went our separate ways and he eventually married and had two beautiful children.
Unfortunately, his marriage didn't work out, but three years after his divorce, he and I bumped into one another and decided to give our relationship a second chance and recapture what we once had.
So far everything has been a fairytale, but we do have one issue: his ex-wife! She is trying to teach her children to be racist towards me because I'm Cape Verdean [an island off the coast of Africa].
The Frisky: 13 famous bi-racial celebrities
Fortunately, the kids love being around me and have no issues with my race at all but they're forced to go home and deny liking me to make their mom happy. They have also told their father that mommy doesn't want them sitting on my lap or playing with me.
So, what do I do and what does my boyfriend do to try to handle this situation? Should I be absent in their lives in terms of baseball games, school plays, drop-offs, etc., even though she takes her fiancé everywhere?
He and I are discussing marriage in the near future but I'm afraid I'd be signing myself and my future children up for 13 years of torture. What should I do?
-- Colorblind
The Frisky: 30 things women should quit doing by 30
Dear Colorblind:
It's awful that your boyfriend's ex-wife and the mother of his children is a bigot and is trying to use her kids to sabotage your relationship. Luckily, those children seem like smart, loving people and have been doing a great job accepting you in their lives.
Continue treating them -- and, if you can stand it, their mother -- with respect. Go to their events; cheer them on at their games; and smile at their mother when you're in the same room as her.
As long as she is not directly "torturing" you, and you are still fairly new in their lives, you should leave the parenting to your boyfriend and his ex-wife. That means it's his job to sit down with her and voice his concern about the way she's raising their children and teaching them to treat not only people of other races, but adults who are romantically involved with their parents.
The Frisky: What to do when your in-laws are racist
Your boyfriend needs to explain, without going into detail, that you are an important part of his life and by extension, a part of his children's lives and it's time for his ex-wife to respect that -- especially if he (hopefully) shows respect for the relationship she has with her fiancé.
Unfortunately, there's no way to police her words and actions and she could very well continue her nasty behavior. If that happens -- and frankly, it probably will for a while -- take the high road. Focus your attention on creating the best relationship you can with your boyfriend and with his children.
As marriage becomes a more serious option, sit down with the kids and explain that you love them and you're excited to become their step-mother, but that you'd never try to be their mom because they already have one who loves them very much.
The Frisky: Is Beyonce the future face of most beautiful?
Don't EVER bad-mouth her in front of them, but let them know that you happen to believe everyone is equal, regardless of race, and when they're in your home you expect them to respect people's differences. You and your boyfriend should tell them together that it's possible for good people to make bad decisions -- that adults are human and make mistakes and it's their job to decide for themselves whom to like and love. No one -- not even their own mother -- can control their feelings for other people.
Children are so much smarter than most of us give them credit for. It's a great sign that they've already shown such a liking to you and seem to question their mother's behavior. As long as you continue to respect them and the relationship they have with their parents, you can work this out. But your boyfriend absolutely has to have your back -- if he doesn't, there's no point in being with him anyway -- and he has to take a stand against his ex-wife and the messed-up way she's raising her kids.
The Frisky: 10 female celebrities who have a twin
TM & © 2010 TMV, Inc. | All Rights Reserved
FOLLOW THIS TOPIC