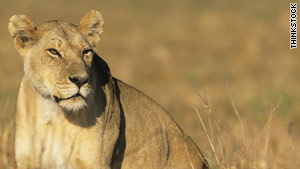 "The lioness's grunt was so fierce and deafening, we were shaking from the power," said a survivor.
STORY HIGHLIGHTS
Five people recount unforgettable moments in their lives
One man remembers watching from above as he "flatlined" at the hospital
Another man landed a plane carrying his family after their pilot died
One women wins $1 million while another argues a winning case before high court
(OPRAH.com) -- Spent the night in a tent being circled by lions? Landed a plane after your pilot died? Came back to life after flatlining? Read 5 true-life tales of unexpected adventure.
Landed a 10-seat twin-engine turboprop plane after the pilot died
"The pilot's head fell back, and I saw the whites of his eyes. We were on autopilot climbing 2,000 feet per minute north of Ft. Myers, Florida, and the sky was filled with numerous other planes. If we continued on our course, in about eight minutes we'd be at the aircraft's altitude limit, causing the plane to stall and spin out of the sky"
"I had piloted a small single-engine plane before, but never one this powerful --and I knew nothing about autopilot. Thankfully, a Miami air traffic controller who was also an experienced pilot came to my aid. She convinced me that I had to turn off the autopilot and fly and land the plane by hand. There were dozens of unfamiliar controls in front of me"
Oprah.com: How to get out of the stickiest situations
"One of our daughters was vomiting, and the other one was crying. I told my family to pray and pray hard. I was operating on pure adrenaline -- a focused fear. When we flew over the Gulf of Mexico, the sky was a light blue that perfectly matched the light blue ocean. When the plane dipped below the clouds, suddenly I couldn't distinguish sky from sea or up from down. It was like driving a race car in the Indy 500 in pitch darkness."
-- Doug White, who in 2009 safely landed a King Air 200 in Ft. Myers, Florida, with his wife and two teenage daughters onboard
Came back to life after flatlining
"I was driving on the Long Island Expressway in icy conditions when my car slid off the highway. I remember hearing glass breaking and metal crunching before I blacked out."
"I was airlifted to the nearest hospital, but as the doctors worked to stop the bleeding, I flatlined. I remember watching the whole scene in the operating room from above, as if I were observing a stranger. It was really bright, and I could hear the doctors in gowns quietly talking through their masks and the metal clanging of the instruments.
Oprah.com: How to make a change at work and in life
"Then I saw my own face with my eyes closed and covered with blood, and thought, How could I be watching from above if that's me down there on the table? What the heck is going on? Up until that point, I really thought that I was watching some kind of surgical documentary."
"Then the vision suddenly ended. The doctors had restarted my heart. I was in a lot of pain, but I felt so grateful to be alive."
-- Thomas Foote, who "died" after a 1992 car accident and was brought back to life
Won $1,000,000 on "Who Wants to Be a Millionaire"
"When the million-dollar question popped up onscreen -- Who posed as the farmer for the artist Grant Wood in his painting American Gothic? -- I knew the answer before I even saw the four choices (it was Wood's dentist)."
"At that point I knew I had won. I felt hot and started to squirm. There was no timer and they always encouraged us to talk our way through the answers, but I couldn't stretch it out any longer. I had to spit it out."
"Meredith Vieira and I both started screaming. Tears streamed from our eyes. We jumped from our chairs and gave each other a big bear hug. Confetti was flying, 600 people in the audience were going crazy; it was pure pandemonium."
"Later, as I drove home alone from the Tulsa airport in my dented Saturn, I screamed, 'I won a million dollars!' I'm still living in the same three-bedroom house and still teach at the same school. But now I can indulge my two vices -- shoes and books -- and buy pizza for my students."
-- Nancy Christy, a single mother of two who teaches eighth-grade English at Carver Middle School in Tulsa, Oklahoma
Oprah.com: A financial plan that keeps you safe for 30 years
Argued my first case before the Supreme Court
"The case centered on whether an immigrant who had fled persecution in his home country could remain in the United States while his immigration status was decided."
"After I took my place at the podium, I could hear the court fill with spectators behind me. My heart started to beat faster, but I tried not to turn around. When the justices walked in, they sat just five feet away. I felt starstruck, but they smiled at everyone."
Oprah.com: Relax...you...are..getting...bolder!
"I read one sentence from my notes, but after that I found myself just talking to them as if they were interested colleagues. They interrupted with rapid-fire questions, but it actually felt like the ten of us were figuring out the answer to a puzzle."
"I kept telling myself that if I could convince the justices I was right, I could potentially save a man's life. I thought of my late grandfather, a lawyer in the Soviet Union who came to the United States to provide opportunities for his children. It would have been such a thrill for him to be there. But his spirit was with me."
-- Lindsay C. Harrison, an associate at Jenner & Block in Washington, D.C., who successfully argued the pro bono case Nken v. Holder before the court when she was just 30
Oprah.com: 100 things that are getting better
Stuck in a tent for ten hours while two lions circled outside
"We were putting out the campfire and someone yelled, 'Oh my god, lion!' The group leader told us to go to our tent, where we huddled together, terrified. Within minutes I could feel the ground shake, and then there was this boom. I never heard a roar, but the lioness's grunt was so fierce and deafening, we were shaking from the power."
Oprah.com: Why the gift of fear can save your life
"Here I was in a four-foot-tall weathered tent, bordered from a lion by a piece of nylon. We gravitated toward the middle. If we stayed by the sides, our limbs might accidentally touch the lion. After a couple of hours, we heard something new on the other side of the tent -- a second lioness."
"Every 90 minutes, one of us mustered the courage to stick an eyeball out, only to realize time and time again that they were directly outside our tent-waiting for us. They each weighed about 300 pounds and stood around eight feet long. The pacing and rustling continued hour after hour. At first we whispered back and forth, but then we tried to keep silent. When it got dark, there were no lights, and the cats have night vision. It wasn't safe to check for them, so we just stayed put"
"When dawn broke around 4:30 a.m., someone peered out and announced that they had gone. There was an exhausted cheer. We could finally breathe."
-- Paul Rubio, who was working with the Kenyan wildlife service and camping on the outskirts of the Masai Mara when the lions arrived
From O, The Oprah Magazine © 2010
Subscribe to O, The Oprah Magazine for up to 75% off the newsstand price. That's like getting 18 issues FREE. Subscribe now!
TM & © 2011 Harpo Productions, Inc. All Rights Reserved.