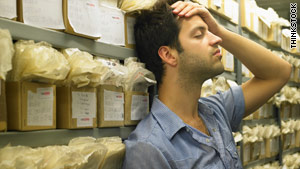 Burnout may be caused by long hours, unclear demands and lack of recognition, says expert.
STORY HIGHLIGHTS
Burnout may be caused by long hours, unrealistic employer expectations, boredom
Coach: Red flag is if your boss is sending signals he is not satisfied with your work
Expert: See if there are tasks you could delegate, safely say "no" to or discard
Stressors outside the workplace may be contributing to office burnout
(CareerBuilder.com) -- For the growing number of employed workers who are experiencing burnout, Deborah Brown-Volkman of East Moriches, New York., a career coach and author of "How to Feel Great at Work Every Day," has some simple-sounding advice: "Plan your work and work your plan. That's how you will be something different."
But coming up with ways to make that worn-to-the-core feeling a thing of the past is not easy. Taking time to seriously think about your workplace situation and how things might be made better may be the last thing on your agenda after a long day. For those willing to put in the effort, however, the return can be substantial.
Sources of burnout
To fight the enemy, first you have to identify it. Some of the most common culprits of workplace burnout include:
• Too many job demands.
• Unclear demands.
• Long hours.
• Lack of recognition.
• Unrealistic employer expectations.
• Lack of guidance.
• Frequently shifting directions (stopping and starting tasks).
• Boredom.
• Aiming for perfection.
Gary Rich, president of Rich Leadership, an executive coaching firm in New York City, advises burned-out workers to look at all aspects of their lives.
"It's important to remember that when we suffer from burnout, the cause is seldom related exclusively to work. The demands on our personal resources are often made from multiple aspects of our lives, and therefore the cause is as often a combination of factors in both work and personal lives."
Taking action
Brown-Volkman recommends detailing what steps you will take toward improving your situation and putting them into your calendar. Such a move can make the task seem more manageable and can boost your belief that change is possible.
Looking at your list of stressors, brainstorm (and then implement) specific actions that could rectify the situation. If job demands are unclear or too numerous, consider setting up a five-minute morning meeting with your supervisor to go over daily goals or ask for a written list of priorities.
Limit distractions by closing the office door and stopping yourself from constantly checking e-mail and voice mail. (An automated reply stating the time of day you return messages is a nice courtesy.)
Examine your typical day and see if there are tasks you could delegate, safely say "no" to or discard. (Rich says that most workers find about 20 percent of their work is not generating results and wouldn't be missed if stopped.)
Once again, don't ignore how stressors outside the workplace may be contributing to what you are labeling as office burnout. If unreliable child care leaves you scrambling in the morning, it might pay to explore alternative baby-sitting options. Pressed to make dinner because you needed to work late? Consider cooking and freezing back-up meals on the weekend.
Likewise, don't ignore yourself. "You must find ways to restore some of your energy reserves, and that can only be done through diet, exercise and (most importantly) finding a few hours a week to do something just for you. Nurturing yourself may feel like a luxury you can't afford, but I assure you, you can't afford not to," Rich says.
Making a greater change
If despite your best efforts you are still unhappy, unmotivated, tired or sick, it may be time to consider changing to a different position, field or company. When examining your own feelings about such a change, it also can help to look for external input.
"One big red flag is if your employers are sending signals that they are not satisfied with your work. Then it's time for some self-reflection and a fearless inventory of how well you actually are performing," Rich says.
The bottom line, though, is that you have to do what is right for you.
"Remember, even if your employer is pleased with your results, if you dread going to work each day, finding a different job may be the only solution left," Rich says. "You'd be amazed how calm my friend the air traffic controller became after he moved from working New York City airspace to Jackson Hole, Wyoming."
&copy CareerBuilder.com 2011. All rights reserved. The information contained in this article may not be published, broadcast or otherwise distributed without the prior written authority.