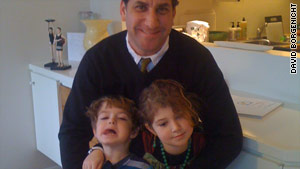 Author David Borgenicht, son Max and daughter Sophie.
STORY HIGHLIGHTS
Dad gives some tips on worst-case scenarios in parenting
David Borgenicht once used a straw to drop water into his baby's mouth
Used a squirt gun to give son water on a playground when he forgot a bottle
He says help kids befriend monsters, or give them something to fight them
(CNN) -- Anyone watching the news might wonder if they could crash-land a plane on water, survive a pirate attack or save themselves from a heart attack.
Or if they watch action TV shows, they may want to know how to drive a car down a flight of stairs or how to take a punch to various parts of their body.
But perhaps the most dangerous situation a man can face these days is fatherhood, at least according to a co-author of the recently published "The Complete Worst-Case Scenario Survival Handbook: Man Skills."
"I've been in some tricky situations -- in particular when I was onboard a plane and didn't have access to my usual array of daddy gear," recalled David Borgenicht, a co-author of the book and father of 8-year-old Sophie and 5-year-old Max.
If you have an infant and can't immediately put your hands on a baby bottle, Borgenicht says a drinking straw can be immensely useful.
"I actually used the straw, dipped it into the water and got a little bit of fluid in it and sort of fed her like a baby gerbil or a baby bird -- dip by dip and strawfull by strawfull."
Other "emergency bottles" suggested in his book include a gravy boat, cake-decorating bag, turkey baster and a hamster bottle. But no matter how clean you think it is, never use a Tabasco bottle, he warns.
When his son Max was playing at the park and got thirsty, and Borgenicht had forgotten to bring a water bottle, he resorted to a squirt gun.
"My son is perfectly willing to take several squirts from the gun in the mouth as a solution," says the forgetful dad.
Now although your teething baby may be willing, the book lists things that should NEVER be used as a pacifier -- no matter how loud your baby is howling. The no-nos include screwdrivers, cell phones, light bulbs, beer bottles, toilet plunger handles and ping-pong paddles.
But under certain desperate conditions, the ping-pong paddle might be OK if you clean off the germs.
"I suppose if you make sure it's not splintering and you clean it off really good, it would work," Borgenicht says, "But in general, if there's one lying around, it's not something that you want to use."
Although his book contains instructions for removing a wad of paper or a marble from your child's nose, he really recommends having a medical professional go digging for things a kid might have poked into his nose or ear.
The worst thing he's ever had to pull from his son's nose was a really disgusting mucus plug -- more commonly known as a booger.
"You have to obviously be really careful when when you're extracting something like that," he warns. "You can't go as far into their nose as you think you can go in yours."
To bond with your standoffish teen, the book recommends showing him you're cool by performing an Ollie -- a beginner's trick of popping a skateboard into the air.
Borgenicht has mastered that trick on a Wii, and since he's already passed 40 years of age, he figures that will remain a "virtual skill."
And even though monsters aren't real, dads need to teach kids how to deal with them. Kids have such great imaginations, Borgenicht says, it doesn't help to try to explain that monsters don't exist.
"I recommend befriending the monster or giving the child some sort of protection," he says. "It might be a spray bottle filled with 'Monster Be Gone' or something like that."
When he was a child and woke up thinking his bedroom door was the door to Star Trek's spaceship and aliens were coming, his parents handed him a phaser and said, "It's going to be fine, but if anything comes to the door, use this."
Borgenicht recommends helping kids face the truth about a pet's death by holding a funeral. And he recommends another book, "The Tenth Good Thing About Barney" by Judith Viorst. In it, a child can think of nine good things about his cat Barney, but can't think of a tenth thing until the family plants flowers on the grave of the departed pet and thinks about how the decomposing cat will feed the flowers.
Borgenicht says he will be feeding barbeque to his family this Father's Day -- adding that his book covers what to do if the grill catches on fire.
And although he'll be cooking like many other fathers on that day, he reminds dads to "appreciate the fact that for once, you're actually being appreciated."
His final tip is about the multitude of ties given as gifts on this holiday.
"Remember that these days, things can be repurposed. It may be an ugly tie, but a couple of quick stitches by someone in the household, and it can become a great little iPod or iPhone case."
FOLLOW THIS TOPIC