STORY HIGHLIGHTS
Al and Tipper Gore announced they are separating after 40 years of marriage
Experts: Fewer long-term marriages end in divorce because of children, shared assets
But divorces in long marriages are rising with longer life spans, acceptability of divorce
Experts say career changes and infidelity can cause those marriages to end
(CNN) -- Tipper Gore stood smiling in her blue coat on stage with her arms out, ready to embrace Al Gore at the Democratic National Convention a decade ago. He arrived into her arms and they locked lips for the world to see.
"The sheer carnality of the kiss -- the can't-wait-to-get-back-to-the-hotel-room urgency, the sexual electricity flowing south -- was riveting," Time magazine's Lance Morrow wrote at the time.
Now, after 40 years of a seemingly happy marriage, the couple, who once flaunted their adoration for each other on national TV, shocked the country with an unexpected announcement this week: They are splitting up.
The e-mail to family friends stated, "We are announcing today that after a great deal of thought and discussion, we have decided to separate."
Break-ups among long-term married couples -- who have invested 30, 40 or more years into a relationship -- is an uncommon phenomenon compared to the skyrocketing divorce rates among naive newlyweds or parents overwhelmed with children, marriage experts say. But the number of long-term relationships headed toward separation -- like the Gores -- is becoming more frequent with longer life spans and a growing acceptability of divorce, they say.
"Staying in exactly the right relationship to one another is a very hard thing to maintain every decade," said Pepper Schwartz, professor of sociology at the University of Washington. "People think you only get closer over time, but that's not necessarily true."
Divorce dirt -- a new goldmine
In academia and the professional counseling field, several experts interviewed say they don't know precisely how many long-term marriages are ending in separation or divorce. But they have noticed more cases while researching and counseling couples. The U.S. Census estimates about half of marriages end in divorce, a sign that opting for divorce has become much more acceptable than the past when ending a marriage was taboo.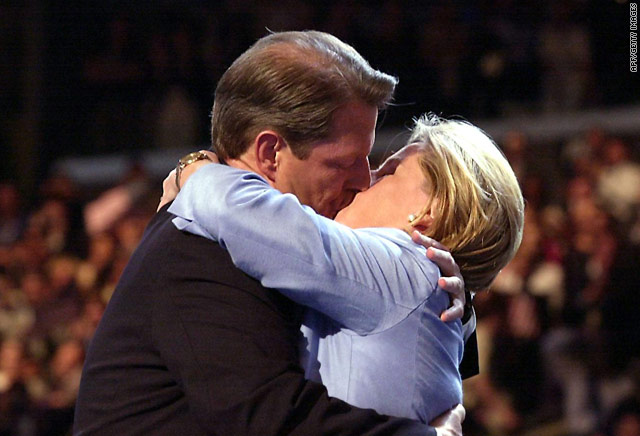 Gallery: Al and Tipper Gore

Video: Al and Tipper Gore separating

Video: Al, Tipper Gore talk about marriage
Schwartz, who is also a relationship expert at the American Association for Retired Persons representing people 50 and older, believes science and medicine have enabled people to live longer. The extra years have led some married couples to choose divorce.
Previously, older couples married for decades usually stayed together -- not wanting to go through the legal and emotional turmoil so late in life.
But now, a longer life span means the possibility of finding a new relationship or enjoying the "golden years" without the stress of fighting with a spouse, she said.
"There's still a lot of life left to be lived," said Schwartz, 65, who divorced her husband after more than 20 years of marriage.
Some experts believe long-term married couples remain conservative in their relationship and avoid separation or divorce. Most first-time divorces occur around the 8th year of a marriage, according to the most recent U.S. Census data in 2004.
Older couples in a long-term marriage are more likely to work things out, says Diane Sollee, director of Smart Marriages, a coalition helping couples get access to marriage education materials.
Sollee explained that couples who've invested long periods of time in a relationship often have children and grandchildren together. They also share friends, property and assets. It becomes too much of a hassle to file for a divorce, she said.
"Most people stay together because they have a life together," Sollee said. "They have every reason to stay together and enjoy the fruits of their labor together. No one else is going to think your grandchildren are as cute as you and your husband do."
Al Gore , 62, and Tipper Gore, 61, have four children and three grandchildren together. They live together in Tennessee.
Marriage counselors pointed out several distinctions between divorces among older couples in a long-term marriage and younger married couples.
David Woodsfellow, a marriage therapist in Georgia, described couples abandoning marriage after several years together as "hot divorces." The younger couples usually split over mismatched lifestyles or the challenges of raising children. The legal processes often become loud, bitter and angry.
In contrast, Woodsfellow said break-ups among couples married for several decades are "cold divorces," characterized by disengagement, distance and isolation. These kinds of divorces are the product of a gradual buildup. The problems may have festered to the point where no one cares. He said a spouse normally has reached the tipping point where they realize "the good is not outweighing the bad."
"Their 'growing apart kind' is insidious," Woodsfellow said. "Everything may look pretty good, but there is lack of investment. It's a fraying of the friendship."
Therapists say there are benchmarks in a typical marriage where divorce is more apt to occur.
First, divorces often happen during the initial two years of marriage when the expected honeymoon period is replaced with the reality of getting accustomed to each other's attitudes and living habits. A second point for divorce is around the five to seven year mark, where children are typically born.
And divorce can also happen when the kids leave home. Some empty nesters divorce because they no longer have their children holding them together.
Everything may look pretty good, but there is lack of investment. It's a fraying of the friendship.
--David Woodsfellow, a marriage therapist in Georgia
For the Gores, they had successfully passed all these divorce-prone points, which made their separation so surprising for the public, marriage experts say. As one marriage expert put it: "It's tragically a different kind of a divorce."
The Gores don't plan on commenting further on their relationship or whether the separation will evolve into a divorce.
"This is very much a mutual and mutually supportive decision that we have made together following a process of long and careful consideration," their e-mail said.
Willard F. Harley, author of "His Needs, Her Needs: Building an Affair Proof Marriage," doesn't know what caused the Gores to separate but he suspects infidelity. Particularly in a long-term marriages tested over time, couples won't give up easily, he said -- unless they have fallen for another person.
"It's usually wanting someone," Harley said on the reason for a divorce. "It's usually not wanting to be alone."
Mikki Meyer, a family and marriage therapist in New York, says she doesn't know why the Gores called quits to their marriage, but she says a major life change - such as in a career -- can cause a marriage to fold.
"It's a shift in who they are and the glory," she said. "Sometimes the self esteem is affected. Sometimes it affects relationships."
After serving in the Senate and then as vice president, Al Gore lost the 2000 presidential race. He has since been active in environmental causes, but he has also pursued business interests.
The former vice president has written several books. One best-selling book about global warming -- "An Inconvenient Truth" -- was the subject of an Oscar-winning documentary film. He also won a Nobel Peace Prize in 2007.
Al Gore co-founded Generation Investment Management, a company that promotes "a new approach to sustainable investing." Gore is also the chairman of Current TV, a cable and satellite television network he co-founded. He also serves as a director for Google and Apple Computer.
After leaving Washington and returning to Nashville, Tennessee, Tipper Gore considered but decided against a run for a U.S. Senate seat in her home state in 2002.
While the announcement of Al and Tipper Gore's separation has sent shockwaves across the nation, Jessica Bram, author of "Happily Ever After Divorce," offered a more positive viewpoint on the separation.
Ten years ago, Bram, 56, divorced her husband after sharing 19 years of marriage and raising several children. Today, she is remarried. Her book, released last year, chronicles the aftermath of her divorce.
"The fact they were married after 40 years doesn't negate the fact that they had a valid, good marriage," Bram said. "It's just that something happened."
FOLLOW THIS TOPIC