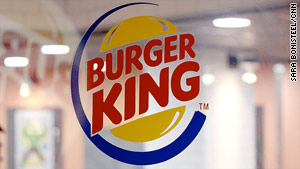 Burger King's breakfast menu competes aggressively with McDonald's.
STORY HIGHLIGHTS
Burger King testing brunch fare in Massachusetts and Florida

Menu will feature breakfast sandwich, Whoppers and nonalcoholic BK Mimosa

Companies such as McDonald's, Burger King and KFC on lookout for new markets, trends

Some menu extensions have been massive missteps

(CNN) -- In the popular television series "Sex and the City," brunch was often the war room in which the saucy foursome would debrief about their exploits on the battleground of New York's dating scene.
Starting at least a century before the show's 1998 television debut, that leisurely, often boozy, midday meal has frequently been associated with well-heeled urbanites making much ado about eggs Benedict, Bellinis and stuffed French toast.
Now Burger King wants to bring brunch to the local drive-through.
The fast-food chain is testing brunch fare in Massachusetts and Florida, and depending on its success there, it may be rolled out nationally.
The menu is set to feature a breakfast sandwich of eggs, cheese, tomato, ham, bacon and smoky tomato sauce served on Ciabatta bread, Whoppers (which are not usually available in the morning) and the BK Mimosa -- a nonalcoholic version of the classic cocktail with Sprite standing in for the traditional champagne.
This represents a bold reinvention of Burger King's breakfast menu, which competes aggressively with McDonald's. The latter's popular Sausage McMuffin was recently the subject of a tongue-in-cheek ad campaign in which the signature recipe was "stolen" by arch rival Burger King's eponymous mascot.
John Schaufelberger, Burger King's senior vice president of global product marketing and innovation, stresses the brunch concept is only in its testing phase but admits the company has seen the trend grow in popularity over the years.
"[This initiative] allows us to meet strong consumer demand," Schaufelberger says.
He says the BK Mimosa was a no-brainer.
"The idea of Mimosas and brunch go hand in hand, and we thought it would be a clever and unique way to enhance our morning beverage offerings."
However, watchdog groups such as Campaign for a Commercial-Free Childhood and the Marin Institute -- which monitors the alcohol industry -- are not as pleased.
"This normalizes to children at a young age the idea that drinking is fine to do, and something we do everywhere," Michele Simon, the institute's research and policy director, told Brandweek.
Will this gamble pay off? The track record for menu extensions such as this is spotty, especially when it comes to testing out new flavors to appeal to America's insatiable appetites.
Burgers and fries are a big business, raking in billions of dollars in global revenues by supplying quick, cheap eats. But it's a crowded field, forcing fast-food chains on a seemingly endless search for new markets, tastes and trends.
Whether it's going upscale, healthy, or inventing new ways to disseminate their product ("Fourthmeal," anyone?), companies such as McDonald's, Burger King and KFC are constantly looking for that new idea that will connect with consumers and give them an edge against their competitors.
Here are some recent, and classic, menu extension gambles. Some were massive missteps, some flops in progress, and for others, the race isn't over.
Long John Silver's
This quick-service seafood chain became famous selling fried, battered fish and deeper-fried hush puppies. Tasty, but it's hardly healthy fare. So the company decided to lighten up, launching a suite of meals featuring grilled fish and vegetables.
One of the low-calorie offerings featured the darling of seafood restaurants -- tilapia. The flaky, white, freshwater fish has been a trendy ingredient for years, and Long John Silver's jumped on that ship. Long John Silver's still offers Freshside Grilles on a menu dominated by fried chicken planks, popcorn shrimp, "crumblies" (deep-fried breading) and buttered, battered Langostino lobster bites.
Wendy's Superbar
For about a decade, beginning in the late '80s, hot on the heels of a failed omelet-based breakfast menu that proved too labor intensive for most franchises to maintain, Wendy's experimented with augmenting traditional fast-food ordering lines with a self-serve buffet.
The Superbar had three sections: a salad bar, a Mexican bar with burritos and tacos, and an Italian bar, serving pizza and garlic bread. Customers could simply load up at the smorgasbord, which offered as many as 50 items. Ultimately, this effort was discontinued at participating stores in 1998.
McDonald's Arch Deluxe
McDonald's has always been an aggressive innovator. Its flops are legendary: the McLobster, the McDLT and the McPizza. But it was the Arch Deluxe, a hamburger the chain hoped would appeal to grown-up tastes, that stands out as the company's biggest loser.
The Arch Deluxe, released in 1996, cost an estimated $150 million to $200 million to develop and market, according to a New York Times article about the debacle. The burger boasted pepper bacon, Spanish onions and a blend of mustard and mayo.
Consumers rejected the Arch Deluxe soundly, especially after marketing touting it as a burger that wasn't for "unrefined taste buds."
KFC's Grilled Chicken
KFC spent millions on television ads when the company took its biggest risk by introducing grilled chicken. It was a fiasco from the start: The concept was wildly off-brand, confusing consumers who still assumed the "F" in KFC stood for "fried."
An Oprah Winfrey-sponsored promotion backfired when individual franchises refused to honor it. The grilled chicken launch did nothing to slow KFC's market share slide, reported by Ad Age to have tumbled six full percentage points since 2005 to 30 percent in 2009, while the category grew from $14.5 billion to $16.1 billion.
iReporter and her dog evaluate KFC's newest creation
The company recently returned to its unhealthy roots with the Double Down sandwich featuring bacon and cheese between two fried chicken cutlets. The company is continuing its considerable investment in grilled chicken, so this story's conclusion is yet to be hatched.