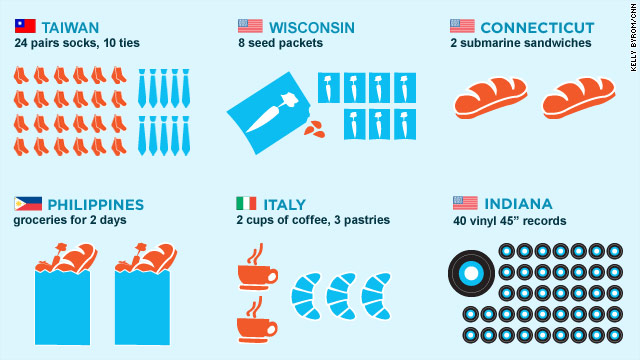 (CNN) -- If you're in New York City with only $10 in your pocket, Julio Ortiz-Teissonniere has you covered.
Get an unlimited day pass MetroCard, he says. "It'll take you from the Bronx Zoo down to Coney Island and everywhere else in between for just $8.25. Just make sure you're done by 3 a.m. of the day after you bought it -- otherwise you'll spend a lot more than $10 on a yellow cab."
If you're in Italy, Diana Corridori could show you where to get a fantastic breakfast of cappuccinos, chocolate croissants and cookies for a ten-spot. And Jon Regas of Switzerland could help you dig up more than 40 singles on vinyl for that price. In Bhutan, Deki Dorji could feed you with fresh vegetables for a week.
Yes, the economy's down, but $10 can still buy you quite a bit -- if you know where to look.
This was our challenge to CNN iReporters last weekend: Go to the ATM, get $10, and see how far it can take you. That's it. It was the ultimate in thrift and simplicity, and iReporters from around the world found endlessly creative ways to get the most out of their tenner.
Some went for the basics. Sherbien Dacalanio, Monica Lee and Melissa Melcombe all used their money to stock up on groceries. Exactly how much they were able to stock up, though, depended on where in the world they were.
Lee and Melcombe live in Los Angeles, California -- known for its high cost of living -- but both made the most of it. Lee clips coupons, which her local grocery store doubles, and looks for specials every week. She came home with a huge stash of yogurt, spaghetti sauce and frozen dinners. And Melcombe got enough food for four meals at Whole Foods, which she considered a victory.
"I am always going to Whole Foods to see what's on sale," she said of the retailer, which, to some, has a reputation of being expensive. "I am a foodie, and I love a good deal."
Dacalanio lives across the world, between Makati and Pasay cities in the Philippines. For $10 -- or about 450 Philippine pesos -- he filled his fridge with chicken, ham, fruits, veggies and spices.
And then there's Dorji, from Thimphu, Bhutan, who shelled out 443 Bhutanese ngultrum at the local farmers market for a week's worth of vegetables.
"I always found it funny how you were able to buy so much here in Asia and so little in North America for the same amount of money," said Dorji, who went to college in Canada. "But we have to also look at how much people earn in their respective countries. Ten dollars a week on vegetables is how much we in Bhutan spend on an average, but I know in North America, for $10, I couldn't get very far into the week."
Tony Coolidge's shopping trip in Tainan, Taiwan, helps prove her point. He got 24 new pairs of socks and 10 new ties, all for 300 New Taiwan dollars. That amounts to about $9.50 in the U.S.
Not a bad return on $10, and there's no Ponzi, no pyramid; nobody loses.
--Larry Cooper
"I know I would have spent much more than that in the USA, even at Wal-Mart," he said. "I have always enjoyed an amazingly affordable cost-of-living, living in Taiwan. ... I moved here a year ago with a wife and three kids and enjoy a high quality of life that costs 40 percent of what it cost to live in Florida."
For the ultimate in food thrift, some iReporters put their Alexander Hamilton toward growing a vegetable garden.
Larry Cooper and his wife have been growing vegetables in their Black Earth, Wisconsin, garden for years. They spent their $10 on 350 spinach seeds and the supplies to grow them. Cooper said it gives them a connection to the land and makes good financial sense. He spotted 5-ounce bunches of spinach for $4.99 at a local grocery store.
"If a single plant produces only 5 ounces, and each seed germinates and grows to maturity, 350 plants would have a produce department value of $1,746.50," he calculated. "Not a bad return on $10, and there's no Ponzi, no pyramid; nobody loses."
Looking to try out something a little more exciting than the basics (but equally thrifty)? Turns out there's lots of fun to be had for $10 or less.
In Los Angeles, you could ride the world's shortest railway 40 times. Angel's Flight, which has been around since 1901 (and used to cost only a nickel), will take you up or down a hill for a quarter. And in Vero Beach, Florida, you can still see a movie for under five bucks, which means Cynthia Falardeau could take her son to the latest Miley Cyrus flick and have enough left over to get him a chocolate milk.
Cliff Olney had a similar idea. The Watertown, New York, native spent his $10 on gas for a friend's fishing boat and took his 12-year-old twin boys fishing on the nearby Black River.
"Each ended the day with eleven sizable fish and a big smile on their faces," he said. "[It] was the best ten dollars I've spent in a long time."
There's also the ever-popular art of vintage shopping, which can yield some of the best bargains of all. Christina Santiago of Rockville, Maryland, picked up a vintage American Tourister travel case, a floral dress and three silk scarves to create an adorable under-$10 outfit. Theresa Link found a store in Shakopee, Minnesota, where you pay $10 for all the clothes you can stuff in a bag. She was able to fit in enough for a summer weekend getaway. In Sydney, Australia, Charyn Bello spent $10 on a variety of glass beads to make homemade jewelry. And vintage doesn't just mean clothes -- Jon Regas of Switzerland always checks out a local half-price bookstore when he visits his family in Indianapolis, Indiana, to buy records. This time, he snagged 40 singles on vinyl for just 25 cents each.
Finally, some iReporters decided that the very best way of all to spend $10 was to give it away.
"Giving a helping hand is more fun than buying more stuff," wrote Brian Bossard, who donated the money to United Way in Butte, Montana.
"I felt like I could stretch my $10 even further by giving [it] away to someone who needed it more than I," agreed Monika Szymanska in New Haven, Connecticut. "The first thing that came to my mind when spending my $10 was two $5 footlongs. The idea must have come from those catchy Subway commercials ... so I went on the hunt in my hometown for a couple people who would appreciate a free meal."
She gave the first meatball marinara sub to a "charming old man" known as Papa Joe, who lives on the streets of New Haven. The second went to a man she met at the Salvation Army who was donating furniture, clothes and other items.
"So, to sum it up, my $10 got me two $5 Subway footlongs and the gratification of helping those in need," Szymanska said. "This definitely made me think twice about how I spend ... each dollar."