Beware of 'IRS' scams during tax season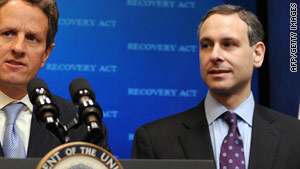 IRS Commissioner Douglas Schulman, right, with U.S. Treasury Secretary Timothy Geithner
STORY HIGHLIGHTS
Scam artists may pretend to be from Internal Revenue Service
The IRS will never send e-mails
If agency needs information, you will hear by mail or phone
New York (CNN) -- Tax season is winding down, but scam artists are still hard at work.
Some of the biggest scams, according to the Internal Revenue Service, include phishing e-mails from scam artists pretending to be from the agency.
"This week we're very busy processing returns, trying to get refunds quickly," says IRS Commissioner Douglas Schulman. "We're not doing outreach. Make sure that if you're giving sensitive information to anyone that it is the person they claim to be. We're not sending e-mails out to people," he says.
In fact, the IRS never sends e-mails. If information is needed, you'll be contacted by mail first and then by phone if necessary.
Next year the IRS is going to be regulating tax preparers. Right now tax prep fraud is a big problem; make sure you recognize the signs of a questionable tax preparer.
Here are some red flags: First, the tax preparer claims he or she can get you an unusually large refund, compared with what other tax preparers are offering.
If the preparer's fee is based on a percentage of the refund, that is a red flag.
Or, if you're asked to sign a blank form, beware. Reputable preparers will ask for receipts and will ask questions to determine what deductions are appropriate.
And don't believe outlandish arguments that it's voluntary to file your taxes. Or myths that if you don't file your taxes, the government will do it for you.
These falsehoods have been around for a while and won't let you get out of filing your taxes -- or paying Uncle Sam.
If you suspect any kind of fraud, call 800-829-1040 or visit the IRS Web site at http://www.irs.gov.