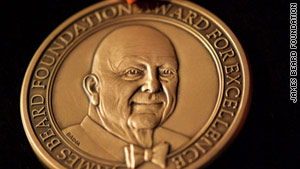 Chefs, writers, authors and architects who excel in food and beverage fields are nominated for James Beard Awards.
STORY HIGHLIGHTS
The awards bear the name of one of America's founding food writers and cooks: James Beard

Chefs, journalists, restaurateurs, authors, restaurant designers and architects nominated

There is no cash award, but honor can create buzz

Foundation chief: Fans might use nominee lists as a cross-country culinary travelogue

Editor's note: Kat Kinsman is the vice chair of the James Beard Journalism Committee, the group that oversees the journalism category's awards. An independent accounting firm oversees the process.
(CNN) -- The James Beard Foundation Awards are often referred to as the "Oscars of the food world," but the honorees are more frequently photographed in chefs' whites and clogs than tuxes and red carpet couture, and they're hounded for hot dish from diners rather than the staff of TMZ.
The awards -- established in 1990 by the nonprofit that bears the name of one of America's founding food writers and cooks -- honor chefs, food journalists, restaurateurs, cookbook authors, restaurant designers and architects who have achieved excellence in the food and beverage field.
While the journalism, media and cookbook categories call for self-nomination (and an entry fee), anyone can suggest a chef or restaurant via the foundation's Web site, jamesbeard.org, during an open call in the fall.
Though there is no cash reward, a win -- or even a nomination -- can substantially increase the buzz for business, according to foundation president Susan Ungaro.
"There is no doubt that it elevates standing among peers, and the publicity reverberates through the town or city," Ungaro said last week. "It excites locals, who then think, 'I must check that out.' "
Of particular passion to Ungaro are the America's Classics awards, given to restaurants, generally 50 to 100 years old and of iconic status in their communities.
"These would have been James Beard's favorites -- he loved both haute and down-home. These reflect the best of America's classic dining. They're often family run, and they're special," she said.
Ungaro also expressed a wish that food fans might use nominee lists as a cross-country, culinary travelogue, noting, "A nomination can help keep a restaurant going during tough economic times. These eateries end up being inundated with customers, and that helps the whole community."
The nominations for the 2010 James Beard Foundation Awards were tweeted live (@BeardFoundation) Monday morning from New Orleans, Louisiana, and the awards will be announced at events on May 2 and 3 in New York.
Here are some of the nominations:
Outstanding restaurateur
Tom Douglas
Dahlia Bakery, Dahlia Lounge, Etta's, Lola, Palace Kitchen, Serious Pie -- Seattle, Washington
Pat Kuleto
Boulevard, Epic, Farallon, Jardinière, Martini House, Nick's Cove & Cottages and Waterbar -- San Francisco, California
Keith McNally
Balthazar, Lucky Strike, Minetta Tavern, Morandi, Pastis, Pravda and Schiller's Liquor Bar -- New York
Richard Melman
Lettuce Entertain You Enterprises -- Chicago, Illinois
Stephen Starr
Starr Restaurant Organization -- Philadelphia, Pennsylvania
Outstanding chef
José Andrés
Minibar, Washington

Tom Colicchio
Craft, New York
Gary Danko
Restaurant Gary Danko, San Francisco
Suzanne Goin
Lucques, Los Angeles, California
Charles Phan
The Slanted Door, San Francisco
Outstanding restaurant
Babbo, New York

Boulevard, San Francisco
Daniel, New York
Highlands Bar & Grill, Birmingham, Alabama
Spiaggia, Chicago
Rising star chef of the year
Timothy Hollingsworth
The French Laundry, Yountville, California
Johnny Monis
Komi, Washington
Grégory Pugin
Veritas, New York
Gabriel Rucker
Le Pigeon, Portland, Oregon
Sue Zemanick
New Orleans
Best new restaurant

Bibou, Philadelphia
Flour + Water, San Francisco
Frances, San Francisco

Locanda Verde, New York
Marea, New York
RN74, San Francisco
Outstanding pastry chef

Amanda Cook
CityZen at Mandarin Oriental, Washington
Michelle Gayer
Salty Tart Bakery, Minneapolis, Minnesota
Kamel Guechida
Joël Robuchon at MGM Grand Hotel & Casino, Las Vegas, Nevada
Nicole Plue
Redd, Yountville
Mindy Segal
Mindy's Hot Chocolate, Chicago
Outstanding wine service
A16, San Francisco

Blackberry Farm, Walland, Tennessee
Frasca Food and Wine, Boulder, Colorado
Jean Georges, New York
Restaurant Gary Danko, San Francisco
Outstanding wine and spirits professional
Merry Edwards
Merry Edwards Wines, Sebastopol, California
Paul Grieco,
Hearth, New York
Garrett Oliver
The Brooklyn Brewery, New York
John Shafer and Doug Shafer
Shafer Vineyards, Napa, California
Julian P. Van Winkle III
Old Rip Van Winkle Distillery, Louisville, Kentucky
Outstanding service
Alinea, Chicago
Joël Robuchon at MGM Grand Hotel & Casino, Las Vegas
La Grenouille, New York
Michael Mina, San Francisco
Vetri, Philadelphia
Best chef: Great Lakes
Michael Carlson
Schwa, Chicago
Koren Grieveson
Avec, Chicago
Arun Sampanthavivat
Arun's, Chicago
Bruce Sherman
North Pond, Chicago
Alex Young
Zingerman's Roadhouse, Ann Arbor, Michigan
Best chef: Mid-Atlantic
Cathal Armstrong
Restaurant Eve, Alexandria, Virginia
Jeff Michaud
Osteria, Philadelphia
Peter Pastan
Obelisk, Washington
Michael Solomonov
Zahav, Philadelphia
Bryan Voltaggio
Volt, Frederick, Maryland
Best chef: Midwest
Isaac Becker,
112 Eatery, Minneapolis
Gerard Craft
Niche, St. Louis, Missouri
Colby Garrelts
Bluestem, Kansas City, Missouri
Alexander Roberts
Restaurant Alma, Minneapolis
Lenny Russo
Heartland, St. Paul, Minnesota
Best chef: New York
Michael Anthony, Gramercy Tavern
Wylie Dufresne, WD-50
Gabrielle Hamilton, Prune
Daniel Humm, Eleven Madison Park
Michael White, Marea
Best chef: Northeast
Clark Frasier and Mark Gaier
Arrows Restaurant, Ogunquit, Maine
Peter X. Kelly
Xaviar's at Piermont, Piermont, New York
Michael Leviton
Lumière, West Newton, Massachusetts
Tony Maws
Craigie on Main, Cambridge, Massachusetts
Marc Orfaly
Pigalle, Boston, Massachusetts
Best chef: Northwest
Naomi Pomeroy
Beast, Portland, Oregon
Andy Ricker
Pok Pok, Portland
Ethan Stowell
Union, Seattle
Cathy Whims
Nostrana, Portland
Jason Wilson
Crush, Seattle
Best chef: Pacific
Michael Cimarusti,
Providence, Los Angeles
Jeremy Fox
Ubuntu, Napa
David Kinch
Manresa, Los Gatos, California
Matt Molina
Osteria Mozza, Los Angeles
Michael Tusk
Quince, San Francisco

Best chef: South
Zach Bell
Café Boulud at the Brazilian Court, Palm Beach, Florida
Scott Boswell
Stella!, New Orleans
John Harris
Lilette, New Orleans
Christopher Hastings
Hot and Hot Fish Club, Birmingham, Alabama
Michael Schwartz
Michael's Genuine Food & Drink, Miami, Florida
Best chef: Southeast
Hugh Acheson
Five and Ten, Athens, Georgia
Sean Brock
McCrady's, Charleston, South Carolina
Linton Hopkins
Restaurant Eugene, Atlanta, Georgia
Andrea Reusing
Lantern, Chapel Hill, North Carolina
Bill Smith
Crook's Corner, Chapel Hill, North Carolina
Best chef: Southwest
Bryan Caswell
Reef, Houston, Texas
Saipin Chutima
Lotus of Siam, Las Vegas

Ryan Hardy
Montagna at the Little Nell, Aspen, Colorado

Claude Le Tohic
Joël Robuchon at MGM Grand Hotel & Casino, Las Vegas
Rick Moonen
RM Seafood at Mandalay Bay Resort & Casino, Las Vegas
Newspaper feature writing about restaurants and/or chefs
Tim Carman, Washington City Paper
"How Not to Hire a Chef/The Canning Process"
Jared Jacang Maher, Westword
"A Hunger to Help"
Kevin Pang, Chicago Tribune
"Plan D"
Newspaper feature writing
Sarah DiGregorio, The Village Voice
"Is Foie Gras Torture?"
Cliff Doerksen, Chicago Reader
"The Real American Pie"
Mike Sula, Chicago Reader
"The Charcuterie Underground"
Newspaper food section
Sheryl Julian, The Boston Globe
Jon Bonné and Miriam Morgan, San Francisco Chronicle
Joe Yonan, The Washington Post
Magazine feature writing about restaurants and/or chefs
Alan Richman, GQ
"American Pie"
Anya von Bremzen, Saveur
"Soul of a City"
Francis Lam, Gourmet
"The Last Chinese BBQ"
Magazine feature writing with recipes
Dana Bowen, Saveur
"The Wonders of Ham"
Francine Maroukian, Jon Reiner, Staff, of Esquire
"How Men Eat"
Matt Goulding, Men's Health
"The Beauty of the Beast"
Magazine feature writing without recipes
Alan Richman, GQ
"Hillbilly Truffle"
Barry Estabrook, Gourmet
"The Price of Tomatoes"
Rafi Khatchadourian, The New Yorker
"The Taste Makers"
Craig Claiborne distinguished restaurant reviews
Jonathan Gold, LA Weekly
"Sauced"
"Hot Birria, Cold Cerveza"
"Hare Today"
Patric Kuh, Los Angeles Magazine
"Border Crossing"
"Peru Calling"
"The Classic"

Jason Sheehan, Westword
"White on White"
"Wonderland"
"Mourning"
Reporting on health, environment or nutrition
Monica Eng, Chicago Tribune
"Nacho Lunch? Yes, Every Day"
Daniel Engber, Slate Magazine
"Throwing out the Wheat"
Rowan Jacobsen, EatingWell
"... Or Not to Bee"
Food blog
Aileen Gallagher, Daniel Maurer, Alexandra Vallis of Grub Street New York
Newyork.grubstreet.com
Ed Levine, Serious Eats
Seriouseats.com
Hank Shaw, Hunter Angler Gardener Cook
Honest-Food.net
Food-related columns
Colman Andrews, Gourmet
"Veni, Vidi, Vetri"
"It's up to You, New York, New York"
"Smoke and Miracles"
Dara Moskowitz Grumdahl, Minnesota Monthly
"The Doughnut Gatherer"
"Capital Grills"
"Pizza Perfect"
Rachel Wharton, Edible Brooklyn
"Back of the House" -- spring, summer, fall and winter
Writing on spirits, wine or beer
Dara Moskowitz Grumdahl, Minnesota Monthly
"Chardonnay Uncorked"
Jonathan Gold, LA Weekly
"The New Cocktailians"
Lettie Teague, Food & Wine
"Is Grüner a Great Wine or a Groaner"
Web site focusing on food, beverage, restaurants or nutrition
Chow.com, Jane Goldman
Epicurious.com, Tanya Steel
Saveur.com, James Oseland
Multimedia food feature
Antoinette Bruno, Amanda McDougall, Jonathan J. Proville of Starchefs.com
"The Art and Economics of Charcuterie, Parts 2, 3, 4"
Kevin Pang, Chicagotribune.com
"The Cheeseburger Show"
Robb Walsh, Houstonpress.com
"Not So Clear Cut"
M.F.K. Fisher Distinguished Writing Award
John T. Edge, Oxford American
"In Through the Back Door"
Alan Richman, GQ
"Le Petit Gourmet"
Francine Prose, Saveur
"Faith and Bacon"
Cookbooks
Baking and Dessert
"Baking" by James Peterson
"DamGoodSweet: Desserts to Satisfy Your Sweet Tooth, New Orleans Style" by David Guas, Raquel Pelzel
"Peter Reinhart's Artisan Breads Every Day" by Peter Reinhart
American Cooking
"My New Orleans" by John Besh
"Real Cajun" by Donald Link with Paula Disbrowe
"The Lee Bros. Simple Fresh Southern: Knockout Dishes with Down-Home Flavor" by Matt Lee, Ted Lee
Beverage
"Been Doon So Long: A Randall Grahm Vinthology" by Randall Grahm
"The King of Vodka: The Story of Pyotr Smirnov and the Upheaval of an Empire" by Linda Himelstein
"World Whisky" by Charles Maclean
Cooking from a Professional Point of View:
"Araxi: Seasonal Recipes from the Celebrated Whistler Restaurant" by James Walt
"Momofuku" by David Chang, Peter Meehan
"The Fundamental Techniques of Classic Pastry Arts" by The French Culinary Institute with Judith Choate
General Cooking
"Ad Hoc at Home" by Thomas Keller
"Salt to Taste: The Keys to Confident, Delicious Cooking" by Marco Canora with Catherine Young
"The Pleasures of Cooking for One" by Judith Jones
Healthy Focus
"EatingWell Comfort Foods Made Healthy" by Jesse Price, the Editors of EatingWell
"Golden Door Cooks at Home: Favorite Recipes from the Celebrated Spa" by Dean Rucker with Marah Stets
"Love Soup: 160 All-New Vegetarian Recipes from the Author of The Vegetarian Epicure" by Anna Thomas
International
"Lidia Cooks from the Heart of Italy" By Lidia Matticchio Bastianich, Tanya Bastianich Manuali
"Mastering the Art of Chinese Cooking" by Eileen Yin-Fei Lo
"The Country Cooking of Ireland" by Colman Andrews
Reference and Scholarship
"Chop Suey: A Cultural History of Chinese Food in the United States" by Andrew Coe
"Encyclopedia of Pasta" by Oretta Zanini de Vita, Translated by Maureen B. Fant
"Larousse Gastronomique: The World's Greatest Culinary Encyclopedia, Completely Revised and Updated" by Librarie Larousse
Single Subject
"Pasta Sfoglia" by Ron Suhanosky, Colleen Suhanosky
"Weber's Way to Grill" by Jamie Purviance
"Well-Preserved: Recipes and Techniques for Putting Up Small Batches of Seasonal Foods" by Eugenia Bone
Writing and Literature
"Save the Deli" by David Sax
"The Seasons on Henry's Farm: A Year of Food and Life on a Sustainable Farm" by Terra Brockman
"Waste: Uncovering the Global Food Scandal" by Tristram Stuart
Photography
"Eat Ate" Photographer: Earl Carter
"New American Table" Photographer: Paul Brissman
"Seven Fires: Grilling the Argentine Way" Photographer: Santiago Solo Monllor
America's Classic Awards
Al's French Frys (1251 Williston Road, South Burlington, Vermont; Owner: Bill Bissonette)
The Bright Star (304 19th St. North, Bessemer, Alabama; Owner: Jimmy Koikos and Nick Koikos)
Calumet Fisheries (3259 E 95th Street, Chicago, Illinois; Owners: The Kotlick and Toll Families)
Gustavus Inn (PO Box 60, Gustavus, Alaska; Owners: JoAnn and David Lesh)
Mary & Tito's Cafe (2711 Fourth St. N.W., Albuquerque, New Mexico; Owners: Mary Gonzales and Antoinette Knight)